François-Paul Journe (F.P. Journe) - one of the most respected watchmakers, watches of which have been awarded many times in a given area.
The exclusive model Chronomètre Souverain, striking with clean lines and classic beauty, is not the exception. This watch has been internationally recognized – it was awarded the European Watch of the Year-2012 in the category of "Best Men's Watch."
At the first awards ceremony European Watch of the Year, which was held at London's May Fair Hotel, were presented the models of more than 100 of the leading watch companies.
The sleek Chronomètre Souverain watch is the top of the watchmaker's skill who had mastered the art of measuring time. The watchmaker inspired with the tradition of marine chronometers early XIX century with the classic configuration of two barrels characteristic for exact watches. Simultaneous operation of two barrels provides a stable flow of energy throughout the 50 hours. Mechanical movement with manual winding, on the base of which the watch is built, has a frequency of 21,600 semi-oscillations per hour.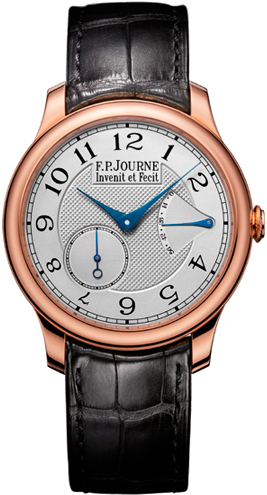 Chronomètre Souverain by F.P. Journe – the best men's watch by European Watch of the Year Award-2012
The model is presented in a circular case that houses silver dial with Arabic numerals. The central part of the dial is guilloché. Indication of hours and minutes are carried out by using two hands. Additional window with a second's hand is placed between the labels 7 and 8. A leather strap in black complements the model Chronomètre Souverain.
William Asprey, the exclusive partner of F.P. Journe in England, took the award for a unique watch. He said: "We are proud to accept another award for Chronomètre Souverain. François-Paul Journe is known for its innovative models with complications and original features. He is happy that the jury understands that the creation of simple and at the same flawless hours - no easy task. He created a great alternative to complicated clockwork. Thank you."
Official website of F.P. Journe watches.
Written by Angel
19.10.2012