Informational watch portal montre24.com presents to attention of all our readers an exclusive video clip of the company Manufacture Royale from the annual exhibition BaselWorld 2012, in which the company took an active part. In a rather modest pavilion of Manufacture Royale were presented no so indiscreet Manufacture Royale watches, which are widely popular among collectors. The company Manufacture Royale produces exclusive models under the theme: «E pluribus, unum», which translates from Latin as "One of the many." The main distinguishing feature of Manufacture Royale watches, which have attracted the attention of the most passionate watch fans, is folding case, which resembles an accordion. However, this is not a trick, but a technical element, which is designed specifically for deep and sonorous sound of minute repeater.
At the annual exhibition BaselWorld 2012 the company Manufacture Royale introduced its new products of this year. The company's CEO Arnaud Faivre kindly agreed to show their novelties to team of montre24.com. Arnaud Faivre introduced the basic model of the company, which has become her trademark, - Opera Time-Piece, equipped with a number of complications and has a unique design. The model Opera Time-Piece is equipped with an exclusive mechanism with tourbillon and minute repeater.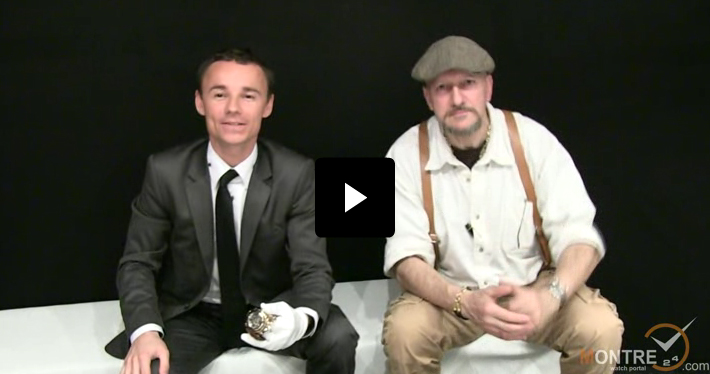 Manufacture Royale watches presentation at BaselWorld 2012
Each hour is notified by the pitches "do" and minutes - "mi dies", which makes the model similar to the pocket watch of 19th century. However, the exclusivity of this model is not in a minute repeater, which can be found in many watch factories, but in it folding case, which has become the hallmark of the company. As noted above, the folding case - it's not a whim of the designer, but a special technique that provides a deep and sonorous sound of minute repeater. The dial of model Manufacture Royale Opera Time-Piece is skeletonized, case back, in its turn, is covered with sapphire crystal, providing visibility of the internal mechanism from the both sides. But, perhaps, on the wrist is not very so convenient to carry a bulky accessory with case diameter of 50 mm, and in expanded form it would look too much. Some fans of mark, apparently, were in agreement with my opinion, and it is for them that the company Manufacture Royale introduced a smaller model - Androgyne with case diameter of 43 mm, which is also not a tiny creature. Was represented both male and female model of the Androgyne. It should be noted that the male model of the Androgyne is made of bronze - a rather unusual choice, which now resorting more and more watch companies. Dial of the new model Androgyne is also skeletonized, which gives the watch a more luxurious and sophisticated look. To get acquainted in more details with new models of Manufacture Royale at BaselWorld 2012 is possible by clicking on the following link - http://montre24.com/video/137/.
Official site of Manufacture Royale watches.
Freya
30.04.2012