| | |
| --- | --- |
| New bamboo watch Bamboo by Gucci at BaselWorld 2012 | |
The famous fashion house Gucci, which for many decades is the world's trendsetter, entered the watch industry in 1970th years, starting to produce symbolic wrist watches, which immediately began to decorate the wrists of the most hard-core fashion-mongers. Taking advantage already a legendary name of Florentine house, Gucci watches have won segment of fashion watches. Gucci wrist watches are the epitome of one of the most famous brand's history, combining a modern approach and rich heritage, innovation and craftsmanship. Made in Switzerland, Gucci watches have won recognition in the watch making world due to its recognizable design, quality and craftsmanship.
At the annual exhibition BaselWorld 2012 fashion house Gucci presented its original watch creation – ladies watch Bamboo. New Bamboo ladies watch has been developed by creative director of Gucci Frida Giannini and implemented with the skillful hands of company's craftsmen. Bamboo is one of the most iconic motifs of Gucci. For the first time the company began using bamboo during the Second World War, when there was an extreme shortage of various types of materials. The company Gucci was able to find an alternative attractive option - bamboo, which today has become an element of luxury and distinctive sign of the legendary fashion house.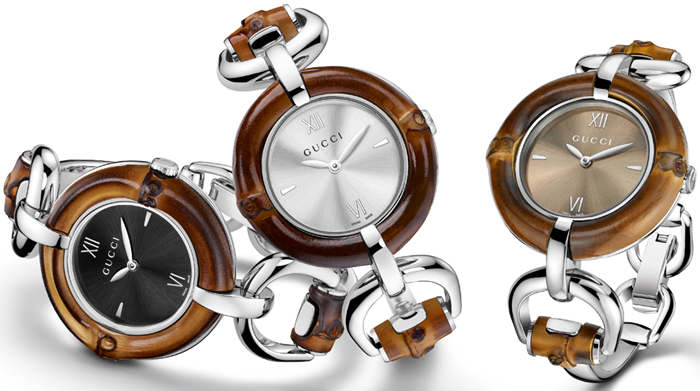 As you might guess from the title, the main distinctive and not peculiar to the watch industry material has become the bamboo, coupled with high-quality stainless steel. Each piece of these unusual Bamboo watches is created individually. Each piece of bamboo, before becoming final and key watch element, is shaped and carved by hand, as already legendary bamboo bag's handle of the company. New Bamboo ladies watch has perfectly round case with diameter of 35 mm and is available in three versions: with black dial (ref. YA132401), with brown dial (ref. YA132402) and silver dial (ref. YA132403). The case and bracelet are made of stainless steel. The watch bezel is beautifully encrusted with bamboo, which is also used for bracelet links inlay. At position 12 o'clock is located company's logo, and at the mark 6 o'clock is located "Swiss made" seal, which says about high quality of this watch. Beautifully decorated hands with Roman numerals complete the luxurious look of Bamboo watch. The watch work is provided by Swiss quartz movement Ronda. The dial is covered with durable sapphire crystal with anti-reflective coating, which is extremely resistant to various kinds of scratches. Water resistance of Bamboo watch is up to 30 meters (100 feet). If you decide to buy watch Bamboo, you will get an international warranty of 2 years with this beautiful and unusual ladies watch.
Official site of Gucci watches.
26.03.2012
Environmental Watch by Gucci and actress Li BingBing
Italian fashion house Gucci for many years engaged in the sponsorship of charitable organizations and campaigns for the arts. Now the company Gucci is working with famous Chinese actress, the face of the watches and jewelry Li Bingbing.
11.01.13 Comments(0)

Novelty Coupe by Gucci
The well-known Italian company Gucci has released a new version of the Gucci Coupé watch for the beautiful half of the planet. The gorgeous model with a pearl dial is set with sparkling diamonds, giving an unparalleled appearance to the watch.
26.12.12 Comments(0)

Gucci Presents New G-Timeless Automatic Watch
The classical style of the new watch G-Timeless Automatic from the Italian brand Gucci will not leave anyone different of the classical style connoisseur. The novelty is the latest addition to the collection of G-Timeless of the legendary brand.
19.12.12 Comments(0)

Gucci timepieces celebrates 40 years in watch making
2012 marks the 40th anniversary of Gucci entry in watch making. The Italian fashion House was first established in 1921, creating and crafting quality leather goods, which was soon followed by ready to wear, shoes and accessories.
29.03.12 Comments(0)

New I-Gucci Grammy Museum Watch
The watch collection I-Gucci Grammy Museum is updating. This is a new model of I-Gucci XXL Sport with a black digital display. Received from the sale of these watches will be transferred to Grammy Museum Foundation, which deals with the restoration and preservation of the great music pieces of history.
09.02.12 Comments(0)

Gucci Watch for Valentine's Day
Valentine's Day will come in February next year, but Gucci brand today has prepared a great surprise for his fans and admirers - a new model of the collection U-Play. This watch will be a great gift for all lovers.
24.12.11 Comments(0)



The history of the brand Gucci The founder of Gucci was born in 1881 in Florence, the Italian artisan family. At age 23, he opened "House of Gucci", which sold horse harness by own production. But the first undertaking of Gucci failed. Soon he moved to London, where more than ten years was working in-line, and then the elevator operator at the hotel "Savoy". A brilliant future years Gucci spent at work, because it tastes like it was formed while working at the hotel here in the future legislators of the world of fashion had the opportunity to admir...
Detailed information Gucci