2012 marks the 40th anniversary of Gucci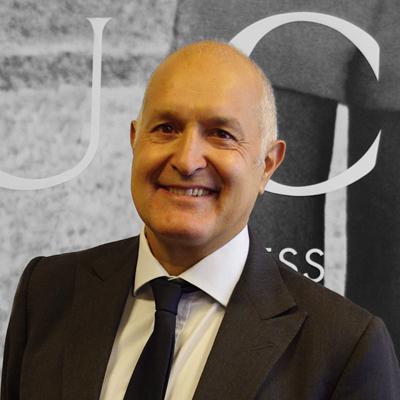 entry in watch making. The Italian fashion House was first established in 1921, creating and crafting quality leather goods, which was soon followed by ready to wear, shoes and accessories. Gucci items were made highly recognizable thanks to Gucci's use of original motifs drawn from the worlds of horse riding, sailing or sports cars; these continue to provide enduring signifier of this luxurious, cove-table brand. For Gucci Timepieces, these symbols remain just as relevant as they were four decades ago and they continue to be perfectly incorporated across all Gucci watch collections.
It all started in 1972 when Gucci became one of the first fashion Houses with branch of timepieces, enabled through a license with Swiss watch-making company, Severin Montres, founded by charismatic watch industry pioneer and entrepreneur, Severin Wundermann. In 1997 Gucci took control of Wundermann's watch business by acquiring Severin Montres, further developing this category with successful, iconic models that combined modernity and tradition, innovation and craftsmanship, fashion and elegance. Gucci timepieces have always been made in Switzerland and are all assembled at the company's watch making atelier in Switzerland's horological heartland, La Chaux-de-Fonds.
Commenting on the rise of Gucci's watch making activity, Gucci Timepieces' CEO, Michele Sofisti, explains: "We are a very serious Swiss Made watch brand with 40 years of watch making history to our name. We create and produce watches of fine quality, equal to the leading brands in the industry. The reason that our timepieces are so quintessentially 'Gucci' and so different to other watches is thanks to our Creative Director, Frida Giannini, who knows how to carefully select and incorporate the right Gucci elements that make our watches so recognizable. Our success lies in our commitment to retaining original design values and a no-compromise approach to quality and craftsmanship. From this strong quality base, we can allow ourselves to be innovative – and we show this in the materials we use, by constantly developing our designs, and by creating partnerships - particularly in the music industry – that echo our philosophy of great skill and unbridled creativity."
It is this commitment to craftsmanship that renders Gucci watches more than fashion items, with many models comprising sophisticated components such as mechanical movements and chronograph complications. Many more pay testament to Gucci's watch making expertise in the manufacture of gold cases and gem setting. All Gucci timepieces are produced according to 'Swiss Made' standards, with strict adhesion to stringent watch making criteria.
As with its fashion lines, Gucci Timepieces is renowned for using innovative materials such as PVD, rubber, the Gucci 'web' stripe, leather, which is sourced from Gucci's workshops in Italy, as well as wood, seen in the iconic 'Bamboo' watches for women. Gucci timepieces are defined by their quality and distinguished by the iconic Gucci hallmarks that appear on all men's and women's watches. The rich history of the House provides an abundant source of inspiration and motifs, which translate beautifully to all timepiece styles. These details can be present anywhere on the watch, from the dial to the strap, the case to the clasp. Typical examples of brand icons include the famous green-red-green web stripe, the Diamantissima pattern, the 'Gucci' name or Guccio Gucci's signature used as a logo. Elsewhere, the Gucci horse bit is used to create elegant bracelet links, clasps or embellishments, the 'G' initial is stamped onto the crown and even the interior of the watch strap can carry extra detailing such as the 'GG' diamond pattern.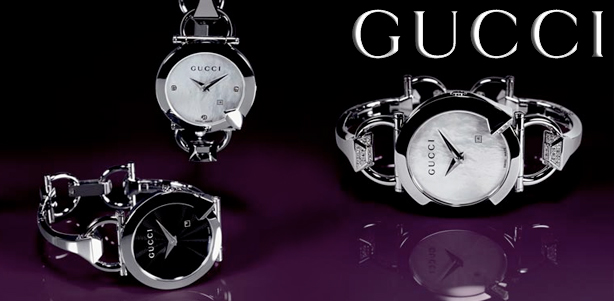 Gucci Timepieces appeal to a wide customer base: many favor the classic and sophisticated designs exemplified in the G-Timeless or Marina Chain. Other models have a strong historical connection, such as the Bamboo or the '1921', which marks the 90th anniversary of the Brand's foundation. Others still represent a real break from tradition, as seen in the U-Play with its interchangeable bezel and strap and Gucci's first digital watch, the I-Gucci, which was met with huge success. With its breakaway design, the I-Gucci created a platform for Gucci Timepieces' partnership with The Recording Academy®, hosts of both the GRAMMY® Awards and the Latin GRAMMY®s.
Underscoring Gucci Timepieces' philosophy is its desire to strengthen links with the arts, especially with music. Artistic partnerships are an expression of Gucci Timepieces' emotional values, and music, with its captivating blend of individuality, talent and creativity is an ideal outlet for the brand. This has led to exciting collaborations across the world, not only with The Recording Academy®, but further afield with the Soong Ching Ling Foundation (SCLF) in China, which supports child development, education and welfare. The Gucci Timepieces & Jewelry Music Fund, launched with SCLF, aims to discover and nurture talented young musicians across China. Gucci Timepieces' partnership with SCLF acts as a perfect complement to the alliance with The Recording Academy® who offer their full support to this new collaboration; outstanding students from the SCLF / Gucci Timepieces & Jewelry Music Fund will be chosen to enter GRAMMY® programs in America, with the opportunity to play with the GRAMMY® award night orchestra, attend the GRAMMY® Music Camp in Los Angeles and visit the GRAMMY® Museum, all within a framework of a friendly international exchange.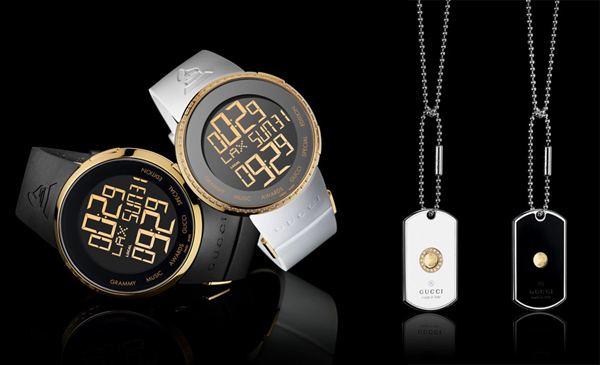 Commenting on the future of Gucci Timepieces and its associated projects, Michele Sofisti summed up: "Great music, like great fashion, beautiful timepieces or exquisite jewelry, is enduring, and more than that, is part of our collective emotional fabric: it creates and evokes memories. As our world moves at a faster pace and becomes more digitalized, people are looking for things that will last: and this is where quality and creativity such as Gucci will always triumph. This is Gucci's aim for our timepieces and jewelry – to continue to evolve and fly the flag for quality just as we have since 1921, to stand the test of time, whilst expressing our soul through our musical partnerships."
Official site of Gucci watches.
29.03.2012