| | |
| --- | --- |
| New I-Gucci Grammy Museum Watch | |
The watch collection I-Gucci Grammy Museum is updating. This is a new model of I-Gucci XXL Sport with a black digital display. Received from the sale of these watches will be transferred to Grammy Museum Foundation, which deals with the restoration and preservation of the great music pieces of history.

The watch has a very impressive case - as much as 49 millimeters in diameter (that's what means XXL). Enclosed in it the round digital display shows the time of two time zones. In addition to the time data display the watch has the date, a double chronograph, alarm clock, countdown, as well as sports functions - tachymeter, a pedometer and measuring the time for the regatta. The dial has a backlit display.

At the request of the owner, the watch can take the more classical form: the dial instead of digital time switches to the analog display by means of hands.

The case of the model has a gray PVD-coated and the engraving Gucci at the 6 o'clock position. Also in the bottom of the dial (on the black rant) is written "Swiss Made Grammy Museum Gucci Limited Edition". And the case back is decorated with the logo of the museum Grammy. The I-Gucci XXL Sport watch is available on the rubber strap, covered with the calf leather Guccissima, which is given the anthracite color with a metallic luster.

The I-Gucci XXL Sport watch is the third model in the limited edition Gucci Grammy. In this line also are included the watch in case of yellow gold PVD-plated, as well as the model I-Gucci Latin Grammy, which has a PVD-coated in pink gold. These models are the product of a three-year collaboration of Gucci Timepieces & Jewelry with the American Academy of recording, the contract of which was signed in September 2010. In addition to exclusive watches, the result of their activities has become the production of jewelry Gucci Grammy.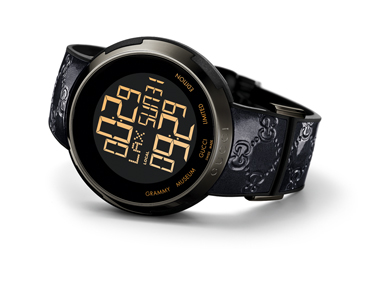 09.02.2012
Environmental Watch by Gucci and actress Li BingBing
Italian fashion house Gucci for many years engaged in the sponsorship of charitable organizations and campaigns for the arts. Now the company Gucci is working with famous Chinese actress, the face of the watches and jewelry Li Bingbing.
11.01.13 Comments(0)

Novelty Coupe by Gucci
The well-known Italian company Gucci has released a new version of the Gucci Coupé watch for the beautiful half of the planet. The gorgeous model with a pearl dial is set with sparkling diamonds, giving an unparalleled appearance to the watch.
26.12.12 Comments(0)

Gucci Presents New G-Timeless Automatic Watch
The classical style of the new watch G-Timeless Automatic from the Italian brand Gucci will not leave anyone different of the classical style connoisseur. The novelty is the latest addition to the collection of G-Timeless of the legendary brand.
19.12.12 Comments(0)

Gucci timepieces celebrates 40 years in watch making
2012 marks the 40th anniversary of Gucci entry in watch making. The Italian fashion House was first established in 1921, creating and crafting quality leather goods, which was soon followed by ready to wear, shoes and accessories.
29.03.12 Comments(0)

New bamboo watch Bamboo by Gucci at BaselWorld 2012
The famous fashion house Gucci, which for many decades is the world's trendsetter, entered the watch industry in 1970th years, starting to produce symbolic wrist watches, which immediately began to decorate the wrists of the most hard-core fashion-mongers.
26.03.12 Comments(0)

Gucci Watch for Valentine's Day
Valentine's Day will come in February next year, but Gucci brand today has prepared a great surprise for his fans and admirers - a new model of the collection U-Play. This watch will be a great gift for all lovers.
24.12.11 Comments(0)



The history of the brand Gucci The founder of Gucci was born in 1881 in Florence, the Italian artisan family. At age 23, he opened "House of Gucci", which sold horse harness by own production. But the first undertaking of Gucci failed. Soon he moved to London, where more than ten years was working in-line, and then the elevator operator at the hotel "Savoy". A brilliant future years Gucci spent at work, because it tastes like it was formed while working at the hotel here in the future legislators of the world of fashion had the opportunity to admir...
Detailed information Gucci