| | |
| --- | --- |
| Marussia F1 team racer Timo Glock visits Armin Strom manufactory | |
Last week the pilot of the only Russian team in Formula-1, Marussia F1, Timo Glock, who is also an ambassador for Armin Strom watch brand visited the company's production facilities in the Swiss city of Biel. The racer has immersed into the mysterious atmosphere of watchmaking and even tried himself as a watchmaker.
Before the start of the tense 2012 Formula-1 season and the long pre-season trainings Timo has found time to pay a personal visit to the brand's manufactory and take a closer look at the high quality timepieces' assembly and production process. Armin Strom AG company has been Marussia F1 team's official timing partner since the beginning of 2011 and during last year's Monaco Grand Prix the company offered its racers the new men's wrist watches from the ARMIN Racing Collection. This year Timo Glock will have a new partner in the team – the young, yet prominent French racer Charles Pic.
The ARMIN Racing Collection consists of four sports style watch models, executed with Marussia F1 team's signature colours – red and white. The collection's design was straightly influenced by Armin Strom brand's relationship with the racing team. During his visit Timo was stunned by the way that the watch assembly process is scheduled by every minute, which enabled him to draw a distinct parallel with his profession as a Formula-1 racer with smallest details, precise adjustments and perfect concentration often becoming the key for success. Timo experienced it himself during a watch assembly process, that proved his sufficient talent and he even expressed a willingness to assemble his own watch one day. Armin Strom gladly agreed to fulfill this wish and soon the sportsman will return to Biel to realize his ambition and create his personal Swiss wrist watch.
Under Armin Strom professional watchmakers' precise maintenance Timo will learn in detail all assembly process stages, starting with preparing individual components, most of which are produced at Armin Strom manufactory; engraving, executed by hand, which makes every timepiece unique; hand-beveling, cutting all the watch's edges and then giving them the brand's signature finish on machines; and finishing with the electroplating process, during which all engraved and decorative elements are covered with specific ruthenium coating. Timo Glock will assemble his unique men's wrist watch, that he'll be wearing throughout all 2012 Formula-1 season.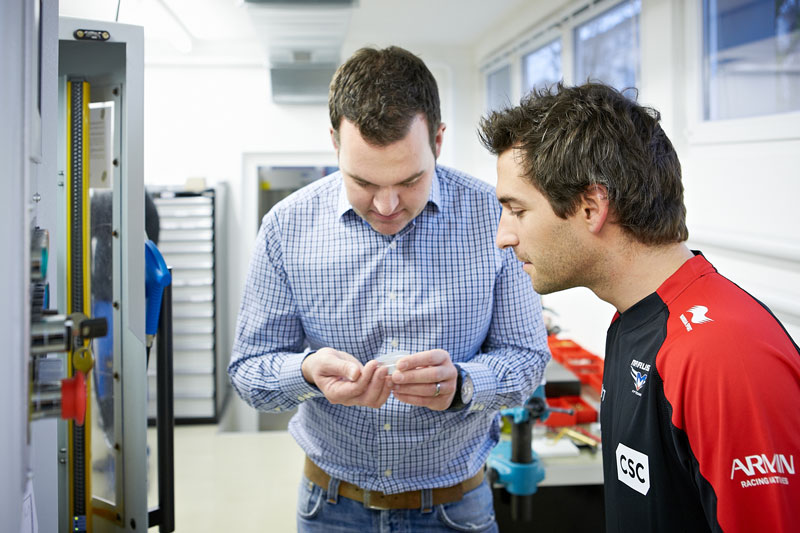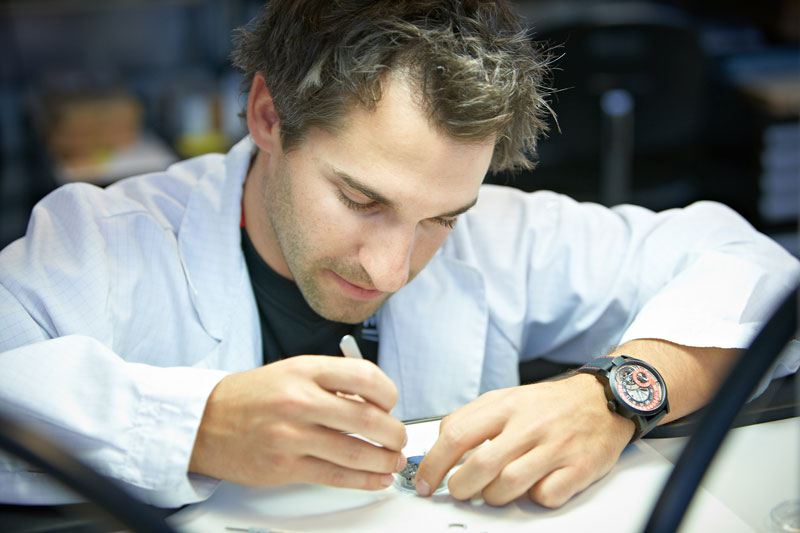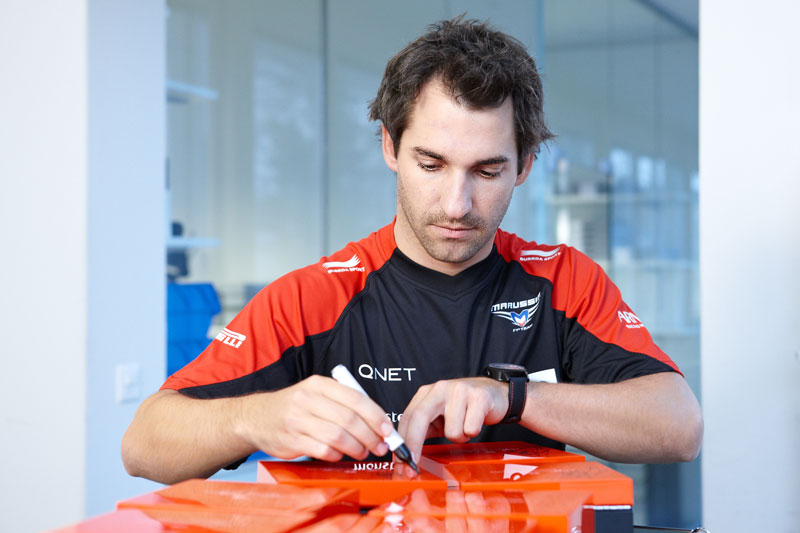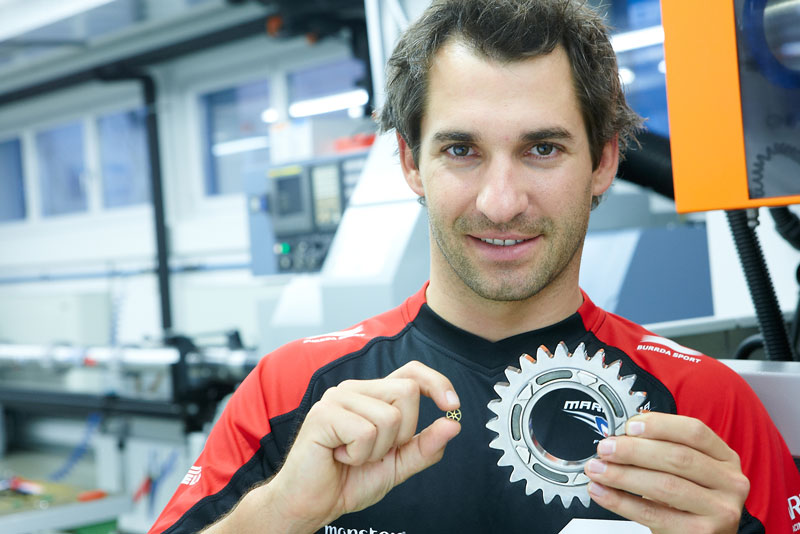 07.02.2012
New Racing Tourbillon Timepiece by Armin Strom
The watch company Armin Strom in cooperation with a team of "Formula 1" Marussia has released its sixth model of the racing collection - the Racing Tourbillon collection.
05.09.13 Comments(0)

World Tour of Armin Strom Calibers
Company Armin Strom, known for its filigree-skeletonized clockworks, in honor of the launch of its own caliber with tourbillon ATC11 has organized a world tour for calibers and watches.
02.11.12 Comments(0)

Ian Williams at the manufactory of Armin Strom
The partnership between the GAC Pindar Sailing Team and the watch company Armin Strom, the yacht skipper Ian Williams has visited the studio of the brand in Biel.
21.10.12 Comments(0)

New Logo of Armin Strom
September 2012, Swiss watch brand Armin Strom has introduced a new logo, indicating clearly defined strategies, which determined its future development.
11.09.12 Comments(0)

Novelty Armin Racing Regulator, Created by Timo Glock
During his recent visit of Armin Strom manufactory in Biel, Switzerland, the driver of Marussia F1 Timo Glock has collected his personal chronograph - a watch Armin Racing Regulator, which he, as an official face of the company will carry on throughout the season in 2012.
16.05.12 Comments(0)

ARMIN Racing Carbon by Armin Strom at BaselWorld 2012
"The watch industry and racing twin the common values - accuracy and the highest level of technology." As part of its partnership with Formula 1 team Marussia Virgin Racing the watch company Armin Strom has released the ARMIN Racing Carbon watch.
26.03.12 Comments(0)

Company Armin Strom presented his watch to a brilliant Canadian rider
The Swiss watchmaker Armin Strom, serving as an official timekeeper of the racing team Marussia Virgin Racing Formula One, is known to all for its support of young talents. And this time the choice of the company fell on the famous Canadian Robert Wickens, who have already been recognized the most outstanding representatives of their generation for the past twenty years.
31.10.11 Comments(0)

Everything has its time: Armin Strom retires.
The founder and eponym of the Biel-based Manufacture will retire from active business this autumn. The Company is proud to carry on the spirit of the pioneer and his luxury watchmaking tradition into the future. Armin Strom will continue to act as an advisor.
07.10.11 Comments(0)



The Armin Strom watch brand creator is famous for his engraved hand-skeletonised watches. In 1989 he creates the smallest women skeleton-watch in the world that was noted in The Guinness Book of Records. Armin presents his masterpieces of high watch art at Basel Fair annually. In the beginning the watchmaker was specialized in antique watches restoration. In 1967, he purchased a boutique in Burgdorf, Switzerland, which was his workshop till 2000. In 2001, Armin Storm buys a new workshop in the watch capital of Switzerland – Biel. Here he continues creation of unique watch models in a strictly limited number. Armin Strom creat...
Detailed information Armin Strom