| | |
| --- | --- |
| Ian Williams at the manufactory of Armin Strom | |
The partnership between the GAC Pindar Sailing Team and the watch company Armin Strom, the yacht skipper Ian Williams has visited the studio of the brand in Biel. Immediately after participating in a regatta Alpari World Match Racing Tour in St. Moritz, triple champion made a stop in the production of the brand Armin Strom.
During the visit, the team captain has studied in detail the process of making limited ARMIN MANUAL WATER-Special Edition GAC Pindar Sailing Team, released in honor of sponsoring of GAC Pindar Sailing Team. The watch, which is a limited edition of only 40 copies, function on the basis of the manufacturing movement AMW11 with trim and engraving inspired by marine issues. The caliber is decorated entirely by hand. The aim of cooperation GAC Pindar Sailing Team and watchmaker Armin Strom is an original interpretation of the subtleties of extreme sailing "through the eyes" of modern precision mechanics.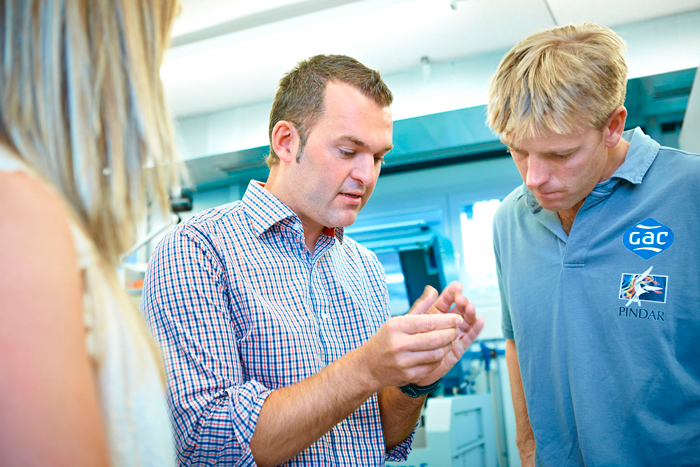 Ian Williams at the manufactory of Armin Strom
Presentation of the watch passed in a close circle of sailors with the Director of Armin Strom Claude Greisler, a passionate lover of surfing, and Flavio Marazzi - a brand ambassador and member of the class regatta Star Boot, held on the last Olympic Games in London.
Claude Greisler expressed his satisfaction at the end of the event: "The presentation of the build process allows answering any questions of John. From our first meeting, he showed that he is very interested in the production of the watches. Our joint cooperation has proved that we both share the same values and principles that guide us in life, and by which we solve our problems."
Official website of Armin Strom watches.
Written by Lucy Vuiton
21.10.2012
New Racing Tourbillon Timepiece by Armin Strom
The watch company Armin Strom in cooperation with a team of "Formula 1" Marussia has released its sixth model of the racing collection - the Racing Tourbillon collection.
05.09.13 Comments(0)

World Tour of Armin Strom Calibers
Company Armin Strom, known for its filigree-skeletonized clockworks, in honor of the launch of its own caliber with tourbillon ATC11 has organized a world tour for calibers and watches.
02.11.12 Comments(0)

New Logo of Armin Strom
September 2012, Swiss watch brand Armin Strom has introduced a new logo, indicating clearly defined strategies, which determined its future development.
11.09.12 Comments(0)

Novelty Armin Racing Regulator, Created by Timo Glock
During his recent visit of Armin Strom manufactory in Biel, Switzerland, the driver of Marussia F1 Timo Glock has collected his personal chronograph - a watch Armin Racing Regulator, which he, as an official face of the company will carry on throughout the season in 2012.
16.05.12 Comments(0)

ARMIN Racing Carbon by Armin Strom at BaselWorld 2012
"The watch industry and racing twin the common values - accuracy and the highest level of technology." As part of its partnership with Formula 1 team Marussia Virgin Racing the watch company Armin Strom has released the ARMIN Racing Carbon watch.
26.03.12 Comments(0)

Company Armin Strom presented his watch to a brilliant Canadian rider
The Swiss watchmaker Armin Strom, serving as an official timekeeper of the racing team Marussia Virgin Racing Formula One, is known to all for its support of young talents. And this time the choice of the company fell on the famous Canadian Robert Wickens, who have already been recognized the most outstanding representatives of their generation for the past twenty years.
31.10.11 Comments(0)

Everything has its time: Armin Strom retires.
The founder and eponym of the Biel-based Manufacture will retire from active business this autumn. The Company is proud to carry on the spirit of the pioneer and his luxury watchmaking tradition into the future. Armin Strom will continue to act as an advisor.
07.10.11 Comments(0)



The Armin Strom watch brand creator is famous for his engraved hand-skeletonised watches. In 1989 he creates the smallest women skeleton-watch in the world that was noted in The Guinness Book of Records. Armin presents his masterpieces of high watch art at Basel Fair annually. In the beginning the watchmaker was specialized in antique watches restoration. In 1967, he purchased a boutique in Burgdorf, Switzerland, which was his workshop till 2000. In 2001, Armin Storm buys a new workshop in the watch capital of Switzerland – Biel. Here he continues creation of unique watch models in a strictly limited number. Armin Strom creat...
Detailed information Armin Strom