| | |
| --- | --- |
| Magic of blade in a new watch Kris by ArtyA | |
At the crossroads, where the sacred tradition of fine craftsmanship meets the bold innovations of modern art, and where the creative talent of the artist's ancestors takes the form with the help of skilled watchmaker, the craft creates a unique masterpiece; incredible work of art is born miraculously!
A new collection of Kris by already known and, no doubt, a talented watchmaker Ivan Arpa has been created in such way. At this time, in creation of his unique dials instead of the usual butterflies, portraits, and feces of dinosaurs the master used the Indonesian dagger blade.
Sure, it's a real work of art – wrist watch for collectors and people who prefer to ignore the usual understanding of traditional timekeeping. The blades used in the new watch Kris by Artya, is alloy of several types of steel, which is contained in the meteorites, falling on Earth. This type of blade is widespread in the South - East Asia. According to local legend, this blade has magical power, which likely be transmitted to its owner.
The original dial of watch ArtyA 1 / 1 Kris is literally carved out of ancestral dagger Kris, broken during a traditional ceremony, which was secretly held in Lombok. This broken blade was given to Ivan Arpa to use it in his watches, in order to preserve the power of the blade!
Despite this original dial, Ivan Arpa, however, is not neglected the watch case, which is also touched by the "hand" of the legendary machine Tesla, creating original and distinctive watch cases of ArtyA. This new unique men's watch is equipped with traditional Swiss mechanical movement with automatic winding. The power reserve is 40 hours. The dial is covered with durable sapphire crystal, which is extremely resistant to various types of scratches. The strap is made of crocodile skin. Water resistance of the model is 50 meters.
If you prefer all original and unusual, you certainly should buy watch Kris by ArtyA. Soon, our site is filled with video that will showcase the beauty and uniqueness of the watch Kris by ArtyA.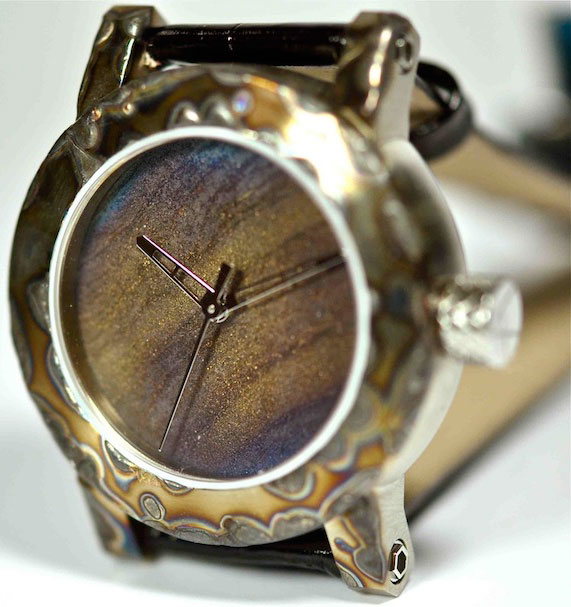 31.01.2012
GTE 2013: a new model Son of Earth îò ArtyA with bright dial
The famous watchmaker Ivan Arpa, whose work does not cease to amaze watch lovers of the unusual and non-traditional watch making performance, along with his wife Dominique Arpa Cirpka, who is a talented artist to create of his watch creations draws inspiration from everything around.
16.02.13 Comments(0)

Winter Snowflakes by ArtyA
The watch company ArtyA has introduced a new gorgeous watch collection Winter Snowflakes, consisting of three luxury models produced in one piece. All three novelties are decorated with delicious precious stones.
24.11.12 Comments(0)

New Werewolf Blood and Bullets by ArtyA
At the crossroads of centuries-old traditions of watchmaking and innovations of modern art, through the creative talent of the founder Artya create rare, and unique works of art of watchmaking.
20.10.12 Comments(0)

New Artya Skeleton Tourbillon watch in a single copy
The talented watchmaker and extravagant designer Yvan Arpa has presented photos of its new wristwatch Artya Skeleton Tourbillon. According to Ivan Arpa "continuous wild imagination pursues the artist, and the watchmaker has no choice but to follow."
29.06.12 Comments(0)

News of website montre24.com: an exclusive video ArtyA
The information watch portal montre24 provides a unique opportunity to lovers of unique watches of the famous and talented watchmaker Ivan Arpa, who organized the presentation of his watch masterpieces parallel to the exhibitions of GTE and SIHH 2012 in Geneva.
04.02.12 Comments(1)

The unique color in the new ladies watch ArtyA 1 / 1 Set!
New creation of a skilled watchmaker and talented designer Ivan Arpa, who surprises the demanding watch audience by his unique creations, has become another unique and beautiful creation for the beautiful half of humanity - ladies watch ArtyA 1 / 1 Set.
02.02.12 Comments(0)

Farewell to the euro - à watch «Bye Bye Euro» by ArtyA
The company's founder ArtyA Ivan Arpa is a man with an inexhaustible imagination and sense of humor. He has an infinite work ethic and never ceases to amaze fans with the watch delights by unique novelties.
06.11.11 Comments(0)

Demons of Halloween on the dials of the new line Halloween Collection by ArtyA
The ancient Celtic holiday Halloween, which marks the 31 October, has pushed many watch companies to create watches in the style of Skull Watch, the dials of which adorn with the skull and crossbones. With such a watch on your wrist you will surely scare away demons and become a star of the party.
29.10.11 Comments(1)

A new watch line by ArtyA in honor of the legendary rock band Kiss
The watch brand ArtyA, earned a reputation as a creative designer of exclusive novelties, has pleased with the release of the new limited edition watch line not only for watch devotees, but also for the passionate fans of the legendary rock band Kiss.
15.10.11 Comments(0)

A New Scissor Cut 1 / 1 with appliqué of Artya
The Swiss watch brand Artya again struck the admirers of Horlogerie by a new watch model Scissor Cut 1 / 1 with a dial decorated with appliqué. The line is launched in September 2011. It is a tribute to the art of paper cutting and paper applications, which arose in the 16th century Switzerland. In the 18th century this art was brought to Colonial America by immigrants from Europe.
26.09.11 Comments(0)



"The continuous wild imagination chases the artist and the watchmaker has nothing to do, but follow". Yvan Arpa. On the crossroads of longstanding watchmaking traditions and modern art novelties, by means of Artya company experts' creative talent, unique and inimitable watchmaking art masterpieces are created. The company's mission is to change the usual watch conception by means of contemporary art. Time fades into insignificance in their works, giving place to beauty, unusual in its perception. Artya company imposes its own new avant-garde style in watchmaking industry. Yvan Arpa doesn't change watches ...
Detailed information Artya