This news will appreciate by the fans of the unusual creations ArtyA, as the company moved away from the watch making, submitting to strict court very real ... motorcycles.
Wristwatches ArtyA - it is always the embodiment of creativity and innovation. However, it seems that a tireless watchmaker Ivan Arpa does not want to stop there. He has chosen a completely different field of activity - motorcycles, where he also successfully applied his skills and talents.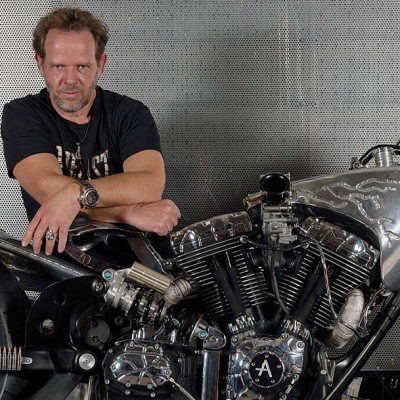 GTE 2013: Evolution of ArtyA - from watches to motorcycles
However, this is not the first time for Ivan Arpa. Prior to that, he designed a bike, however, agree that motorcycles - this is a completely different level. The new bike is planned by Laurent "ZEN" Dutruel and Ivan Arpa and a partnership with James Risse of Black Way to light has appeared a new creation by the famous designer, which is striking: in the new motorcycle from Arpa all thought out to the smallest detail. All engravings on this motorcycle display elements of legendary collection ArtyA "Coup de foudre". However, in the motorcycle are also reflected another legendary collection - "Son Of A Gun". It is the original best-seller in the watch world, in which models harmoniously coexist fleeting time and the elements of a firearm.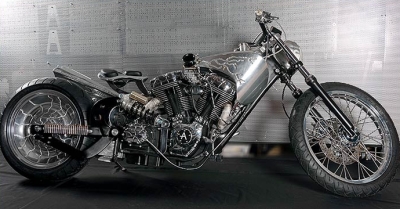 motorcycle by ArtyA
The color of the new bike - is silver, which gives it a special flair. But the whole point of this two-wheeled wonder is in the details. For example, the tank cap is decorated with Swiss automatic watch on the dial of which shows the icon of rock - the legendary singer and one of the founders of Kiss Gene Simmons. Another notable detail is the handle in t which you can see the real bullets. Attributes of heavy artillery can also be seen on the back of the bike: the rear is also decorated with a slingshot motorcycle near real bullets.
The new bike from Ivan Arpa is completely handmade and of course, it costs a lot. This new "gothic" car is more like a car of the future. Some visible screws and parts bike in black, what gives the bike a more unique look.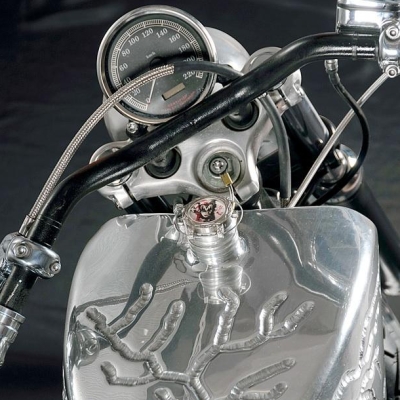 motorcycle by ArtyA
Motorcycle by ArtyA was presented at the annual Geneva Time Exhibition 2013, which took place from 20-24 January. The new bike of well known Ivan Arpa with volume of the engine of 1.45 liters and output of 90 horsepower is sure to become the pride of its future owner.
Official site of Artya.
21.02.2013