| | |
| --- | --- |
| A New Luminox Watch in honor of the Indy Car Champion | |
The watch company Luminox has issued a sports chronograph in honor of one of the most successful and celebrated pilot of the famous tournament Indy Car. The watch is created in a unique style of Indy Car and released in a limited edition of 500 items.

This is the fourth watch Luminox, issued in honor of Tony Kanaan. The collaboration of Tony with the company Luminox has a rather unusual start. Kanaan just wanted to buy some of Luminox watch for himself, but he was refused. Then Tony said, "I really cannot just pay for them?" - For which he received the answer "No, but you can make yourself watch with us." Since then, together with the racer were designed four nominal models.

The dial is decorated with the new color scheme of the Tony Kanaan racing car: green and yellow stripes on a gray background. However, this is not the only original feature of the new watch Luminox Tony Kanaan. One of the unusual features is the asymmetric part of the case, which extends into the right side. The watch case is made from polished stainless steel 316L with black PVD-coated. A bezel of Luminox Tony Kanaan is made entirely of carbon fiber - now the mandatory part of the most sports watches. The crown is adorned by the lateral minting of a tire tread.

At the position of "8 o'clock" on the dial there is a personal number of the Tony Kanaan bolide – the number 82 in this season. The tachometer scale is located on the periphery, on which you can track the speed of the car in case of failure the speedometer. At the position of "6 o'clock" there is the 1 / 10 second counter, as well as a large date window - black with white letters. Hour and minute hands are black with a white luminous compound. The second hand is yellow.

The case back of the watch, as it should be for any limited model, adorns the logo Indy Car, as well as the Tony Kanaan signature.

Inside Luminox Tony Kanaan is set a quartz caliber Ronda 5050. The diameter of the asymmetric case is varied from 41 to 44 mm, the water resistant to 100 meters. The novelty is available on a polyurethane strap. MSRP of the model is 1200 dollars.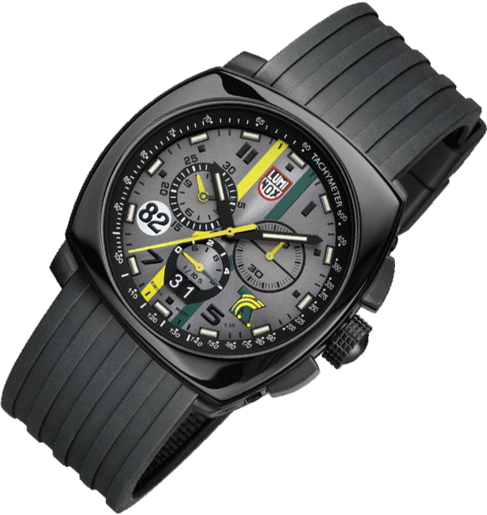 20.12.2011
Limited Edition SR- 71 Blackbird by Luminox in honor of ''Blackbird''
The watch company Luminox announces the release of the novelty Limited Edition SR- 71 Blackbird, released in 500 items. The watch got its name in honor of the spy plane Lockheed SR- 71 Blackbird. The model Bell & Ross Vintage BR 126 Blackbird is also dedicated to this aircraft.
02.11.13 Comments(0)

New Tony Kanaan Valjoux Chronograph Watch by Luminox
Founded in 1989, the watch brand Luminox has pleased its fans with another novelty. The model Tony Kanaan Valjoux Chronograph was launched in collaboration with the Brazilian racing driver Tony Canaan.
17.08.13 Comments(0)

Luminox Presents Recon Watch
In January 2013, the watch company Luminox has expanded the NAV SPC collection with a new model Recon. It is designed specifically for those looking for adventure, try to reach new heights.
15.01.13 Comments(0)

New Watches by Luminox - Mariner Automatic and Quartz
The famous watch brand Luminox announces a new series of watches Mariner 6250 and 6500, carried out in a nautical theme. The models are presented in 43-mm stainless steel cases. The cases are equipped with a screwed crown, stainless steel rotating in one direction bezel.
13.09.12 Comments(0)

Deep Dive 1500 Watch by Luminox
The watch company Luminox announces the release of a new Deep Dive watch, which is different from other models by using two fluorescent best assets - backlight technology Luminox Light Technology and material Super-LumiNova on indices for maximum legibility.
12.09.12 Comments(0)

Luminox introduces new striped straps
The watch company Luminox was founded in 1989 by an American businessman Barry Cohen. The models of this brand are characterized by sporty design, high accuracy and reliability.
01.07.12 Comments(0)

Luminox - New Watch and a Trip into Space
The unique news: a wristwatch by the watch company Luminox will soon fly to space trip. Only few brands can boast that their chronometers have been tested in space conditions, so for every watch company is a welcome milestone.
17.03.12 Comments(0)

A New F-35 Lightning II Chronograph by Luminox
The American watch company Luminox has introduced a new watch model watch F-35 Lightning II Chronograph, performed in a dynamic sporty style. The novelty draws attention to its multifunction dial, which is used in the design of black and orange colors to facilitate a dynamic visual impact.
05.12.11 Comments(0)

Watch Company Luminox in support of the Japanese
Luminox presents wrist watches, created to support of the tsunami and earthquakes victims that have occurred this year in Japan. Of course, the watch itself will not be useful to all victims of disasters, but the money from their sale will be sent to the Japanese Red Cross Mission.
28.11.11 Comments(0)



Luminox watches are specialized watches for people of extreme professions. The Luminox watch company was founded in 1989 by Barry Cohen, an American businessman, who had already had his wristwatchmaking business. The brand was given its name after he had had the right to use the unique Swiss technology LLT (Luminox Light technology). In 1993, the company presented its dive watches. Later on, the U.S. Navy SEAL Procurement officers came to the company asking to create special reliable dive chronographs for night missions. In 1994, the "ordered" chronograph Navy Seal Colormark 3050 Series appeared and immediately became popular not only among professionals, but also lovers of wristwatches of a "military" class. After the success, the company started enlarging its model line and for some time presented several various lines intended for such professions and men as a law enforcement official, sportsmen, firemen, divers and, after all, ...
Detailed information Luminox