Luminox watches are specialized watches for people of extreme professions. The Luminox watch company was founded in 1989 by Barry Cohen, an American businessman, who had already had his wristwatchmaking business. The brand was given its name after he had had the right to use the unique Swiss technology LLT (Luminox Light technology). In 1993, the company presented its dive watches. Later on, the U.S. Navy SEAL Procurement officers came to the company asking to create special reliable dive chronographs for night missions. In 1994, the "ordered" chronograph Navy Seal Colormark 3050 Series appeared and immediately became popular not only among professionals, but also lovers of wristwatches of a "military" class. After the success, the company started enlarging its model line and for some time presented several various lines intended for such professions and men as a law enforcement official, sportsmen, firemen, divers and, after all, people who lead an active way of life. Shortly after, the wristwatches collection SR – 71 Blackbird 9000 series was launched which had been specifically developed for the USAF. This collection edition gave impetus to company's further active cooperation with creators of F – 117 Nighthawk Stealth planes.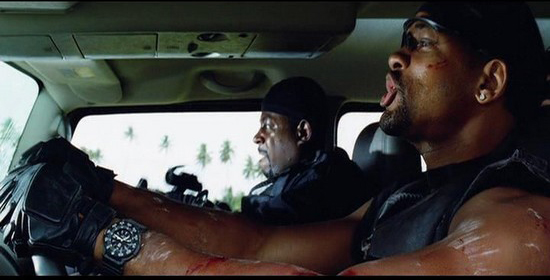 Bad Boys II: Will Smith with Luminox Original Navy SEAL 3001 watch
At present, the company's range includes "aviation" collections: Nighthawk F – 117, F – 16 Fighting Falcon and SR – 71 Blackbird. Special for pilots of the shuttle, the company made the line Venche Star that was the beginning of collaboration with the NASA. The models of the collections of the same style of the famous planes have steel case and solid black PDV coating. In the near future the edition of new lines of "aviation" collections will be launched which will be developed special for the producer of Lockheed Martin planes.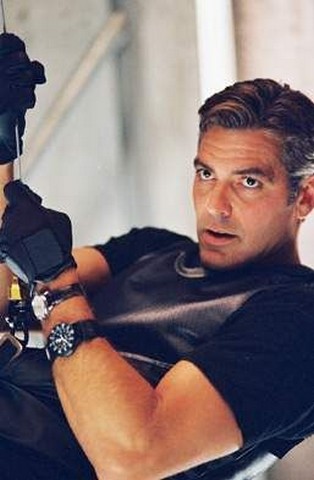 Ocean's Eleven: George Clooney with Luminox Original Navy SEAL 3901 watch
Special for its own 20th anniversary in 2009, the company presented Navy Seals 8800 Anniversary Series, the special model of wristwatches, which was based on Navy Seal, the model of 1994, made the Luminox company famous. The case, the rotating bezel and the case back are made from high-tech carbon polymer. The crystal is mineral. This "anniversary" model is water-resistant to 200 metres.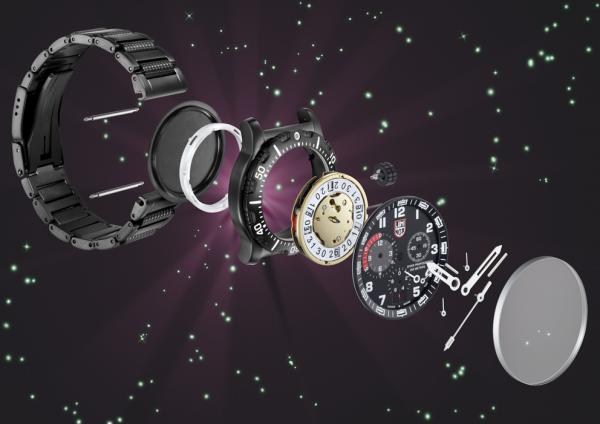 Luminox watch
The technological feature of Luminox watches is a special system of lightning. It is the special borosilicate glass installed into the dial, which does not require charging from external light sources. A constant glow is up to 25 years. A dial's glow is a chemical reaction caused by interaction of tritium and luminophore. Lithium batteries provide a constant and precise work of watches during 10 years.
Over a period of many years, the Luminox company has been producing models intended for different weather conditions, no matter what they are. All the models of Luminox wristwatches have a dial's glow and an anti-reflecting coating. These watches are really the addition for an extremal equipment.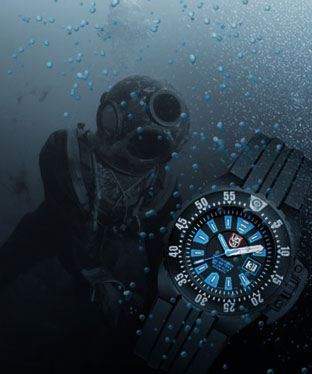 Deep Dive watch