| | |
| --- | --- |
| A comfortable and stylish lady's watch Grande Maison by Salvatore Ferragamo | |
The watch brand Salvatore Ferragamo has charmed the watch audience with the new women's wristwatch Grande Maison, which combines comfort, energy and elegance. The new watch, like a small snake, reproduces the graceful flowing lines of a woman's hand and gives it the perfect elegant look.
The novelty is available in stainless steel coated with gold IP-coated. The model's bezel and crown are also made of stainless steel. The watch water-resistant is up to 30 meters.
A sapphire glass like an impenetrable shield protects the case from the front. The silver dial is decorated with exquisite guilloche as diverging from the center of the sunrays. Large Roman numerals with gold-plated effectively set off the silver tone of the dial. At the periphery the dial is marked by the railroad minute track. Time is fixed on the dial by the central hours, minutes and seconds hands.
The watch is provided with quartz Ronda 763 Swiss-made.
The strap from genuine calf leather with crocodile stamping and folding clasp is made in a luxurious crimson color which blends perfectly with the gold-plated case.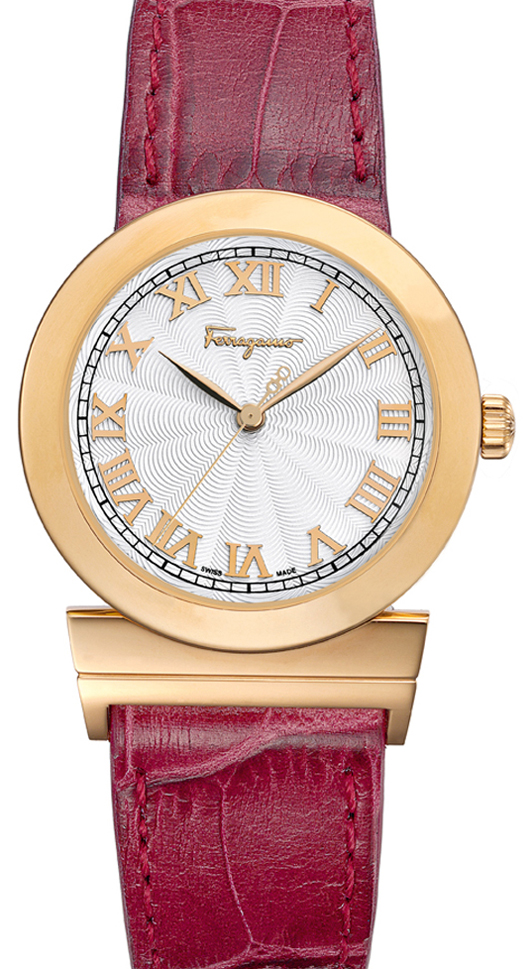 27.10.2011
Lungarno Automatic by Salvatore Ferragamo
The Italian brand Salvatore Ferragamo announces the release of a novelty Lungarno Automatic, which has a round case with a diameter of 44 mm stainless steel. The case is complemented with a bezel in gold IP plated. The watch water resistant - 50 meters.
06.06.13 Comments(0)

Salvatore Ferragamo Idillio Automatic Watch
Italian company Salvatore Ferragamo, founded in 1927, is known worldwide for its unparalleled collection of clothing, shoes and various accessories. Among these accessories, watches presented in a variety of design solutions occupy a place of honor.
11.09.12 Comments(0)

New Women's Line by Salvatore Ferragamo
The lunar disc and myriads of luminous stars in the velvety blue night sky have always attracted the attention of the people with its unfathomable depth and mystery. The view of the night sky has inspired designers to create new and unique collections.
29.06.12 Comments(0)

Classic and elegant Renaissance by Salvatore Ferragamo
The watch house Salvatore Ferragamo has announced the launch of new Renaissance line with amazingly beautiful and unusual cases. Wavelike cases are made of stainless steel with gold IP-coated. A rectangular enclosure has a relatively large size of 43mm x 33mm.
22.12.11 Comments(1)

The first online exhibition of watches on Facebook
In September 6- 9, 2011 the first online exhibition of watches was carried out. The event was held at the in the most famous social networking site of the World - Facebook. Moreover, it was the International Watch Exhibition. During the four days of exploring the masterpieces to buyers, sellers and journalists have been able to fully evaluate novelties of the industry without leaving the computer.
02.10.11 Comments(0)



The Italian brand Salvatore Ferragamo was founded in 1927. Salvatore Ferragamo is one of the most famous luxury brands. The company creates clothing, shoes, accessories and perfumes. The fashion house owned by the family Ferragamo, whose president is the wife of Salvatore Ferragamo - Wanda Ferragamo. Salvatore Ferragamo was a virtuoso and innovator in the fashion world. Reinforced with metal high heels, wedge heel shoes, metal heels of the complex shape, the shoes with the sheer nylon top or the shoes made from leather and textile rags of different color ar...
Detailed information Salvatore Ferragamo