| | |
| --- | --- |
| Relax and remove the stress with Prestige Cocktail by Philip Stein | |
The watch brand Philip Stein has pleased the fans of the watch superfluities by the watch Prestige Cocktail, decorated with numerous diamonds.
The company Philip Stein became famous in the watchmaking world with the patented technology of the natural frequencies. The unique technology is based on the frequencies that are beneficial for health and quality of life. In all watches of the brand are built with metal disks of the installed technology.
Technology of natural frequencies - a combination of natural frequencies that regenerates the planet Earth and human life is set. At this frequency, the human body is not subject to stress and is in a relaxed state. Interaction frequencies specified in the model with human energy field starts while wearing the watch, thus increasing the field and the anti-stress potential of the human body.
The company founder Will Stein says: "This technology changes lives based on natural and scientifically proven approach to improving the well-being."
The technology of the natural frequencies predispose to good sleep, better ability to concentrate and general physical condition.
The novelty of company Prestige Cocktail is also equipped with the technology of natural frequencies, and diamond inlays give it a graceful appearance of luxury jewelry. The case of the model is made of polished stainless steel. Inherent to wristwatches of Philip Stein two crowns, also made of stainless steel, regulate time in the two dials located on the main white mother-in-pearl dial in the shape of the big eight. Both dials are encrusted with 32 diamonds weighing 0.07 carats. At the top of the dial displays the time through the central minute and hour hands, and the lower dial is modified by function the second time zone. An impressive bezel is paved with 112 diamonds weighing 0, 45 carats and provides reliable fastening anti-reflective sapphire crystal to the watch case.
The model is based on two mechanisms of quartz ETA E01.001. The new watch is accompanied by a double tour strap in red merino.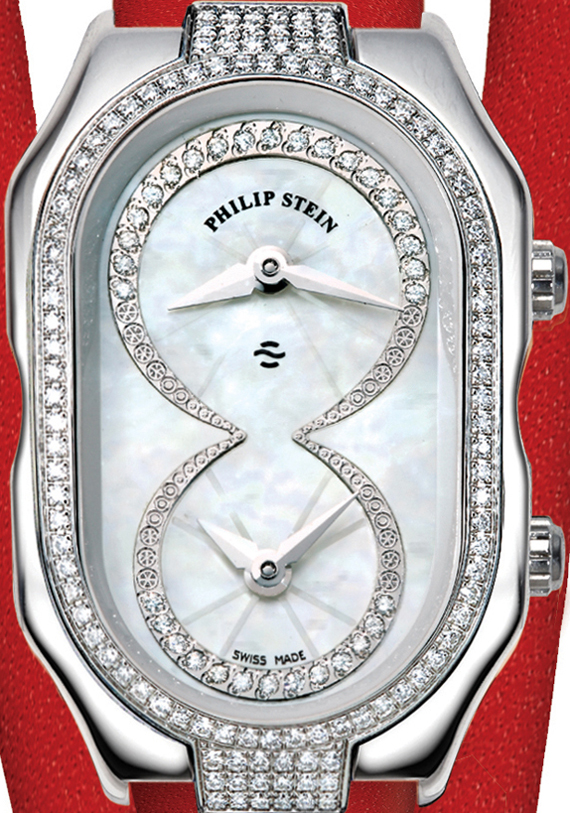 19.10.2011
Philip Stein and its New Signature Round Watch
The watch company Philip Stein has announced a new line Signature Round on the base of one mechanism. The technology, named after the classic typographic fonts, is presented in a round stainless steel case in diameter of 36 mm or 40 mm.
23.11.12 Comments(0)

The watch company Philip Stein ceases online sales
Today, many watch companies offer online shopping, looking forward to bright prospects for the so-called active, or mobile sales - if you like a thing you needn't go, but just enough order online. However, the watch company Philip Stein stops Internet commerce.
09.10.11 Comments(0)



In 2002, the married couple Will and Rina Stein launched a new project – Philip Stein watch company. Will's extensive knowledge in the consumer practice and Rina's 28-year experience in watchmaking helped the couple to create a symbolic watch brand. The company's huge collection of unique watches was improved with the patented innovative technology of natural frequencies. An attempt to combine the creativity of the design and the comfort was undoubtedly successful. Having come into the market, Philip Stein watches marked a new era in the history of watchmaking, that is the adoption of natural ...
Detailed information Philip Stein