| | |
| --- | --- |
| A Wrist Watch Jacques Lemans UEFA Champions League | |
The watch company Jacques Lemans is one of the official sponsors of the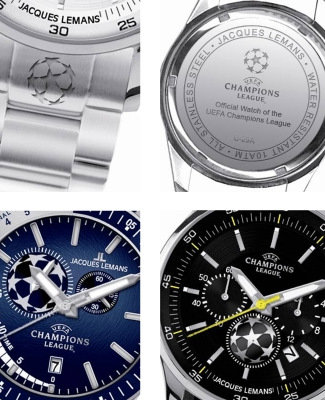 Champions League. And in honor of this collaboration Jacques Lemans issued a new watch UEFA Champions League, adorned with branding of the Champions League.
The famous image of the "star ball" adorns the crown of new wristwatch, bracelet or strap. So, in the best tradition of limited editions, the caseback is affixed by the inscription «Official Watch of the UEFA Champions League» and the logo of the Champions League.
The watches Jacques Lemans UEFA U-29 and UEFA U-30 have a 45-minute marking on the bezel, which allows determining the time before the end of the half. Other models from the new series (UEFA U-29A, UEFA U-29B and UEFA U-29C) have also the scale of the extra time reference, which provides the ability to track the last moments of the game.
The watches Jacques Lemans UEFA of the U-32 series as the second hand spinning are the symbol of the League.
The case diameters of the watches UEFA Champions League are ranged from 38 to 46 millimeters.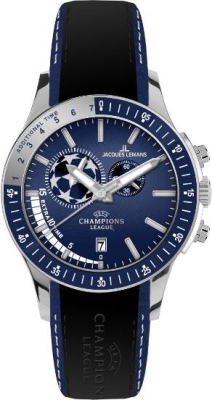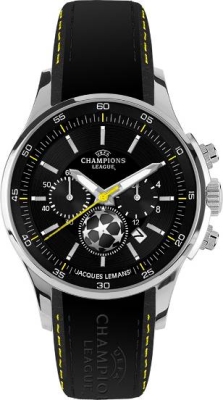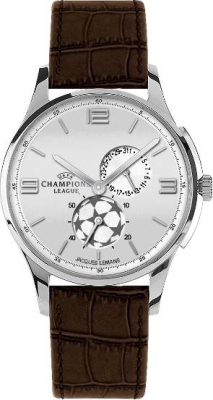 11.10.2011
Kevin Costner - Jacques Lemans Partner
An American actor, producer and director, winner of "Golden Globe", "Amy" and "Oscar", Kevin Costner became a partner of the watch company Jacques Lemans. A famous photographer Mike Azzato made the pictures of the actor in the Jacques Lemans watches.
02.12.13 Comments(0)

Summer Mood by Jacques Lemans
Summer mood in the Jacques Lemans company continues; brand designers have combined the models of the Miami series with popular cocktails.
28.08.13 Comments(0)

BaselWorld 2013: Liverpool by Jacques Lemans
At the annual exhibition BaselWorld 2013, the Swiss watch brand Jacques Lemans has introduced a limited edition novelty Liverpool. The watch has a round case made of stainless steel or stainless steel with black PVD coating. The case diameter is 44 mm, water resistant - 50 meters.
06.05.13 Comments(0)

Jacques Lemans Milano - for sporty classic lovers!
Austrian watchmaker Jacques Lemans has announced a new line of watches Milano, in which a sporty design combines with the location of the central hands. Thanks to the bright color image, the sporty design acquires a patina of glamour.
22.08.12 Comments(0)



Hereditary watchmakers Lemans get glorify to their name due to Lemans. Drawings of the first watches Jacques Lemans made after the race "24 Hours of Le Mans," after he accidentally heard a phrase of his friend, who had broken his watches during the race: "I wish someone would make watch that would go the same way as these cars drive! " Jacques Lemans decided to create watches as perfect and reliable as cars, winning at Le Mans 24. Lemans, having decided to create a "timeless and accurate watches", started working at their de...
Detailed information Jacques Lemans