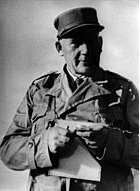 In 1936 Tuomas Volhonen,

a research engineer, founded Suunto, a famous Finnish brand, representing a unique product – sports-oriented wrist computers. Apart from their main functions execution, these watches specialize on complicated and precise calculations by means of built-in instruments.
The brand's founder invented the first liquid-filled compass, providing addition hand stability – it became less dependent on accidental oscillations. Naturally, this instrument became much easier to use. The fact was highly appreciated not only by amateurs, but also by professionals. In 1950 the company became one of the largest compass exporters, the brand's products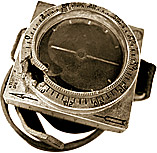 were well-known in more, than 50 countries. The next step in the company's development was the K-12 sea compass invention and production. The novelty was followed by the next creation – a submarine compass. But the company's craftsmen didn't stop on this. In 1987 the company introduced another unique creation to the world – it was the first diving computer ever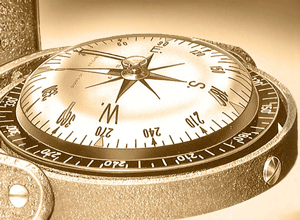 made. It is notable, that the computer worked perfectly both under water and on the ground level. In 1990 the new world-conquering novelty was presented. Suunto decompression meters had individual decompressing option with diving profiles memory. The next year a specific instrument, transferring the decompression meter data to personal computers, was created.
In 1991 Suunto brand was purchased by Amer Sports Corporation company, consisting of several organizations, specializing on sports equipment and accessories production. Only in 2000 Suunto produced the first computer wrist watch with a nitrogen saturation level measuring option, used for diving. This novelty was followed by the next, Suunto Spyder, – the first underwater computer, equipped with a digital compass.
Nowadays Suunto is one of the world's leading sports watches and accessories producers, implementing modern and traditional technologies, based on extensive research. Today multifunctional wrist watches take a special place among the brand's products. Inimitable quality and innovative technologies are highly appreciated not only by watch connoisseurs and collectors, but also by people, leading an active way of life.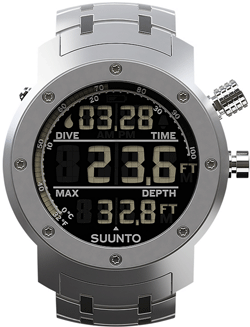 The new Elementum watches series, introduced by the brand, also couldn't go unnoticed. The line includes 3 model lineups, meant for seamen, divers and travellers: Suunto Elementum Ventus, Suunto Elementum Aqua, Suunto Elementum Terra. All line's watches are equipped with LCD displays and their accuracy is guaranteed by quartz movements.
Elementum is a brand new Suunto watch trend: the watch is supplied with an altimeter, a barometer and a compass.
Suunto Elementum Aqua, supplied with deep-water diving accented chronograph functions, essential for diving control, represents the latest technological achievements. An underwater sensor displays the dive depth and the sea temperature. In this model everything is tight-knit to provide maximum comfort. Comfortably wound crown enables you to switch to the needed function easily. The watch is supplied with backlight and a dives meter. A precise alarm-clock, implanted in the model, will let you be sure in time.
Elementum Terra is an irreplaceable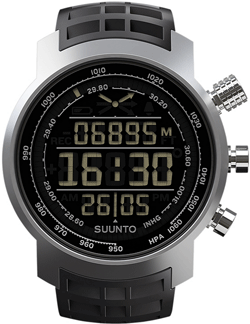 model for travellers, extreme sports fans and any people, striving to open new horizons. The display range is from -500 to 9000 m. The watch is equipped with a function, enabling you to make up to 8 log notes and fix new route checkpoints. Moreover, the watch has a stopwatch, backlight and a 3D compass, enabling its owner to orientate in the area or unknown territory easily. This is not it: an altimeter, letting you determine the height you are at, is also at your service. The barometer will predict weather conditions change accurately. The watch's case, made of AISI 316L steel, will protect it from corrosion and the antireflective sapphire glass will protect the LCD display from external damages. The watch is water resistant up to 100 metres.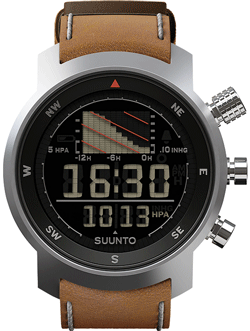 Elementum Ventus is an elegant multifunctional watch, that will become its owner's reliable friend under water. The super-precise timer can be synchronized with the regatta's official start count, the 3D compass is irreplaceable fir navigation and the barometer will inform you about weather changes. The model's case is made of high quality steel, the display is protected by a sapphire glass with antireflective coating. The model is supplied with a high quality leather strap and equipped with a quartz movement.
Suunto is one of the few brands, always striving for excellence. The variety of models, made of high quality materials and equipped with essential functions, will leave neither amateurs, nor professionals indifferent. Many sportsmen nowadays choose Suunto brand's watches.
The Finnish Suunto brand is modern innovative technologies, embodied in small accessories, which have become incomparable and irreplaceable for many sportsmen.
You can buy a Suunto watch from the brand's official dealers or order them at the company's website.