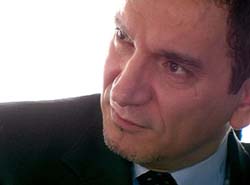 The very young, but very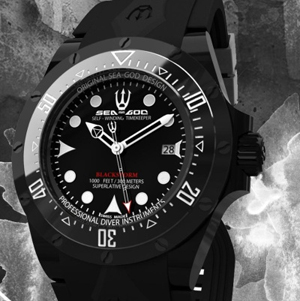 promising Italian watch brand Sea-God, presented to the world market new sport wrist watches for men and women with the large measure of the water resistance – the collection of Stormchaser Date. The watch case has the very popular nowadays black PVD coating and the 46 mm titanium bezel. The Italian watch from the Sea-God can withstand 300 meters deep without any damage of the movement and the case. The watches are equipped with the movement of Swiss ETA caliber 2824-2 with quite large power reserve - 42 hours. Sure, the name "Sea-God" is a great name for the new Italian company, which produces watches with the characteristic features, which are associated with water and the inexhaustible power of the sea. The Italian company Sea-God has made the great effort to improve the production technologies and the first line of their watches shows that the direction of the watch company has been chosen correct.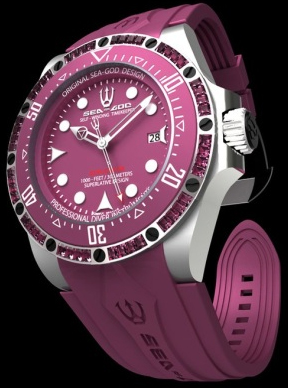 The watch manufacture Sea-God has set for itself a number of important tasks, which regularly tries to realize in its watchmaking. The watchmakers of the company are constantly improving their skills. They achieve maximum strength and durability of their products so that even after 10 years of the continuous usage, the watches were like new. The next important thing is the repair capability. It should be possible to quickly and easily replace the damaged detail. It is important that, despite the huge number of functions, the watches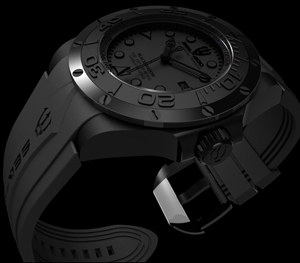 were simple to use, and the most important function – indication of time was easy to do. The most necessary characteristic of the Italian men wristwatch Sea-God must be the maximum water resistance, which is very important for professional divers and for other people too. And finally, it's necessary to know the market size of the Italian watches in the world market. Essential to ensure that the spare details can be easily bought and exchanged in any convenient place for the owner of the Italian Sea-God watches.
Now the Italian company Sea-God, despite the fact that it's the new company, is proud to announce that their watches can be worn without any problems for 10 years, and their condition does not differ from their original form.