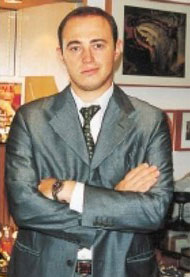 "We are developing the watch of your dream" is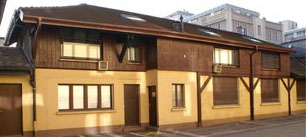 the motto of Pilo & Co watch company. With such a strong spirit and determination Pilo & Co company has entered the world of watch industry. Since its birth, this young and vibrant brand has been constantly surprising the wrist watch connoisseurs with their developments and fresh design of the models. Amarildo Pilo, the founder of Pilo & Co, began to develop this brand in 2001, in Geneva. After several years of hard work, Pilo & Co gained the general acceptance, being recognized as the successful company, producing bright and fresh goods (only in Switzerland Pilo & Co company sold more than 4000 watches). In 2002, Pilo & Co made its debut on the U.S. market, having took part in the JCK show in Las Vegas.
The hard work of Swiss engineers and designers resulted in the brilliant watch collections, that include the lines of technically innovative automatic watches, both in casual and classical styles.
Pilo & Co watch presentations took place in many countries, starting from Switzerland, where the watch production was launched, and then in Lebanon, Turkey, Malaysia, etc. Pilo & Co took an active part in various events worldwide, where the company successfully presented its products and gained the sympathy of connoisseurs of high quality Swiss watches. In 2008, Pilo & Co presented its watches in Beijing, at the Top Essence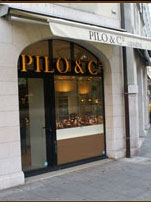 Beijing; in 2009, the company participated in the Doha watch exhibition; in March, 2010, Pilo & Co took part in the Basel World, the international watch exhibition; in November, 2010 – in the Top Marques Shanghai in Shanghai; in January, 2011, Pilo & Co presented its products at the Cheng Du 2011 exhibition, and, some time later, Pilo & Co with the same enthusiasm was preparing for the Basel World exhibition, to be held in March, 24-31, 2011.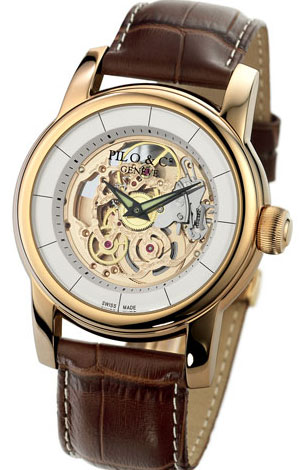 Amarildo Pilo, the company's founder, demonstrates an amazing ability to capture the trends in the watch fashion, thereby creating brands, that attract a great attention and interest of many custumers. Thanks to this ability, the company has gained a reputation, "corresponding to the time." The knowledge of the competitive market, the ability to offer the high-quality mechanical watches with the most fashionable design for customers, who can not afford to spend much money on a watch — that's the secret of success of the young watch company.
PILO & Co GENEVE wrist watch collections are «TEMPO», «INVIDIA», «ILLUSIONE», «CHONOGRAFE COLLECTION», «CAPONE, DOPPIO ORARIO».
Empo Skeleton.
The movement, housed in Empo Skeleton wrist watch, is automatic ETA, consists of 25 elements, made of precious materials. Empo Skeleton watch dial is transparent, it allows to enjoy the efficient work of the movement. The back of Empo Skeleton is also transparent. This wrist watch is water resistant to 30 meters. Empo Skeleton was released in two versions: with stainless steel case and 18K rose gold case, 42mm in diameter. The watch strap is made of genuine leather.
Doppio Orario.
The distinctive feature of Doppio Orario model by Pilo & Co is the presence of the two dials. Men's wrist watches are availablein in two colours, and women's wrist watches – in three. The dials of the models for ladies are mother-of-pearl.
The designers, developing Doppio Orario wrist watch, dedicated the model to the lovers, traveling to different places and missing his/her beloved.
Above each dial there is an engraved words – "my time" and "her time" (or in the women's models – "my time" and "his time"). Quartz Swiss movement adds a wonderful harmony to Doppio Orario watches.