| | |
| --- | --- |
| New Ad Campaign of Pilo & Co Genève | |
The Swiss company Pilo & Co Genève at the upcoming BaselWorld 2012 will introduce a new advertising banner, which displayed a model of the Corleone collection, became famous in the past year. The release of the collection was timed to the 10th anniversary of the company.
In an elegant women's wrist a luxury sports timepiece with bold brutal lines of the rectangular case looks stylish and impressive. Inside the case of the novelty is set an automatic mechanism ETA 2846 of 1975s, collected on the 21 jewels. The diameter of the caliber is 25.6 mm, and thickness - 3.6 mm. The mechanism provides a 47-hour power reserve and the balance frequency of 28,800 vibrations per hour.
In honor of its 10th anniversary the watch company Pilo & Co has also developed a commemorative coat of arms, which now will be available on all models of 11 Pilo & Co collections, symbolizing prosperity and glorious destiny of the company, whose motto sounds like "We are developing a watch of your dreams."
The company Pilo & Co Genève before the exhibition has also provided a new banner of its new advertising campaign, designed in orange and black, which represents, according to the designers of the brand, sensuality, the actual perception of the modern world, luxury and glamour.
The desire to be always ahead has become central for the Pilo & Co company. Since its inception, the company covers all segments of the watch industry, making a smooth transition from mechanical models to the fitted of high-tech ones and back again, while never losing the sense of good taste.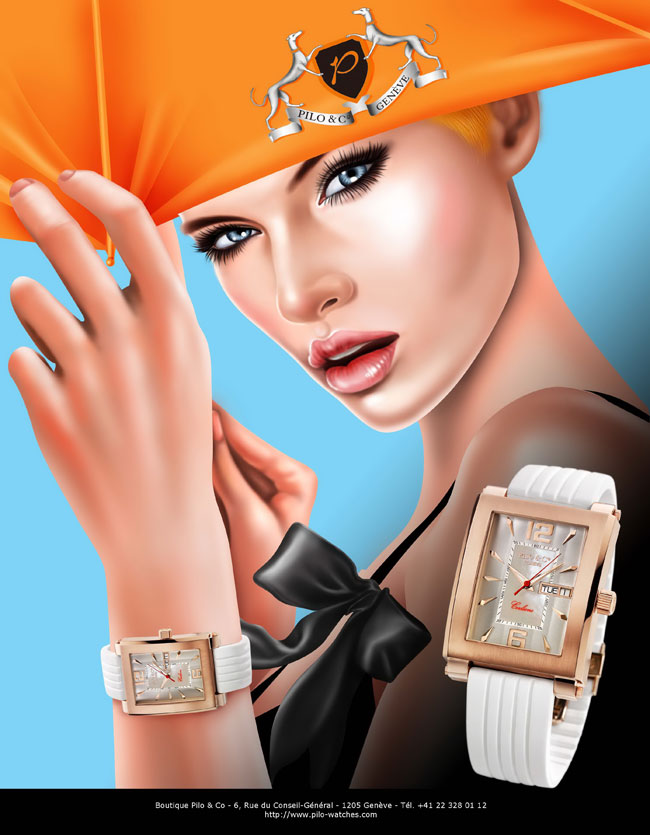 22.02.2012
Barbie doll advertise watches!
What the advertisers make to draw attention to certain products. Sometimes these "inventions" can make laugh and sometimes get to think about something, and sometimes even move.
09.08.12 Comments(0)

"Bad Boy" by Pilo & Co
The company Pilo & Co presents a novelty – Capone watch, which the company's representatives named a "bad boy". What does this name, and what relation it has to the new product, we'll find out, but for now - a little history?
28.04.12 Comments(0)

BaselWorld 2012: Watch Collection by Pilo & Co
The young watchmaker Pilo & Co Geneve, which was founded by Amarildo Pilo in 2001 in Switzerland at the world exhibition BaselWorld 2012 has introduced several collections of watches, developed by brand's watchmakers and designers for several years.
10.04.12 Comments(0)

BaselWorld 2012: Watch Collection by Pilo & Co
The watch company Pilo & Co Geneve, founded in 2001 in Switzerland by Amarildo Pilo, at the world exhibition BaselWorld 2012 has introduced several collections of watches, developed by the brand's watchmakers and designers for several years.
06.04.12 Comments(0)

News of Montre24.com: exclusive video of Pilo&Co at GTE 2012
Information watch portal montre24.com provides a unique opportunity to all lovers of the complex and amazing watch making, who are closely keeping eye on its latest trends, innovations and ideological incarnations, see the magnificent and certainly deserving of special attention watch models of company Pilo&Co, which the company introduced at the annual exhibition GTE 2012.
03.03.12 Comments(0)



"We are developing the watch of your dream" is the motto of Pilo & Co watch company. With such a strong spirit and determination Pilo & Co company has entered the world of watch industry. Since its birth, this young and vibrant brand has been constantly surprising the wrist watch connoisseurs with their developments and fresh design of the models. Amarildo Pilo, the founder of Pilo & Co, began to develop this brand in 2001, in Geneva. After several years of hard work, Pilo & Co gained the general acceptance, being recognized as the successful company, producing bright and fresh goods (only in Switzerland Pilo &am...
Detailed information Pilo & Co