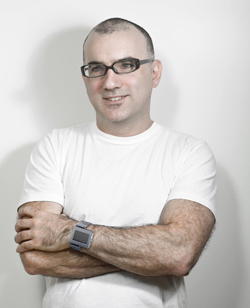 The Wonderful World of watches and is rich in a wide variety of exclusive models, each of which is unique in its own way. Their high quality and excellent design execution enchant and amaze every time.
Today, the watch industry presents to the collectors, and fans watch a million copies of unique models. And it seems that the human imagination can no longer surprise. However, looking at this watch company, it becomes clear one undeniable fact: the mind and imagination to help create the masters of all the new and unique watches, unique in its kind. That such are the watches of the company's Nooka, a New York based artist and designer Matthew Waldman. The idea of creating his own brand occurred to him in 1997 in London, and was inspired by his great clocks on the building of a hotel in London. The word «Nooka» translated from Hawaiian means "glamorous", and one of the ancient languages - the "time now" or "the future is now."
Nooka - it is brand new in the world of watches, but in the words of the founder - Subversive Provocative Style - «blowing provocative style." Nooka - this is a custom view of the simple things, the expression of ideas in new ways, it is another design of a strong personality and personal style. In their models, Matthew was able to realize a unique idea of an unusual flow visualization time. Each collection of the brand - Zoo, Zot, Zenv, Zenh, Zaz, full of exclusive models on display which accumulates the time.
The first model brand, was released in 1999 as a result of cooperation with a Japanese watch company Seiko, - Zoo. LCD display, which replaces the usual dial represents the accumulation of minutes in a horizontal manner. The time is displayed on a separate screen in digital form. After one hour-minute display is reset and the process starts over again. Watch case is made of stainless steel, and the LCD display is protected by mineral glass. The model is equipped with a 5 ATM water resistance, the functions of clock and date. Were also released other versions of this model, equipped with chronograph functions, an alarm clock.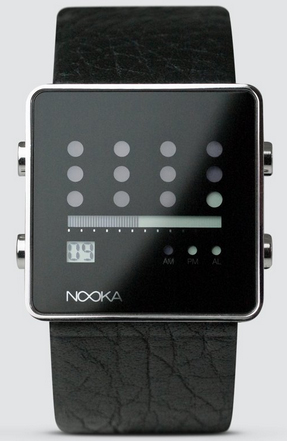 Zot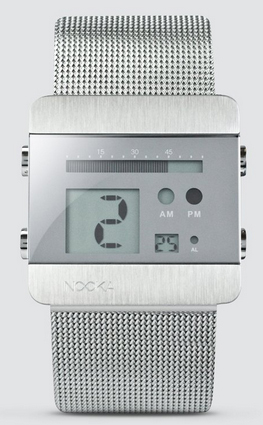 -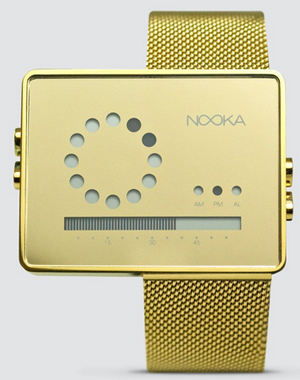 another line of unique models, the LCD displays, which are accumulated not only minutes but hours. The watch is displayed by a 12 point display, but the minutes are accumulated on the horizontal scale. Released another line of these models is a new design differs from its predecessor and features an alarm clock and stopwatch.
Zirc - line models on display which points are arranged in a circle, which displays and clocks, but the minutes are displayed in a horizontal line. Zenv Zenh and continue to a new word by Nooka time display vertical or horizontal lines.
The latest innovation from the company Nooka is is a watch called Zaz. Transparent clock display shows the time in the four vertical lines. From left to right , hours, minutes and seconds are situated. The watches of the line stainless have straps - made of genuine leather in different shades. Water-resistant of these watches - 3 ATM or 30 meters.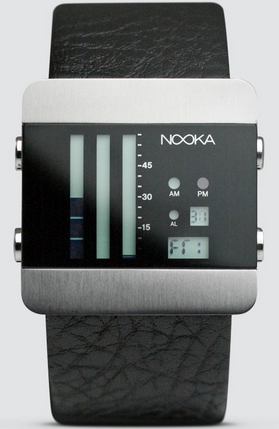 The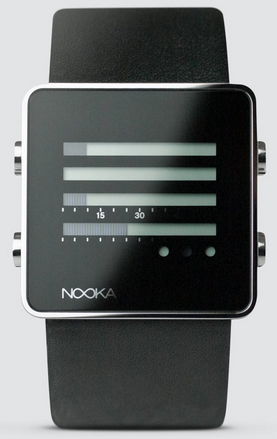 company
also produces Nooka models with aluminum cases and polyurethane strap. This watch is also equipped with alarm, chronograph function, 5 ATM water resistance. The brand also produces exclusive limited edition models. All watches from Nooka are equipped with quartz movement.
Unique model of brand Nooka immediately gained popularity in many countries around the world, all thanks to the unique design decision, Matthew Uoldmena. It should also be noted that in 2004 he decided to engage a designer release of his watch because he was disappointed after the partnership with Seiko. The risk was justified by the founder of the brand today Nooka has offices not only in New York and Tokyo. It is a thriving company, a popular brand, hours of which are not the only people who follow fashion and emphasize its unique style, but many celebrities and athletes. Contemporary Space Design Nooka watches introduced a new style to the gray everyday. Bright colors, unique design, the new philosophy, boundless imagination and unique style - that combines Nooka. Purchasing Nooka Watches can be in many countries .