In 1983, David Chu founded Nautica, which is produced at the beginning of several coats of marine-style. Products of this company were very popular. Soon, the company has grown into a large corporation, which in addition to clothing, producing different products: watches, cufflinks, ties, handbags, belts, socks, hats, bags, tablecloths, towels and bath accessories.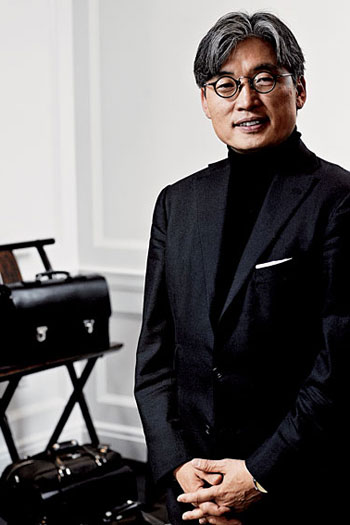 David Chu - founder of Nautica company
In 1994 the company began producing watches. In time the collections of Nautica has a large number of different models for men, women and children. Nautica introduces brand design innovation in the world of watches, has a patent on the new arrangements and adaptations. Registered trademark of the Nautica is a technology INDIGLO - lighting system that provides a convenient and uniform illumination. The system is activated at the touch of a button.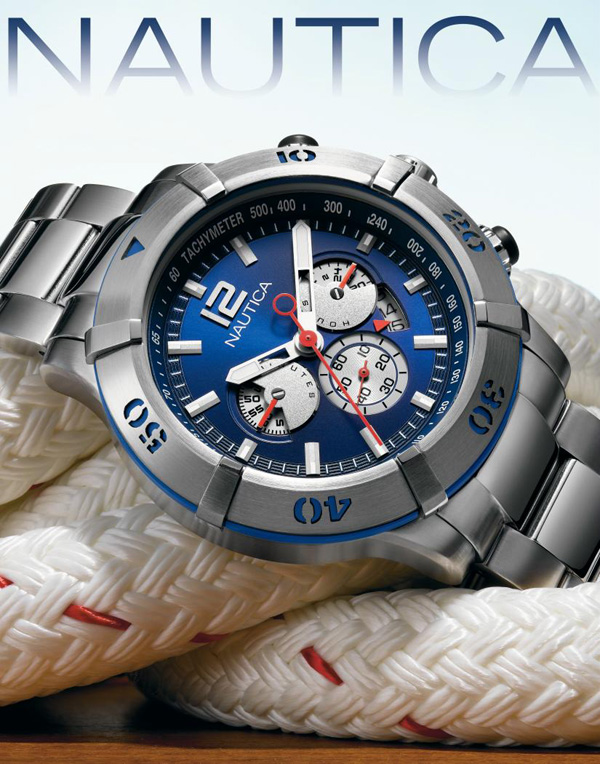 Nautica NCS 46 Chronograph
Nautica wrist watches have different levels of water resistance. Fans of speed and athletes prefer to watch with tachymeter Nautica, which measures distance and speed. Model N-MX 62 is equipped with features that replace the dashboard luxury yacht: tachymeter, precision magnetic compass display time in two time zones and calendar. These watches are equipped with mineral glass, which protects them from bumps and scratches, their watertight 100 WR. These durable, reliable and versatile watch are dream of bikers and boaters. Issued brand Nautica Men's BFC Series watch is not as popular. These watches prefer a solid, capable of vigorous, but deliberate acts of men. The movement allows the BFC Series models pinpoint periods of time up to 12 hours. These models are equipped with an alarm clock, calendar and other functions, and have a waterproof 200 WR.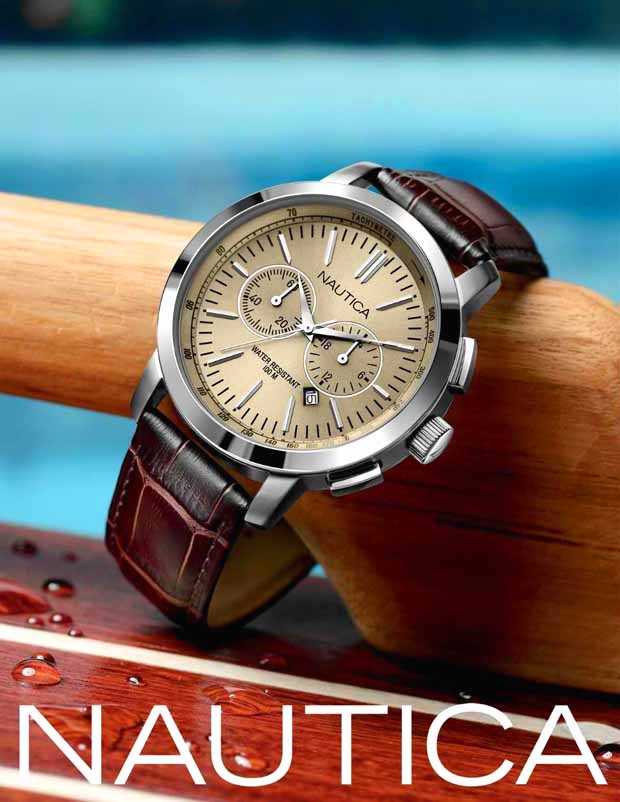 Nautica NCT 800 watch
Nautica Watches have different striking and unique design, inspired by the sea theme. The watch has a high impact resistance, improved water resistance and massive case, which can be called the main feature brand Nautica.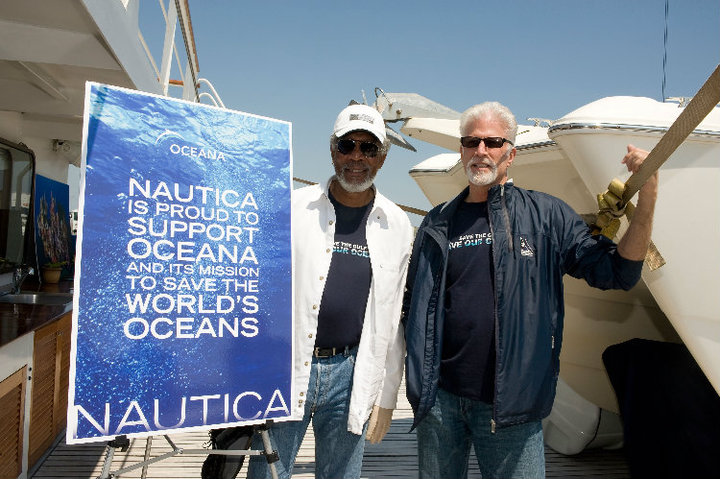 Morgan Freeman and Ted Danson at Oceana Gulf of Mexico Research Expedition
NMX-300 model series NMX, has a massive case (diameter 48 mm) and a special glass with an additional protection system, which has the form of external bridges. The watch has an unusual appearance, do not scratch the glass and have an additional impact resistance. Steel case and rubber strap watches make long-lasting. NMX-300 Model choose the most desperate extremals.
Designers at Nautica harmonious blend of different materials and styles.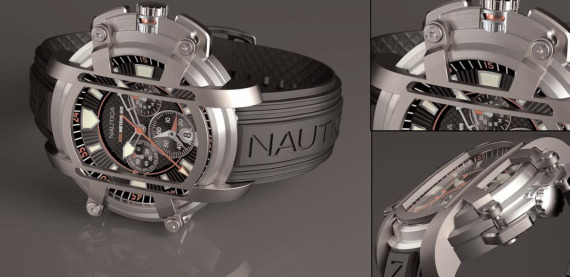 Nautica NMX 300 watch
Eclectic in design makes it special and original watches. This approach was applied to the new series Oblo. These watches are made in the style of "Italian windows." Sports enclosure has a porthole view of the underwater submersible with three screws, and the arrows are made in vintage styles. Hours Oblo waterproof to a depth of 100 meters.
Especially for boaters model was developed Yachtimer, with striking and memorable design: clear white numerals on a black or blue background, luminous hands and three additional dials. This watch has a steel bracelet, solid thick steel chassis and waterproof to 200 WR.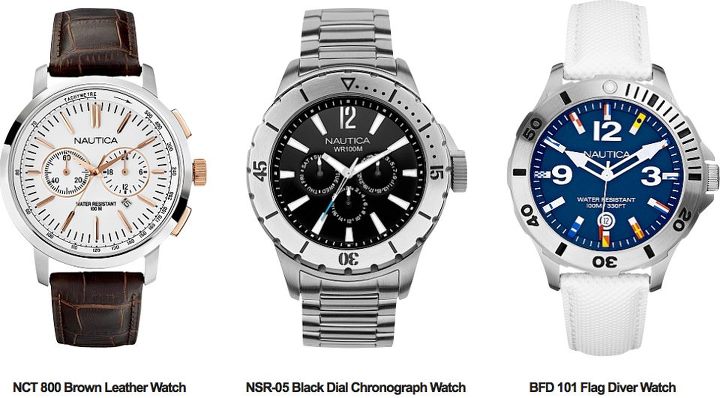 In addition to its massiveness, reliability, and extravagance, which are peculiar to watch Nautica, Nautica Clipper model has a refined elegance. Corps of hours is made of steel with pink gold and smoothly into the rubber strap, giving elegance and sophistication to these hours.
Mark has released a series of Nautica Clipper watches for women. But for the most popular with the ladies enjoyed the line BFC, which was released specifically for women who enjoy an active lifestyle. Ladies watch collection BFC is also reliable and has the same features as the men's watch collection BFC.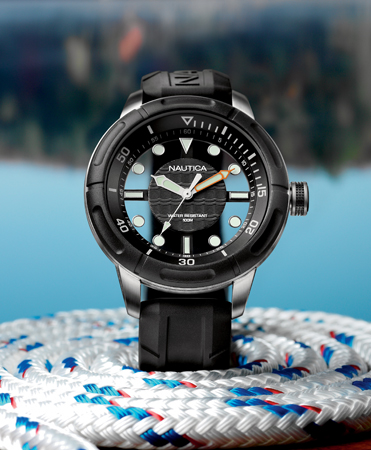 Nautica NMX 600 watch
The company produces Nautica model for every taste, as with extravagant design, as well as in the classical style. Any brand Nautica watch a reliable companion and assistant in every situation. Nautica Watches are designed for everyday life, and for extreme travel.