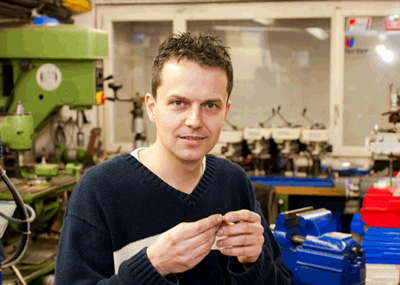 NORD ZEITMASCHINE watch company was founded by Daniel Nebel who was born in 1971 in the North of Switzerland in a small town at the foot of a hill Youra that is why his company was named as NORD. As for the word ZEITMASCHINE, it can be explained in following way, as it is commonly known, there are many variants and ways of watchmaking. So Daniel decided to make watches using different machines because he himself is a mechanist.
Daniel started his carer as a technician and the word ZEITMASCHINE was chosen by him as a continuation of the first part of the brand's name. Having graduate from University, Daniel started to produce different kinds of watchmaking machines (1988-1992).
At the same time in 1995 he started to learn horology. The first model Daniel designed in 1997, simultaneously enlarging and improving once knowledge concerned watchmaking and producing. He made his workshop bigger and started to develop and design other models.
Daniel is an independent watchmaker who always search for something new. According to Daniel's words, the independence that he reached is one of the important watchmaking advantages. Daniel always makes all the elements for his watch himself. As he points out, except the design and composing, elements producing is also very important. At first case, dials, crowns, screws are made. Only having produced the elements, the full model can be composed. For many years Daniel has produced some elements for a movement – wheels, links, disks and other necessary elements.
The other important part of his work is polishing, engraving and stamping of some parts of a watch. Thanks to once profound knowledge and developed skills, Daniel also makes design of movements and produces complex watch.
Today, watches produced by Daniel Nebel are exclusive and attract attention of thousands of people by their original design and very complex design.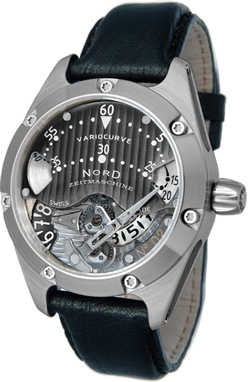 VARIOCURVE is one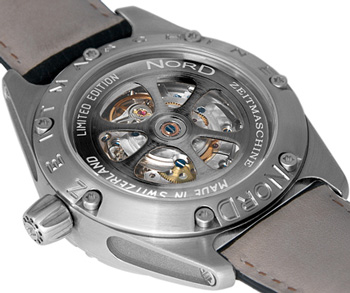 of the most original models. Creation of such an amazing model was caused by some discoveries made by Daniel. Having examined dials of mechanic watch, he noticed that a watch supplied with central hands, peripheral counters, reactionary date detector turning element which turn around stable central axis. In this case hands make full turn, sometimes the turn is 120°.
Daniel wanted to create other forms of indication at a dial which is made without fixed counter in the middle of a dial.
At first he wanted to remake the systems and leverages in order to solve this problem. However leverage modification didn't help to achieve desirable result because in this case part of a dial was too small.
Only after lots of surveys he realized that two turning in different sides "fist" should be made.
So the "fists" are placed in order to provide maximum approaching which lasts for one hour. A unique movement created by Daniel Nebel provides minute hand moving with different speed along even closed line 60minutes marked scale.
VARIOCURVE case diameter is 43.6 mm and 15.8 mm thick. It is made of stainless steel. Steel bezel is fixed by 7 screws. The dial is protected by arched sapphire crystal. Back lid is transparent and also covered by sapphire crystal.
Genuine leather strap decorates VARIOCURVE watch and supplied with a steel buckle. Waterproof is 100 meters. The model is supplied with automatic movement NORD N2, created on the base of ÅÒÀ 2824. It has 25 gems and 5 integrated micro ball bearings, frequency rate is 28 800 vph and 42 hour power reserve. Movement is supplied with hour indication at the position of "8 o'clock", minute indication at the position of "4 o'clock". It should be mentioned that, that a minute hand is made of ARCAP material.
There are also some other variants of this model covered with white or radiated gold, white rhodium or black gold, white rhodium or yellow gold. All the items are issued in edition of 97 watches.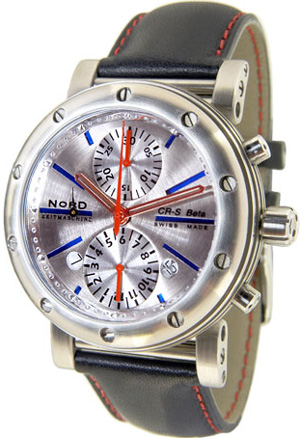 Except this exclusive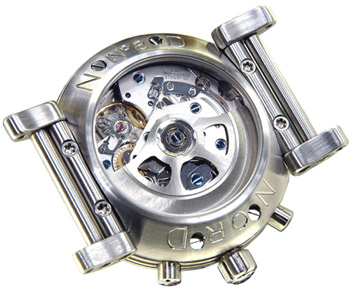 model Daniel created other watch CR-S BETA and RADIAL. CR-S BETA is an original chronograph which has not only unique case, but also supplied with unusual hour marks, which help to detect time easily. More over CR-S BETA Has one more particularity, their counters are symmetrical. They are at the position of "6 o'clock" and "12 o'clock". Two small apertures of date are also placed symmetrically to the right at the bottom in order to avoid confusing situations.
The case is round and made of stainless steel. Steel bezel is attached to the case by 10 screws. Arched sapphire crystal protects the dial. CR-S BETA watch is supplied with genuine leather strap decorated with steel buckle. Waterproof is 100meters. There are two variants of CR-S BETA model. The first one has white dial and rhodium coating and the second one has dial made of black gold. CR-S BETA is supplied with Swiss automatic movement Valjoux 7750 which 25 gems, frequency rate 28 800 vph and 46 hours power reserve.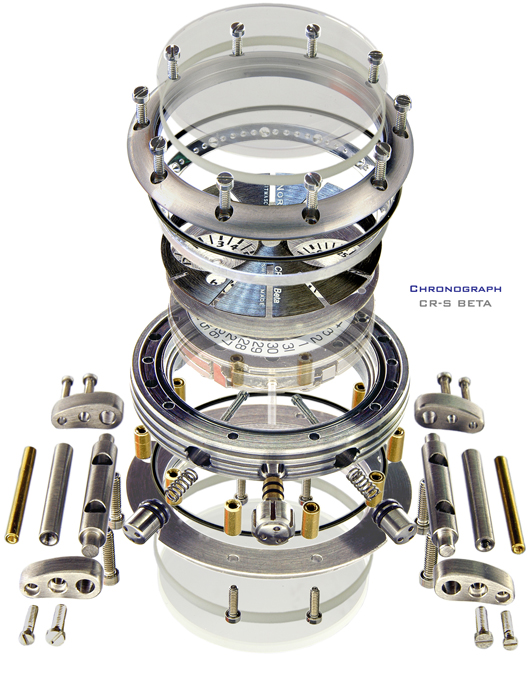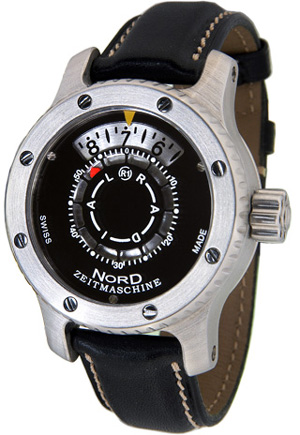 RADIAL is the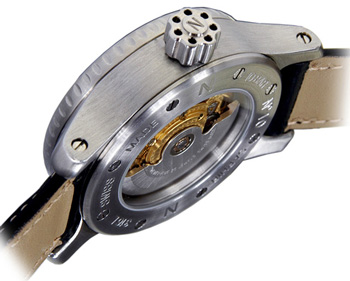 third model created by NORD ZEITMASCHINE and talented Daniel Nebel. The model has round case made of stainless steel. The bezel is also made of steel fixed by 8 screws. In the middle of white or black dial there is a sign of model's name. On the top there are some figures, which depict minutes. Red triangle substitutes minute hand and at the position of "6 o'clock" there is logo.
At the position of "12 o'clock" there is a reactionary time indicator. The dial is protected by flat sapphire crystal 2.2 mm thick. Back side is covered with flat mineral crystal. Genuine leather strap decorate watch and supplied with steel buckle. Waterproof is 100 meters.
The model has Swiss automatic movement ÅÒÀ 2836-2 supplied with NORD ZEITMASCHINE disk. Movement has 25 gems and 28 800 vph frequency rate, 42 hours power reserve.
Swiss NORD ZEITMASCHINE watch encloses the talent of the NORD ZEITMASCHINE founder, who amazed everybody by once exclusive watches. Such a wonderful models can become a masterpiece of any watch collector collection.