Video gallery of watch portal montre24.com has been added by the next exclusive video clip directly from the annual exhibition BaselWorld 2012. At this time, the video clip is dedicated to the watch company NORD ZEITMASCHINE. No doubt, this video clip of NORD ZEITMASCHINE will be appreciated by the lovers of precise, high-quality and complex watches as NORD ZEITMASCHINE is the manufacturer of this kind of watches. The watch company NORD ZEITMASCHINE was founded by Daniel Nebel, who decided to manufacture watches with the help of machines, because he is a technician. All NORD ZEITMASCHINE watches are different by original design and high quality.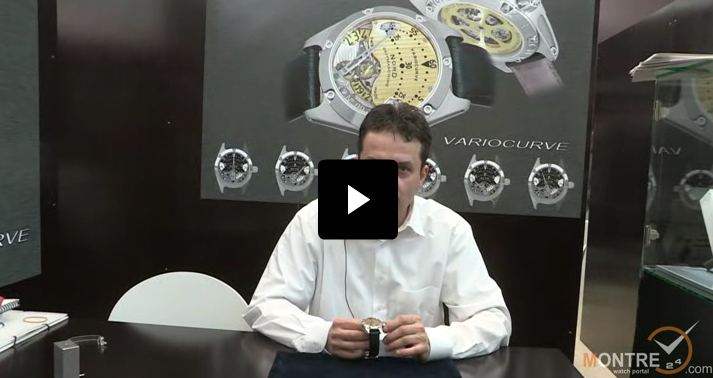 Nord Zeitmashine watches presentation at BaselWorld 2012
At the annual exhibition BaselWorld 2012 the watch company NORD ZEITMASCHINE introduced its novelties NORD ZEITMASCHINE 2012. The founder of NORD ZEITMASCHINE Daniel Nebel kindly agreed to demonstrate his novelties NORD ZEITMASCHINE 2012 to the team of montre24.com. Thus, the presented model was VARIOCURVE model, which is different not only by a set of complex functions, but also with complex design. The watch has an interesting trajectory of a single hand on the dial. Indication of time on this watch is done by rotating in opposite directions unusual "cams". And these cams are located in such way so that their maximum approximation is within an hour, and their maximum distance - within one minute. This is a completely new vision of time in the modern watch industry. Watch case of VARIOCURVE with diameter of 43.6 mm and thickness of 15.8 mm is made of stainless steel. 42 - hour power reserve of watch is provided by an automatic mechanism NORD N2, compiled on the basis of the ETA 2824. If you decide to buy watch NORD ZEITMASCHINE, the price of NORD ZEITMASCHINE is 14.000 CHF. More clearly see the presented at BaselWorld 2012 novelties NORD ZEITMASCHINE 2012 is possible by clicking on the following link - http://montre24.com/video/206/.
Official site of NORD ZEITMASCHINE watches.
Written by Freya
30.06.2012