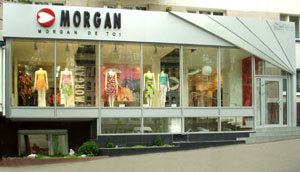 Morgan trade mark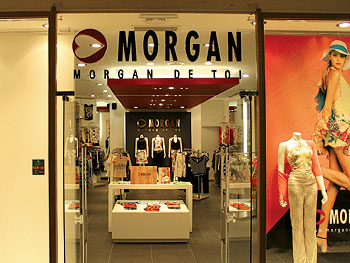 was founded in 1947 by two sisters Odette Barouch and Joselyn Bismuth. During 30 years the company was specialized on woman's underwear production and was called " Etablissements E. Morgan". 80-s brought a lot of changes to the world of fashion and Morgan company focused of pret-a-porte collection producing for young women from 18 to 35 years.
In 1983 the main office of Morgan company was moved to Sentier (Paris), after which the structure of Morgan company changed a lot and the volume of production increased.
Some years before Morgan had already become one of the hugest producers of woman's clothes. Thanks to right PR-company brand production became well-recognized and Morgan brand fixed their positions at a French trade. In 1991 the first mono-brand shop was opened outside France.
After a succeed debut at the European trade some brand-name shops were opened in 57 countries all around the World. Today their production is presented in 575 multi-brand shops.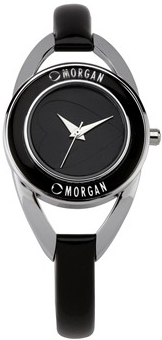 Having achieved a huge success in the sphere of clothes making, Morgan company began to produce following accessorizes: belts, sunglasses, spectacles, perfume and watch. All the production is made in order to suit the style of a modern woman.
Firstly Morgan accessorizes were not issued in separate collections. They were in tandem with some clothes.
First watch models were released in 2002. They are really unique. Their design is special and their style is more than original. Morgan watch became image attribute of many young women who follow the latest fashion tendencies. Every woman can find something suitable in any collection.
Brand production is renewed every year. As the head of French Morgan fashion-house suggests, issuing every next collection, they give an opportunity to buy Morgan watch of new series in their desire to look stylish and beautiful.
Processing new models, designers make experiments with shapes, colors and materials. High-quality materials are used for Morgan watches making.
Cases are made of a stainless steel rhodium coated, which raises their wear resistance. Crystal is mineral. Models are complected by stylish straps and bracelets. Morgan watch are composed on the base of Japanese movements of the leading brands.
Watch design is developed in collaboration with some leading designers of fashion-industry which implement the main conception of Morgan brand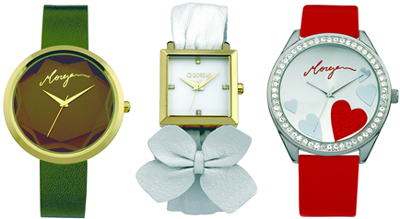 - freedom, independence and beauty. The logo and brand-name are usually played up by designers. Miniature hands make their turn against the background application of Morgan logo. Brand-name is usually engraved in dials or bracelet link sections. Sometimes the logo is placed in straps.
The main particular feature of Morgan watch is symbol - "hearts" in cases, dials and straps. In France "Morgan" is a synonym of love and passion. Morgan slogan sounds in the following way: "since love has come" and it shows the conception perfectly.
Morgan watch can be bought in affordable price which let any person to change their accessorizes every year and look stylish, modern and fashionable.
In 2009 Morgan merge into Beaumanoir Group holding, after which Morgan's brand-strategy is based on conformity with demands of fashion industry.
At the beginning of a new century the biggest Morgan shop opened in Paris 800squared meters in total.