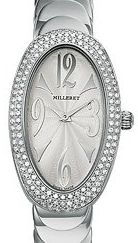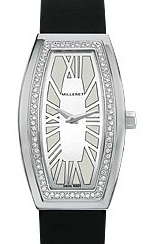 The name "Milleret" is known in Switzerland since the 19th century. It is the name of the world famous Swiss watch company located in the Jura mountains, in the Vallée de Joux, the region where for many years watches of famous and popular brands are being produced. The company's many year experience is perfectly reflected in its luxurious models of wristwatches being well-known at the watch market more than 100 years. Milleret timepieces combine the best century traditions of the watchmaking art and the latest technologies appeared in the watch industry as the years go by. Long ago Milleret jewellery watches have won interest and love of collectors and lovers of wristwatches. Their perfect design, high quality and shine of luxurious stones could be not unnoticed. Both watches for men and women charm with their luxurious look. This is collectible pieces that the company launches in limited editions and equips them with the most high-precise Swiss-made movements. Milleret timepieces, being completely different but at the same time recognizable by their design, annually make their admires happy and generally everyone. It is an interesting fact that every year the company presents an absolutely new line of elegant and luxurious watches which cannot be found in the next collections.
The best designers and watchmakers work at luxurious timepieces, decorated with precious stones, turning them into perfection. Originality and exclusiveness is felt in every model, because from the very start to the end all watches are thoroughly controlled by the company's masters, to create a really masterpiece.
Milleret collections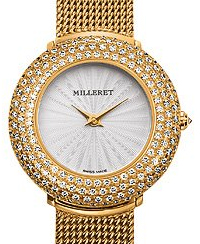 are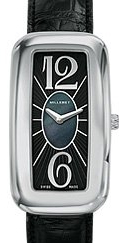 rich both in men and women's models. Each collection is original in its way. For example, the Anaconda watch with pure lines is an original and balanced expression of femininity. This watch perfectly underlines individuality and subtle taste of its owner, because the owner is attractive, feminine and a vividly expressed person. Precious stones, which the case and dial is decorated with, give it a luxurious look.
Or another collection named Diva has designed for women who prefer travelling and lead an active way of life. Diva models underline modernity and style of everyday life. The owner of this watch is an independent, strong, elegant, active and energetic person. Elegant models of the Diva collection are thin cases decorated with jewels, mother-of-pearl dials marked with the Arabic or Roman numerals and steel bracelets and leather straps.
The Gala collection embodies chic and perception. Elegant and luxurious watches with insets of black brilliants will draw everyone's glance. These watches conceal unsurpassed and distinctive character of their owners. The collection includes both models with many-coloured brilliants and without jewels at all.
Models of the Pavee collection reflect infinity and perception. Pavee timepieces like shining stars in the sky are elegance and passion to perfection. Abundance of precious stones decorating cases of yellow or white gold, and gold bracelets or leather straps are incomparable Pavee watches.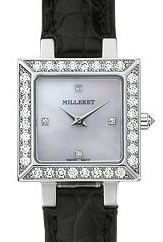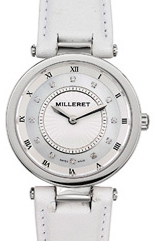 The Classique Gold and Classique Steel collections include several lines of elegant watches whose cases made of gold and steel. The Eighteen forever line consists of watches with mother-of-pearl dials and of symmetric round or square forms made of 18 carat gold and decorated with brilliants. This line is the combination of art-deco style and modern retro. Genuine leather straps of different colours attach to models. All watches are water-resistant to 30 metres and equipped with Swiss quartz movements.
The Milleret company does not limit its range with luxurious and elegant watches for women. The brand also offers many watches for men. The XXL, Small Complications and Limited Edition collections for men reflect modern design, elegance and demonstrate high quality. Milleret has watches both for admires of elegant design and complicated movements. The XXL collection includes elegant classical models with round many-coloured cases. Dials have a week day indicator, a date aperture and a small second hand at 6 o'clock position. The collection also has chronographs with four crowns and a date aperture at 5 o'clock position. All watches are water-resistant to 100 metres and equipped with Swiss automatic movement ETA.
The Small Complications collection are watches for all occasions. These are elegant sports chronographs, classical models with four hands and few necessary functions, and also watches with a moonphase indicator. Cases are made of polished stainless steel, many-coloured dials are covered with a sapphire glass. Leather straps attach to models. All watches are equipped with Swiss automatic movements ETA. Thanks to elegant look and original design solutions, these watches will be actual at all time and supplement an owner's both classical and sports style.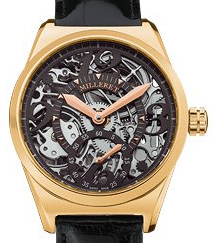 The company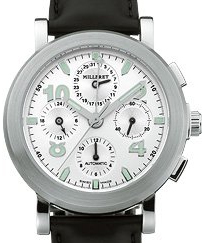 also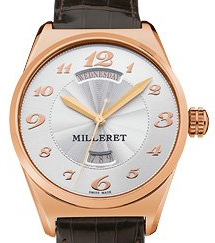 makes complex wristwatches and launches them into the Limited Edition collection. Nowadays two models have been presented with round cases made of rose gold and pitch-black or sceletonized dials. In the centre of the dial there are two hands, and a small second hand is situated at 6 o'clock position. The whole dial, covered with a transparent sapphire glass, demonstrates a movement operation. Leather straps attach to models, underlining their elegant look. All watches are water-resistant to 30 metres and equipped with Swiss self winding movement ETA 6498-2 (Unitas).
The Milleret company's collections have won hearts of wristwatch admires and collectors so long with their various style and decorations. Elegant, luxurious and exquisite models of wristwatches are the best choice of those who appreciate high quality, unsurpassed design and exclusiveness. Magnificent models will perfectly show an owner's subtle taste at various events as well as parties and turn dull days into vivid unforgettable holidays.
Milleret timepieces are available at the company's official dealers.