In 1827 the Frenchman M. Rocher opened his small jewelry shop which went to his partner Jean-Baptiste Noury in 1869. The Mauboussin family inherited the jewelry house in 1869 when Noury withdrew with business handing over it to his nephew George Mauboussin. Thanks to young energetic George who was not only a talented jeweler and a successful businessman but also a man of his times, the company achieved a peak of jewelry Olympus. His ideas and passions in the art coincided with the trends of that time. Bold designer's resolutions realized in arrangement of precious stones formed in complex geometrical traceries, brought the company fame through the world. Expressive and colourful "jewelry canvases" belong to his "pen". The family business is now headed by the sixth generation of the Mauboussins. Since 1994 the company, besides jewelry, has been producing watches not being worse than luxurious adornments. The end of the 20th century in the company's history is notable for changes into the designer's way of working: the conception of luminous design has prevailed. Visual effects achieved by the play of light and shadow underlay to create original Mauboussin's articles.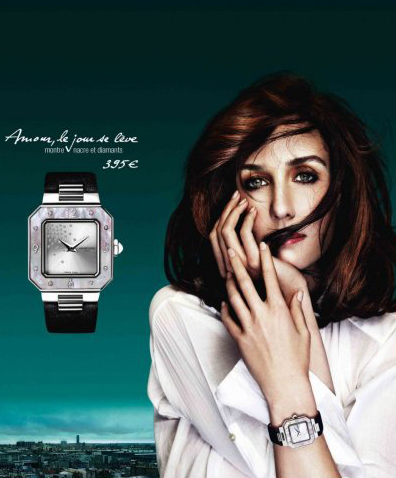 Elsa Silberstein, French actress and Mauboussin ambassador
The brand's jewelry timepieces draw attention with their ideal design, perfect contours and abundance of encrusted precious stones. The Ladies M collection is one of the most popular ones of the brand. "Diminutive" timepieces for women are made of stainless steel, their dials are covered with a sapphire crystal and straps are of different colours taking into account owners' predilections for colours.
| | | |
| --- | --- | --- |
| Mauboussin watch | Mauboussin watch | Mauboussin watch |
The company gives a treat not only the fair sex but also male sex. Mauboussin launched wristwatches for men. The Mauboussin Marbore watch is a model with a quartz movement installed in a round case made of stainless steel and a black dial with relief luminous indexes covered with a sapphire crystal. The Fouga Chronograph collection is not less popular. The men and women's watches feature rectangular cases made of stainless steel. The models have a self-winding Swiss movement. Water-resistance is to 30 metres. Some models are decorated with brilliants. Mauboussin watches are of average price bracket. They will perfectly underline their owners' individuality and uniqueness giving them really French charm.