talented designers in 1979. The idea of the brand's creation is rather extraordinary: it appeared not while contemplating numerous chronographs at various exhibitions and moreover, the watchmaking business did not go from generation to generation, it appeared as a result of a hard expedition to the Himalayas. The expedition consisted of those designers who decided to implement the idea of making wristwatches for very extremal conditions. It took them the whole three years to realize their plan. The brand's name itself meaning Sea and Mountains from Italian says that two indomitable elements are united within this watches. From the start the company specialized in creating designer's jewelry made of rare and high-strength materials.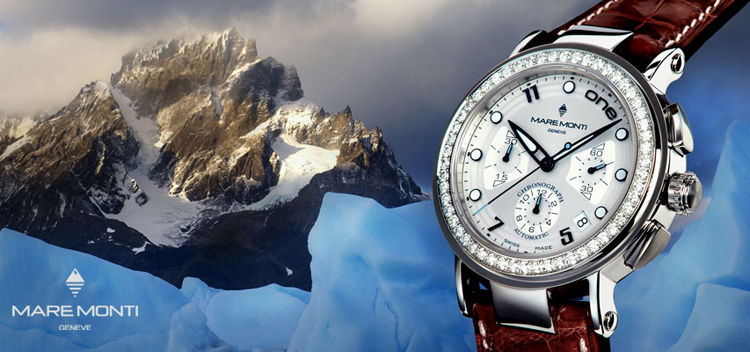 MareMonti simply one Chronograph
After a wild success of the jewelry line, the company launched its own line of wristwatches in 1983. The release of MareMonti timepieces can be considered as the beginning of revival of the Swiss watchmaking industry. In the beginning the company launched only 300 articles presented in numbered limited editions. At that time, MareMonti watches could not be virtually found at stores, they only were being sold among people who were fond of sports talking about merits of the brand's production as well as the company itself. To buy watches you had to visit the company's factory and meet its founders personally. Watches could be bought after completing a form only that be offered every purchaser who could optionally enter in his occupation, education, age and passions. Just that led to form a status of the club brand.


MareMonti Drive I Chrono
Nowadays, MareMonti timepieces are intended for active young people and people of middle age preferring exclusive chronometers. The brand is very popular in France, Italy and Spain and is the club one. Despite that the brand has a perfect quality-price ratio (pricing of 1,500$ to 4,000$), it does not strive for mass popularity and keeps its exclusive club status. The company still has the list of famous owners of its wristwatches.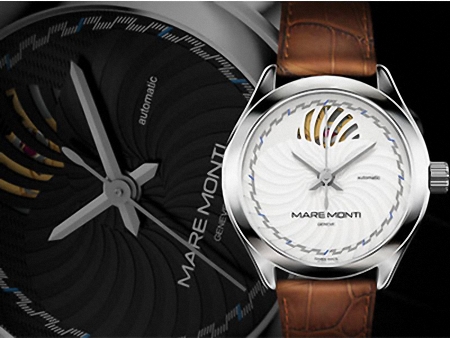 MareMonti watch
Movements, which watches are being equipped with, have their own history. Shortly before the quartz boom, the company bought some tens of thousands of movements of various watch factories (Soprod, Dubois Depraz, Valjoux). For that reason the brand can be deservedly called the truly Swiss-made brand.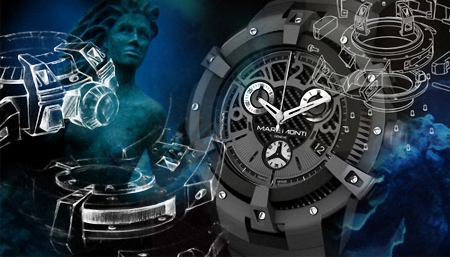 MareMonti watch
Cases are made of high-quality steel 316L that does not contain nickel and other admixtures causing allergic reactions. Dials are of classical design including such original elements as a form of a date window and colour design. Every model of a watch has two variants: with a black or white dial that widens the customer's choice based on his personal preferences. Dials are covered with a sapphire crystal being very resistant to scratching. Watches are water-resistant to 50 and 100 metres depending on a model. MareMonti timepieces are the cult of freedom, style and an active way of life.