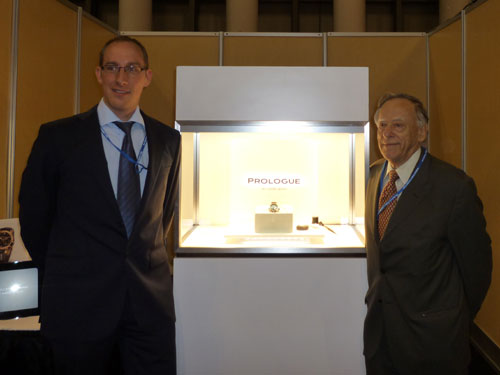 Marc Jenni is a young
Swiss watchmaker. He claims not to have wanted to become a watchmaker. But the genetics was stronger, and very soon he shared the same passion to the watch art as his grandfather and father. For four years Marc was an apprentice of Paul Gerber, then worked in the Tiffany & Co. Company over 10 years. He took part in creating such models as Mark T-57 Tri-Retrograde Chronograph and Tiffany Oracle. Marc Jenni is one of the founders of the Nobletime LTD company. The Prologue watch is the first model having been developed by the talented Watchmaker. A 44 mm case is made of 18 carat white or rose gold. A black dial has a "Wind, Date, Time" indication located on the right side at 4 o'clock position and on the left one a date aperture between 7 and 8 hour markings and three hands. On the side face, instead of a crown, there is a black button allowing to wind up the watch and fix time and date. The decorated dial is protected with a sapphire crystal with anti-reflective coating. The model is water-resistant to 30 metres. The Prologue watch is equipped with an automatic movement on 22 jewels with frequency of 28,800 h and a 42 hour power-reserve. This watch has been presented at the world exhibition BaselWolrd 2010.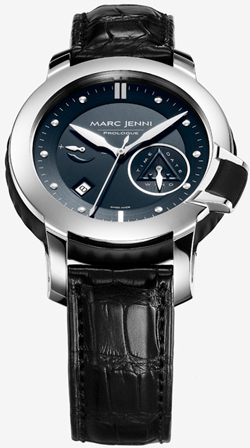 One cannot but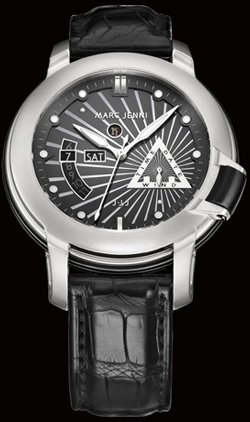 mention that the watchmaking business is a field where family traditions are appreciated first of all. A small group of the watchmaking companies making timepieces during many centuries, have proved that their watches and movements serve not for one generation. True masterpieces are created under the junction of centuries' traditions with innovative technologies. Marc Jenni is not an exception: he continues the business of his ancestor Johann Jakob Jenn who worked as a watchmaker at the Glaris in 1780. Marc Jenni's unique JJJ model has been launched in the ancestor's memory and given his name. But the model does not only remind of the watchmaker, Marc borrowed his idea to show the week day indication by means of symbols of planets. A case of the exclusive JJJ model is made of 18 carat gold. Other unique thing is an absence of a crown which is substituted by a turning ring of black colour. Thanks to this ring and a black key situated on face side at the 3 and 4 hour markers, an owner of the watch can wind up the watch, fix time and date and switch between them. A black dial with luminescent three hands and hour markers are covered with a sapphire glass. A date aperture is located on the left dial side, a week day aperture is done between 11 and 12 hour markers, on which a planet symbol is shown. On the right side there is a rectangular «Wind, Date, Time» indicator. The model has a black leather strap. A movement is on 23 jewels with frequency of 28,800 vibrations per hour and a 42 power-reserve. Water-resistance is to 30 metres. In 2011 Marc Jenni presented his exclusive JJJ model at the world exhibition BaselWorld.