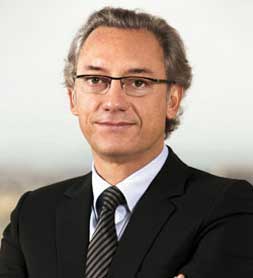 Mango is a famous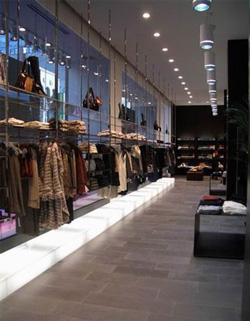 Spanish brand which produces wear and accessorizes for young and stylish woman. Mango company was founded by Anadic brothers in 1984 in Barcelona. The name of the brand was chosen while traveling across the Philippines, where two brothers tried an exotic fruit of the same name at a first time. The name of the fruit became a symbol of novelty and freshness and for more than 20 years it causes joy and delight of millions of fashion girls. Mango collections amaze with freshness of their ideas, courage of designers' ideas and high quality.
Models of the Mango brand are created according to the latest tendencies of a World Fashion. In Mango collections you can find any clothes: from business to casual style.
Thanks to a huge variety of styles and keeping balance between price and quality. Mango is wildly adored, not only at a local trade but at the world trade as well.
The first Mango branch-shop was opened in Portugal in 1992. Today Mango shops are opened in more than 140 countries. Brand promotion is provided by constant renewal of assortment and close collaboration with leading designers, innovations, high quality, wide distribution network, advertisement and right financial politics.
Mango collaborated with such famous people as Naomi Campbell, Elizabeth Jagger, Milla Yovovich, Penelopa Cruise, Scarlett Johanson and others.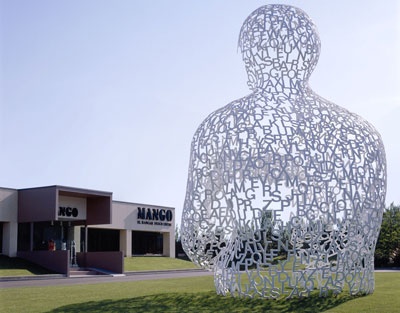 Mango design is developed by leading Spanish and foreign designers. In 2009 brand establish relationship with American couturier Adam Limps and Blgian designer Sandrine Fasoli – the winner of the first competition "El Botón-MANGO Fashion Awards". In 2010 signed a contract of collaboration with famous designers Li Jean June and Mojes de la Renta.
In 2005 company started to produce new series of accessorizes Mango Touch which was demanded to emphasize the style of a person possessing a sophisticated taste.
Design is developed by leading specialists and producing takes place at the manufactures supplied with the latest in technical equipment.
License for watch production Mango was given by Swiss Endura company, which is a part of a huge concern Swatch Group. Endura takes a special place in the concern structure and possesses a kind of "autonomy" - it does not produce watch. For many years mango brand produces watches for foreign clients. Collaboration with Swiss producers came out successfully.
"Strategy interests of a customer and a producer gathered together" said the brand's analysts, because watch modification to a fashion-accessorize can give an impulse to watch-industry development. Functional brand accessorizes are made on the base of of quartz movements and high-quality materials: stainless steel (sometimes PVD coated), mineral crystal, leather straps with atlas, satin and wooden decoration. Swarovski crystals and artificial pearls and metal elements are also used for decoration.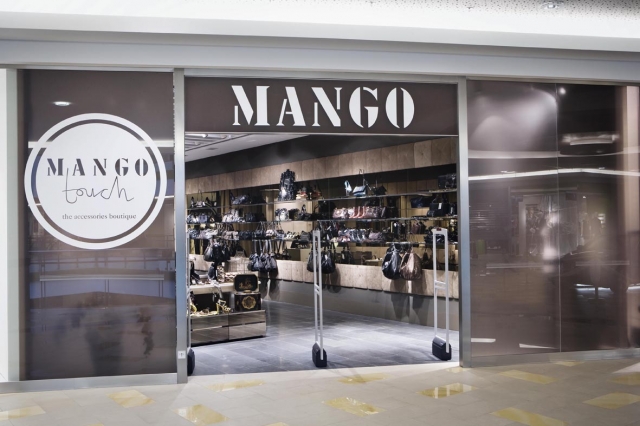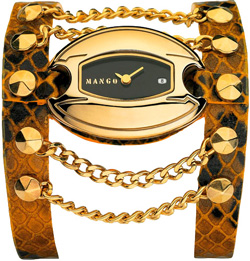 Mango watch astonish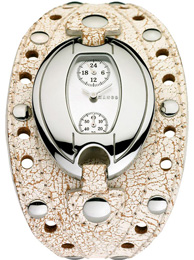 with their wonderful variety: classic watch designed in a reserved geometrical style, light lines and minimalistic decoration, sport-chronographers with a massive cases, watch-necklaces, watch-belts, which can perfectly suit any dress for special occasion.
There is also a huge assortment of watch for any occasion: classic casual-watch for office-work and city, sport models for dynamic life elegant watch for romantic date. Mango collections are renewed every year. Thanks to the balance between price and quality fashion-girls can change their functional accessorizes according to the latest trends.
In 2010 the first Mango Touch shops, specialized on wear, foot wear and accessorizes were opened. Today Mango brand has 15 specialized shops in Spain, Arabian Emirates, France, Italy, Qatar, Russia and other countries. In 2011 new shops were opened in Bangkok, Djakarta, Lisbon, Marbella, Palms-de-Mallorka, Santiago-de-Chillie and Singapore.