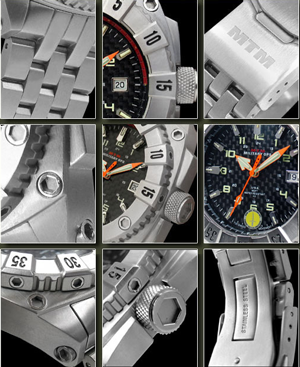 The American MTM watch company, specializing in military watches, was founded by watch technicians and ex-military personnel in 1980. The MTM company is a pioneer in supplying customized watches to corporations, military and police units. The company's production features special durability and reliability. The use of high technologies in watches has led the company to rank with leading ones producing complicated and functional models.
The first line of chronographs was launched at the request of the special forces. They wanted watches with special functions to simplify working in extreme field conditions. The main goal was to use innovative technologies and modern materials in watches.
Nowadays the MTM watch company is considered to be one of companies recognized by the International Watch Organization of the best producers for tactic military watches. The company presented the new line named Pro Ops. After some years of collaboration with the special forces and naval forces, the company launched the following exclusive models of watches: Xtreme Ops, Dark Ops, Commando Ops, Spec Ops and Night Ops. In addition to the flagship model called Specia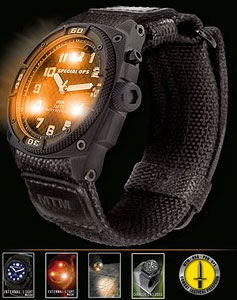 l Ops Watch, caused an unprecedented sensation, the company launched especially durable models of wristwatches for men intended for civilians. Every model has its own serial number. All of the watch cases are made of solid stainless steel or titanium. Every watch has a locking screw case back, screw down crown and other technologies which assures water resistance to a depth of 100-200 to 1000 metres.
The revolutionary diving chronograph Xtreme Ops is water-resistant to 1000 metres. The round case and bracelet of classical sports style are made of solid titanium block. The model is equipped with the Swiss-made movement especially designed for the MTM brand. The chronograph has a helium pressure release valve. The rotating bezel is made of titanium. The carbon fibre dial is protected by a sapphire glass with anti-reflective coating. The watch has tritium gas tubes on time indexes and hands that glow continuously for 25 years without any external light and includes inter changeable rubber strap and ballistic velcro bands.
In the past MTM watches were available only for special forces, S.W.A.T. teams and secret services, navy seals, military rangers and pilots. Now MTM products of the Pro Ops line are presented in many stores for retail trade. Reasonable prices and technical functions of MTM watches are the main reason to purchase them.