Silver watches
For centuries silver was considered one of the most unique and beautiful metal. Not surprisingly, its unique luster attracted jewelers of all over the world, and then the watchmakers who made as ladies silver watches, so men's silver watch. First silver jingled in the pockets of gentlemen who wore silver pocket watch, and then shone on the wrists of men and women worldwide. To this day silver wrist watches occupy one of the major places in the Swiss watch industry and the world. Fashion for jewelry, accessories and attributes of stylish image is constantly changing, but all made of silver are still in favor. What is so attracting this unique metal, and is it true that the silver objects, including watches, have special magical properties? Today we try to understand it.
The history of "moon" metal
How would you, dear readers, to describe the silver? I think your first association is associated with a unique color of the metal. Silvery-white shade of silver has long since conquered all honest people. The name of the metal, according to historical research, derived from the Proto-Slavic word meaning "shining." Latin name «argentum», familiar to all of us from school chemistry lessons, has an Indo-European root also means "white" or "shining". According to some other sources, the word "silver" is derived from 'Sarpa', which in Sanskrit means "moon." Incidentally, the ancient people have associated silver with the moon, as the shine of metal resembles a lunar glow.
As historians have not broken their mighty heads, but the exact date of discovery of silver, none of them has ever called. They indicate only approximate year - 4000 BC. Although is it so important today? From various written sources we know that in ancient Egypt, weavers made jewelry and other valuable items of silver. Interestingly, in those ancient times silver was valued at twice the gold.
The reason for this is the fact that gold is found before the silver, and the last metal in pure is extremely rare. In ancient times, people knew only native silver, but also try to find it yet. Prills are often hidden under a touch of dark sulfide, with which they are covered. By the way, the biggest nugget was found in 1477 near the town of Freiberg, this ingot weighed about 20 tons. That's what a find!
Long ago, before the birth of Christ, the Phoenicians invented and built the very first silver mines in the territory of modern Spain, Corsica and Cyprus. Jewelry and accessories of silver were incredibly valuable product and many were ready to give not only money, but also the soul. Silver was brought from afar and sold for unbelievable money. For example, to be rich in ancient Egypt, it was enough to have a salt shaker of silver.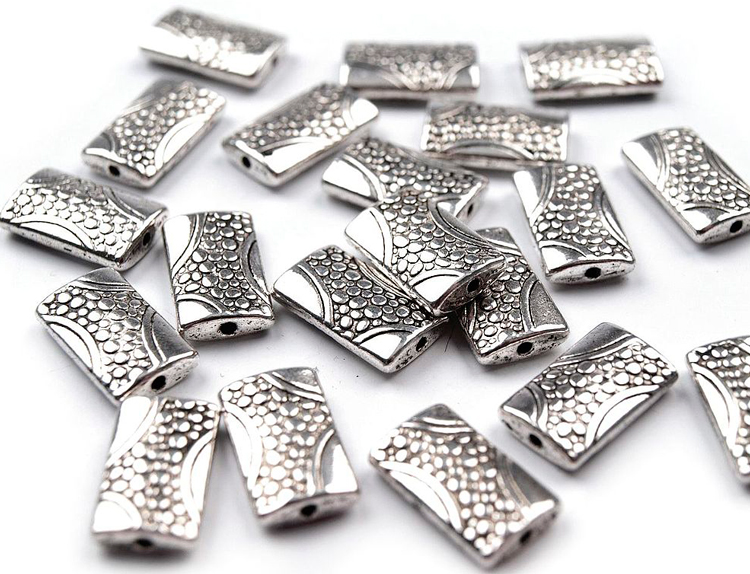 silver
It was the first and rather primitive stage in the history of the discovery of silver. Radical change in this area began in the Middle Ages, when almighty alchemists tackled the problem. The purpose of the medieval alchemists, as you know, was to turn into gold everything that comes their way. Ancient alchemists saw silver as a "staging post" on this hard road to "gilding." They believed that if you get silver out of any compound, soon you can get up to the coveted gold. After the hard work, the price of numerous trials and terrible mistakes, alchemists finally extracted silver from its compounds with arsenic, chlorine and other chemical elements. It should pay tribute to the complicated work of alchemists. Incidentally, the same similarities were discovered silver and copper, and initially even considered them as one and the same metal but of different colors.
The greatest minds in the world, among which were Paracelsus, Scheele and many others worked on the studying of silver. In the XVI century Paracelsus got the silver chloride, and Boyle has defined its composition. Scheele, in turn, studied the effects of light on silver.
The cause of such great interest to silver was the unique characteristics of the shiny metal, which I'll discuss shortly. After the Middle Ages interest in silver is not dried out, and the entire European aristocracy rushed to grab the dishes of silver. Therefore, the term "family silver" for centuries has become synonymous with luxury and quality, expensive dishes. Now for the silver salt cellar no one was going to fight, as the researchers have learned new, lighter and cheaper ways of silver mining. Thus silver was much cheaper and quite affordable even the common people.
From the Middle Ages in Europe came to silver coins, which for a long time remained the main means of payment. Interestingly, in Russia people are still "reaping the fruits" of the silver money period. To pay for goods and services in Old Russia were often used massive silver bullion. Simply, when a man went to the market, he put in his pocket silver bar. And paying for anything, he took bullion out of his pocket and a trader literally cut off from it a necessary piece. Thus, in everyday life became known word "ruble" (from the word "hack"), which joined the Russian history and the history of this unique metal like silver.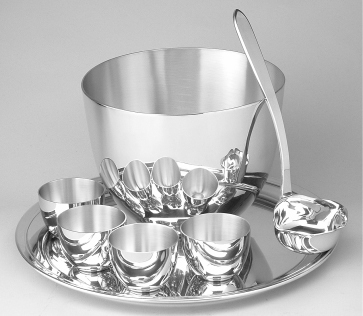 silver tableware
However, starting from the end of XIX century, the money of silver disappeared from people's lives. Currently silver coins are manufactured only on the occasion of an important celebration and in very limited quantities. This is because people have learned to extract silver huge favor. The metal is first used in photography, and it was found that silver has the highest electrical conductivity of all metals. It is not surprising that with the advent of electronics demand for silver has been steadily growing. Silver money became luxury, so even more after the scientists came to the conclusion that silver inventories are not so limitless. Until recently it was believed that silver reserves will last for many, many thousands of years, but we can already see some deficiency of this metal in high-tech industries.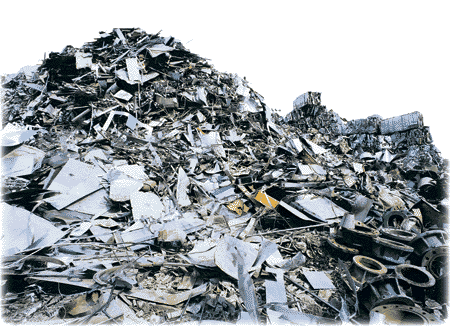 silver
According to experts, the value of silver, which is currently well below the price of gold over time will only increase. Researchers furiously rush to find a replacement to silver. All this will lead to the fact that jewelry and accessories made of silver will be evaluated as highly as platinum. So I would advise you to buy a silver watch today to get your grandchildren feel the silver salt cellars in ancient Egypt.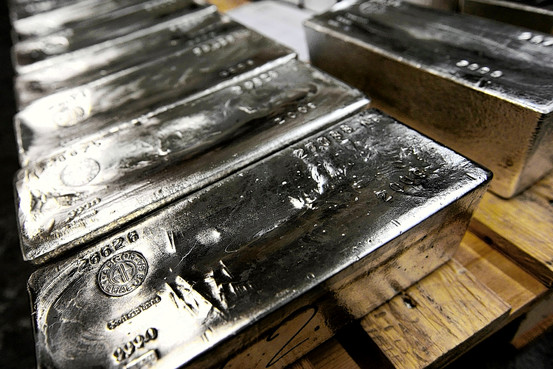 silver bullion
If we began to delve into the history of silver, I cannot lose sight of another very interesting fact. In the world, there is a whole state, which was named in honor of the ancient metal. Of course, it is a beautiful Argentina! According to legend, around the beginning of XVI century Spanish conquistador Sebastian Cabot climbed up the South American river, and drew attention to the large number of silver items which have the local population of Indians. The Spaniard was shocked. That is why the river, and with it the state was called La Plata, which means "silver". After the liberation from Spanish rule many former overseas colonies renamed their home, calling it Argentina and using as a basis the Latin word «argentum».
The whole truth about silver
In any country silver is associated with specific signs and legends. Throughout its existence, mankind believed and continues to believe in the healing properties of the metal, and some say about silver as a miracle, ascribing magical. Whether this is true or fiction, we cannot say for sure, because faith sometimes works wonders, but some facts of mystical properties of the metal are confirmed from different historical sources.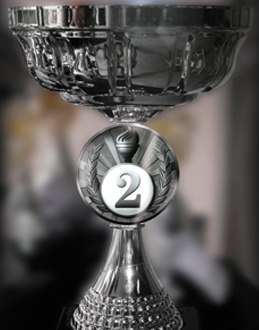 silver on second place
First, it is proved that silver does have antibacterial properties. So, in 2500 BC Egyptian soldiers used thin sheets of silver in wound healing. Fearless warriors imposed silver on the wound, making it heal faster.
Secondly, it is known that silver positive impact on the water, cleans and disinfects it. In the historical literature you can find a lot of stories about how the silverware saves lives, who kept water in them. One of the most famous legends tells of the army of Alexander the Great, who was moving to Asia in the IV century BC, conquering and conquering all in his path. But the jubilation of winners was short-lived! After the army came to India, the majority of fighters were down with severe gastrointestinal disease. Emaciated and exhausted Macedonian soldiers refused to go further, to the banks of the Ganges, where the commander was led by the thirst for conquest. In 326 BC army began to retreat.
Some of sources say that during the campaigns of Alexander the ordinary soldiers were sick more often than military leaders, even though they were all on equal terms: shared discomfort, hardships of camp life. Only after more than 2,000 years has been found cause of this epidemic. It turned out that it was precisely in the pot! Ordinary soldiers drank water from ordinary tin cups, and military leaders - from silver dishes, so that disease has passed the latter.
And it's not the only evidence of useful properties of silver. From the medical writings of Herodotus is known that in the V century BC the Persian King Cyrus was watering his army with water from the sacred silver cups during military campaigns. Keeping by this way the water did not spoil in hot weather.
So who does not know that silver - is the main defender of all kind of evil: vampires and werewolves? Thus, it was believed that the forces of darkness can be killed only with a silver bullet.
In ancient Russia silver was also respected. It was believed that silver purifies the soul and body of man, and at the first bathing the newborn was "silvered", lowered a silver coin into the water. In addition, at Stephen (August 2 by Old Style) with water from the silver dishes were even watered the horses, which, as you know, were considered important and indispensable "member of the family." In Russia, as in many countries of the world, in just dug up well certainly was threw a silver coin. And about very beautiful and rosy girls was said that they apparently "washed with silver."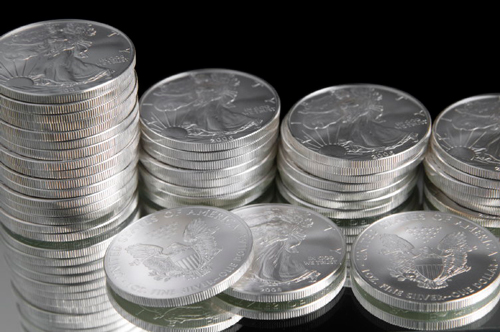 silver coins
Since that time it passed huge number of years, but in the modern world, the astronauts still "drunk from silver." By the way, it does not necessarily have expensive family silver, it's only need to buy in any store ordinary water filter, which, in addition to activated carbon, contains silver. The water is flowing through a "silver" filter is cleaned of impurities, chlorine and tastes like spring. Thus all these myths about the "silvered babies", "light well", etc., coming from ancient times are quite reasonable foundation. Water really can be cleaned and disinfected with silver ions. In Japan, resourceful scientists through silver even manage to clear the air.
Some people believe that silver has a calming effect, and it can darken or lighten depending on the purity of the human soul, the owner of silver. I, being a big skeptic, do not attach any importance to this belief, however, such a view of the magical abilities of the precious metal has a right to exist.
Still, I suggest do not focus on the myths and look at the hard facts. After all, silver is used in really large numbers of spheres of life and activity. Briefly about it.
Fields of the silver use
Field of application of such a noble metal as silver, in the modern world is extremely broad - it's industry, science, technology, medicine and other areas of human life. Due to high rates of electrical conductivity, thermal conductivity and resistance to oxidation silver is commonly used in electronics, as well as part of solders and alloys for batteries. High ISO allows silver to be one of the main actors in areas such as photography. In addition, silver is used as a coating for the mirrors with super-high reflective, and chemical oxidation reactions are catalyzed almost always by silver.
It seems strange, but for silver has been found this scope, in which, it would seem, the precious metals out of place. This area has become medicine. The fact that a few years ago in special pharmacies was sold medicine from cold, which is a colloidal silver - a suspension of microscopic particles of silver. I personally did not experience effect of this drug on, but, as assured "witnesses", colloidal silver was quite effective medicine for colds. Today, these products are not considered drugs and are the "backbone" of alternative medicine.
In my opinion, we're missing something? Of course, it is worth mentioning a sphere of human activity, like jewelry. For jewelers all over the world, silver is one of the most important precious metals, jewelry and accessories that are loved by all the inhabitants of the planet. And equally - both men and women. And one more thing. In addition to jewelry, silver is quite active in all the world's watchmakers, creating a perfect wristwatch silver. Well, on that we examine in more detail…

Silver in watch making
In the field of watch making - silver, along with other metals and alloys, began to apply for a long time ago. Silver pocket watches, and later silver wristwatches have always been considered practical and respectable accessories, they were signs of good taste, high status and material wealth. The owner of such a watch could count on approving glances from others and compliments for his great taste.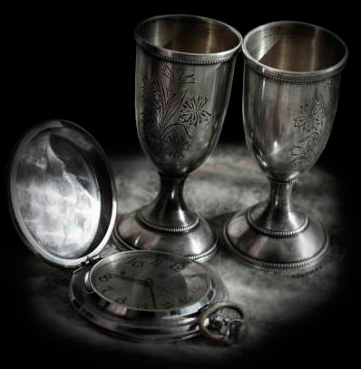 silver in watchmaking
In addition, watches in silver case have the right to be considered as works of art. Believe me, no one can remain indifferent to the sight of jewelry watches in silver encrusted with precious or semi-precious stones. Such watches have long deserved love mainly from the fair sex.
However, the strong half of humanity also doesn't walk away from silver accessories, and men's silver watches are in the catalogs of many companies. If women often choose jewelry models with inlaid, men prefer stricter watches of silver, which are embodied the timeless classics. Comparing silver to precious metals such as gold or platinum, you will notice that the price is acceptable, making watches in silver more accessible to the general population.
Talking about accessories and watches made of silver, I want to note that in practice, 999 sterling silver is almost never used because the metal is too soft and fragile to create these objects, which are designed for use in everyday life. That's why jewelers and watchmakers use silver alloys with other metals for strength of work materials. Let's look at the most common of the "tandem", which can be recognized by the numbers of the hallmark.
The lowest percentage of silver contains alloy of 875-carat - at least 87.5% of the shiny metal. Such an alloy, as usually, becomes material for various ornaments and tableware items.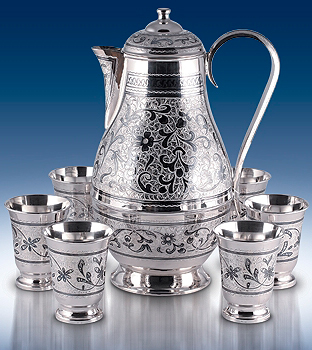 silver 875
Alloy of 925-carat has at least 92.5% silver, the rest – it is its "twin sister" - copper. The advantages of this material are that the color and the corrosion resistance is the same as that of pure silver. This material is very flexible; it is malleable, harder than gold, but, of course, softer than copper. Thanks to the positive performance, 925-carat silver is widely used in the jewelry field. Silver of 925-carat is called sterling or sterling silver. Due to its high strength and beautiful appearance sterling was taken in turn by all watchmakers in the world. In recent years, scientists have attempted to replace the copper in the sterling to another component to improve the quality of the metal. At "audition" were considered such "bidders" as zinc, germanium, titanium and even noble platinum. In this "competition" was also attended boron and silicon as the additions to the alloy. Despite all the experiments and proposals facto standard remains alloy of silver and copper, used to create a modern wristwatch.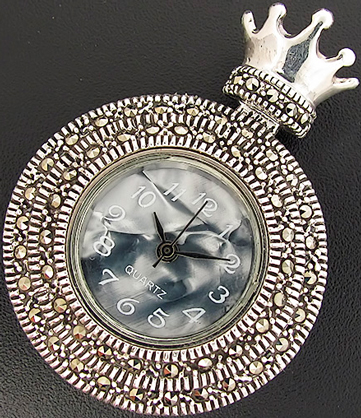 pendant-watch from sterling silver (925) with marcasite
Properties, which are close to the properties of pure silver, has an alloy of 960-carat, which included 96% of the shiny metal. This alloy is very rare and it is used mainly for the manufacture of products with enamel and execution of very fine filigree work.
In addition to these common alloys of silver, in international practice, there are alloys of 720-carat possessing with unusual for silver pronounced yellowish color. It is because of this color, and also because of the low formability in the jewelry and watch industry alloy of 720-carat is almost never used. The advantages of this metal are also its hardness and elasticity directly during operation. This alloy is ideal for the manufacture of parts that have to withstand heavy load, as well as needles and springs.
From immemorial time to the present day in the world there are active debate and discussion about the benefits of jewelry and other accessories made of gold and silver. Millions of supporters of both one and the other metal cannot come to an agreement. Thus, history proves winning of gold in jewelry and watch making, and the chemistry indicates the winning qualities of silver, such as strength and durability.
Meanwhile, the economy makes a pretty significant difference in the value of these two noble metals, and fashion dictates its seasonal rules, so a winner cannot be chosen. It really is up to you, dear readers, you will give championship to bright sunlight of gold or cold and noble luster of silver. By the way, scientists say that accessories of silver best suit to people of winter and summer-type of look. For people with blond or brown hair are perfect silver jewelry and watches in silver case.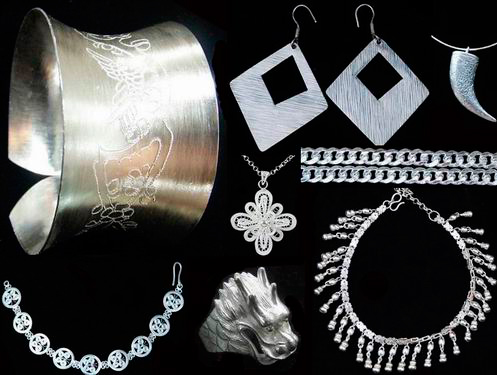 silver jewelry
In addition, silver stands out from the gold by its unobtrusive. That is quite a massive silver Swiss watches or jewelry will not look vulgar and provocative. And for business women silver jewelry is essential accessories. If gold - is, let's say, "night" or "evening" metal, so silver accessories are ideal for daylight hours.
So, I chose the most interesting, in my opinion, watch models, in which design a special role plays mysterious and extremely beautiful metal - silver. And here they are!
Lois Hill — cultural heritage of the world
Sure, watch making and jewelry are incredibly complex areas of human activity. In both the first and second field quite males are quite succeeded, talented designers and watchmakers. However, women are not a step behind the men.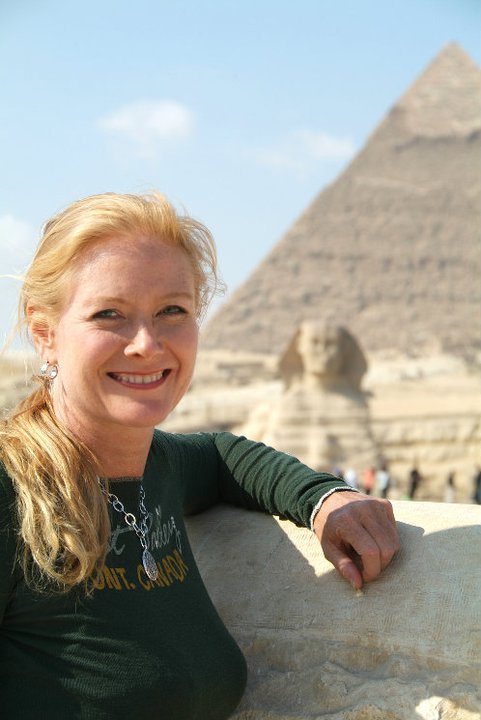 Luis Hill
One of the famous designers of our time is an amazing woman - Lois Hill, who concurrently also the traveler and explorer of culture and history of the world. Lois Hill is developing a stunning collection of handmade jewelery and watches exclusively of 925 –carat sterling silver.
The main feature of the product by a talented designer is relevance, Lois Hill is not playing "catch-up" with the rapidly changing fashion, but her production is still fashionable and modern. What is her secret?
Before the release of her very first silver collection Lois Hill spent several years studying the various processing techniques and decoration of silver. All the secrets and skills a designer has been studying, traveling around the world and interacting with people from all over the world. Therefore, in her watches and accessories, you can see the international spirit, a harmonious combination of different cultures of the world.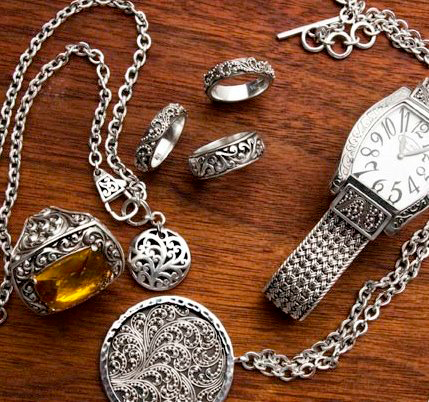 silver jewelry by Lois Hill
"I've always tried to learn the cultural features of the world, and the skill of metal decoration – is my passion" - Lois Hill avowed. In addition to extensive experience of silver handling, this woman has a very strong charisma, wherever she appeared, she brings happiness and smiles. The inspiration for her is different things that an ordinary traveler wouldn't even pay attention: the ancient ruins, museums, antique jewelry, Egyptian wicker baskets, simple household items and more. It is worth to say that all the efforts of researchers and designers were not in vain: every item created by her, is literally drenched with positive energy and a sense of adventure, to the knowledge of something new, to understand the world.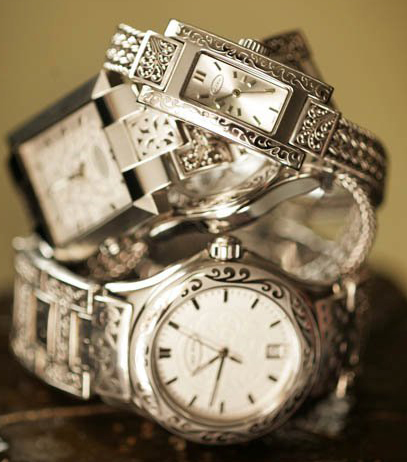 silver watches Lois Hill
The rich assortment of silver jewelry by Lois Hill, in addition to all kinds of jewelry and other women's accessories, a lover of fine watches will find everything that heart desires. Lois Hill's collection is dominated by models for beautiful ladies. Silver ladies watches by Lois Hill – are true works of art, in which the Swiss craftsmanship in harmony with the unique design ideas of talented master. Each model is equipped with a precision Swiss watch mechanism that produced by real "time god" - by ETA. The watch has high functionality and offers its owner (or rather the owner) to join the cultural knowledge of the world, to share with Lois Hill her sense of adventure, discovery and the desire to turn things around in the creative stuff.
All ladies silver watches Lois Hill is characterized by readable dial. By the way, dials of models are presented in several colors, so these ladies silver watches any fashion-monger will select subjects of her vast wardrobe.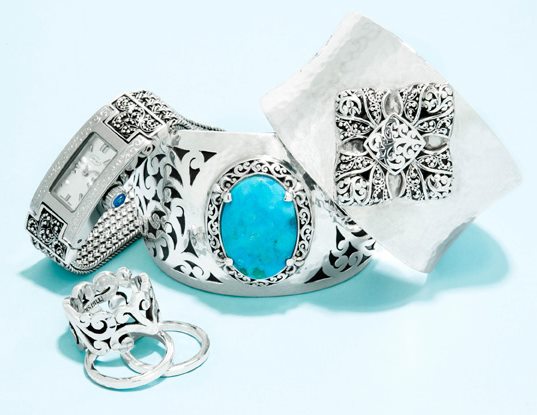 silver jewelry by Lois Hill
Perhaps the most popular model has become a ladies silver watch Lois Hill 6156-9121, first introduced by the designer at the watch fair in Basel World 2012. Speaking more precisely, this model is not entirely made of silver. Watch case with diameter of about 40 mm is made of stainless steel, silver bracelets of 925-carat for silver watches deserve special attention. Silver bracelets for watches Lois Hill 6156-9121 are decorated by hand with unique patterns carved on metal with amazing accuracy. Masters of the company use sophisticated technology for metal thread: filigree, consisting in soldering on silver background pattern of fine wire, and graining, which is a solder of silver beads in a specially-made grooves on the workpiece. It is incredibly hard work with the smallest elements, as it implies increased attention from the jeweler. The dial is closed with transparent sapphire crystal, which is scratch resistant. Watch features - the most needed: hours, minutes, seconds, date.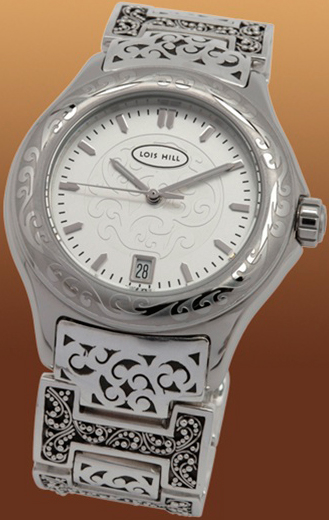 Lois Hill 6156-9121
Catalog of silver watches by Lois Hill of this model is not limited. I emphasize ladies silver watch Lois Hill 6156-1201 and Lois Hill 9384-1201, made on the same principle: steel cases and silver bracelets for watches, handcrafted. Index of waterproof of model is 50 meters. I advise interested readers to view the entire catalog of silver watches Lois Hill, because they really have, what is worth to look at!

| | |
| --- | --- |
| ladies silver watch Lois Hill 6156-1201 | ladies silver watch Lois Hill 9384-1201 |
Despite its seemingly simple and unpretentious, Lois Hill watches conceal a tremendous energy. When you look at this very fine filigree work in silver, immersed in a unique world of beauty and realize that to create such a masterpiece, you must have a real talent and incredible imagination. To buy silver watches Lois Hill – it means to touch the cultural heritage of the whole world and see all the charm of reality, know yourself and discover the qualities of whose existence you never knew.
ArtyA Son of a Gun Werewolf — your personal protector of the "children of darkness"

However, thereon amazing watch creations with using silver does not end. I suggest you look at some of the most unusual watches ever created by man. It is men's watch ArtyA Son of a Gun Werewolf, developed by a remarkable man, whose name was recently more and more pronounced in the circles of watchmakers and watch critics. That person is incomparable Ivan Arpa, the head of the watch company ArtyA, who formerly worked in the famous factory Romain Jerome.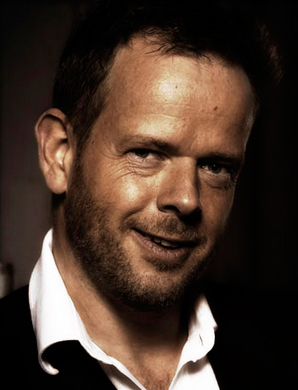 Ivan Arpa
I want to note that to create unusual watch – it is half of work. The most important thing is to present his creation to the audience. With this Ivan Arpa has no problem. This man knows how to attract attention, and listen to his stories about the done work – is a great pleasure. If you are interested, so watch videos about ArtyA, taken by our staff at the last exhibition Basel World and published on our web portal.
Ivan Arpa has appeared on watch "scene" recently, but now he has crowds of fans. Interestingly, all the watches of the talented and creative master – are unique works of art produced in a single item. Of course, this fact as a magnet attracts many thousands horde watch collectors and lovers of exclusive.
For Basel World 2012 Ivan Arpa prepared a special surprise - a unique creation - a watch ArtyA Son of a Gun Werewolf. Perhaps this model is the most original and unique way of using silver in watch making. This watch has been created for those people who are afraid to go to the werewolves and vampires with their bare hands. But now they have nothing to fear, because under the watch glass are placed two hours silver bullets to protect its wearer from the attacks of evil spirits. Yeah, Van Helsing would die of envy! But that's not all. Irrepressible Ivan Arpa assures its customers that the bullets were cast in sterling silver directly in the light of the full moon. I would not be surprised if the masters were rubbed watch with garlic. Well you never know! Silver bullets were decorated with intricate patterns by hand and placed on the dial under glass.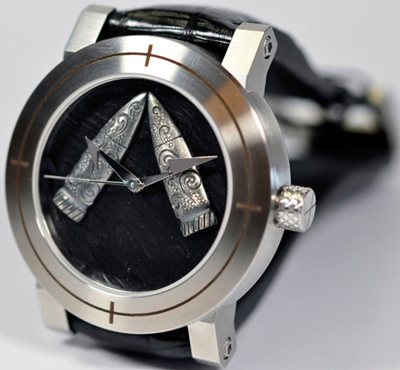 ArtyA Son of a Gun Werewolf watch
In terms of chorology, this watch cannot be called super complex, but, hell, they can be called an excellent piece of watch making. Technical features of the model are quite modest. Inside the steel case of 47 mm diameter is mounted reliable Swiss self-winding movement, 42-hour power reserve, with 25 rubies. On the black dial there are not numbers and hour indexes. And for what they are, as in the fight with the werewolf they are useless! Three central hands rotate around silver bullets on the black dial. To wear a "weapon against werewolves and vampires" on the wrist can be with a leather strap in black. Index of water resistance of the model is up to 50 meters.
At one glance at this watch with silver bullets begs a logical question: "But is it safe? Will I be missed by the airport security? And how can I explain it to people? "Personally, I just do not know the answers to these questions. On the other hand - why "bother"? If you like this true men's watch, buy it and shine for its originality in any society! I think for the original use of silver in the watch industry, no one else can think of before. So, gentlemen vampires, werewolves, and other "children of darkness," fear because Ivan Arpa is on the loose!
Nika: "Opening the highest standard"
Of course, all our people know the name of the famous Russian watch company Nika, which products after extensive advertising campaign in 2011 called "watch the highest standard." Nika watch factory, which has every right to be called because of the large volume of factory output, produces watches for men and women of the precious metals, particularly gold and silver. Many watches Nika lavishly are incrusted with precious and semiprecious stones, which gives them a special glamour and charm. And, of course, adds zeros to the price tag!
The company started its operation recently, in 2003, but in that time the company has gone from humble grand industrial association to the undoubted leader of the Russian market of jewelry watches, earning the trust of customers and the recognition of professional watchmakers in the world. In 2010, the company Nika took part in the main event, at the watch exhibition-fair Basel World, where it showed its talents to the world.

The main merit of the company was the invention of the so-called "case in the case" or "capsules", and the patent for the invention was obtained in 2005. "Capsule" provides increased protection against ingress of moisture and dust. Today by this principle all watches of silver and gold are developed by the company Nika.
The company creates both men's silver watch Nika and ladies models. Catalog of silver watch Nika for men includes five collections of models of different 925 silver: Avantgarde, Rally, Anthurium, Apriori and Weekend. The most popular models among connoisseurs of watch art are considered men's watch silver watches Nika from the collection of Avantgarde, made of 925-carat silver. Its stylish "pincushion" form of 52 mm x 60 mm x 10.3 mm. "Internal" of watch is modest but reliable: quartz movement Ronda. On the strict dial, which is presented in black and white versions, are placed hour markers, and protects the "face" of watches with mineral glass with sapphire coating. Silver men's wrist watch Nika is secured with classic strap of leather. In short, the Nika men's silver watches Avantgarde are chosen by lovers of classics. Manufacturer proudly declares that these models are "refined minimalism to stylish maximalist"!
For women, Nika has prepared special watches made of silver. Every fashionista will find all that she wishes: here and classic silver (collections Avenue, Lunar, Olympia), and feminine accessories, decorated with sparkling cubic of zirconium (Lily Collection Silver and Snowdrop), and quite expensive models, hung with beautiful crystals of Swarovski (Imperio collection). Unique pieces of jewelry are the models for the beautiful ladies from the collection of Nika Firebird. Ladies silver watch Firebird by Nika is presented in round case of 925-carat sterling silver with 30.4 mm in diameter. On the bezel of this smaller model has settled a brilliant bird, lined with sparkling colored crystals Swarovski. For smooth running clock is responsible a reliable quartz movement Ronda, a narrow leather straps of different colors (depending on model) give the image of sophistication and elegance.
Silver watch Nika is unparalleled option for people who appreciate quality and style. Due to its attractive design and affordable price, silver watch Nika gathered around its enthusiastic crowd of fans and loyal customers.
To be continued...
Written by Natalie