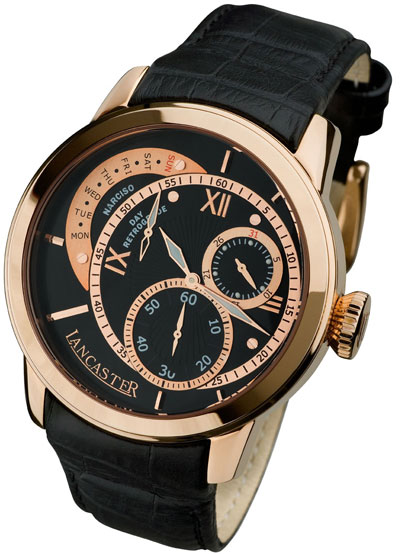 The Lancaster brand is famous for its rich and interesting history. Still in the middle of the 17th century, Christian Huygens (the Dutch astronomer and inventor) moved to Switzerland and founded the first watch factory. Shortly before his death, the master gave all secrets and knowledge to his pupil, Edward Higgins, who continued the business and turned it into the leading company.
The brand was given its name in honor of Higgins's native town. The company's wristwatches featured technical and stylistic solutions. Not all people could buy these watches, because they were very expensive. But after Edward's death, the company stopped existing at all.
But in 1992, the Italian Alvea company decided to restore the Lancaster name. Now it is not easy to buy the Lancaster watches. They are being sold in Italy, and the Italians choose the distributors of their production very intently.
The Lancaster watches combine imagination, luxury and fashion. It is one of the most prestigious brands in Italy. The Lancaster watches differ from other watch brands in the highest precise movement, range of vivid colours of cases and straps and completely different forms of cases decorated with brilliants. The company's management considers that people are constantly renewing the wardrobe, and watches should not be for all occasions of life. The brand is always on the top of the modern trends. Lancaster does not follow the fashion but creates fashion itself. Besides watches, the company also produces collections of sunglasses, bags and different leather accessories.
The company offers a wide range of elegant watches. It has launched the collections called Ceramik, Luxury, Pilo, Trendy, Swiss, In Voga and Non Plus Ultra.
Cases are made of steel, dials are decorated with brilliants, glasses are sapphire or mineral and straps are made of natural leather or ceramic. All the Lancaster watches are equipped with quartz movements and have water-resistance.