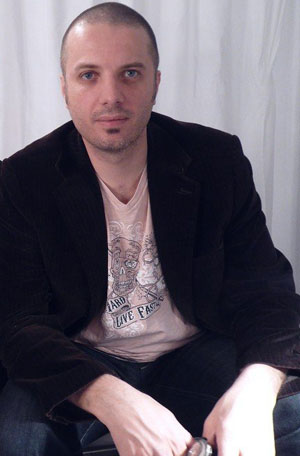 The well-known watch

brand Ladoire is located in Geneva. The company's founder is the talented jeweler Lionel Ladoire who wanted to create watches of free style. Ladoire calls himself "a watchmaker of the 21st century". His first model is Calvet/01/RGT. The watch features a dial with bearings which are instead of hands. An original designer's solution is two discs with hour indexes which are situated one around another. The case has a form of a pillow, the power reserve is 44 hours.
Roller Guardian Time Blue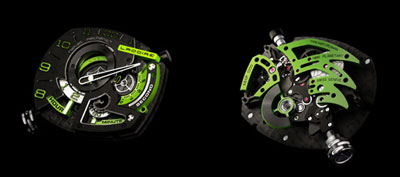 is the watch that was made by the creators' inspiration from the creative work of Jean-Paul Gaultier, Andy Warhol and Philippe Starck. The case is made from titanium, the dial, the bridges of a movement and an upper part of the strap are coloured with blue. The watches is equipped with the movement Calvet/o1 with a self-winding and a micro rotor. Ladoire has launched the collection called Black Widow which was given its name in honor of the spider Lactrodaectus Manctans. The spider's poison is very dangerous. As a female eats up a male after pairing, this species of spiders has been given the name Black Widow. There is a web on the watch dial. The first model of this collection is Mr Green. The size of the titanium case with black PVD coating
is 41.77ơ50.84 mm. The movement Calvet/o2 can be seen due to the open dial and the see-through back case. It has 52-hour power reserve. The watch has 18,000 vph frequency of the movement and jewelling of 38 stones. White hands and big white numerals that make time very readable in the darkness, stand out against a main black background. The model has the sapphire glass with anti-reflective coating.
At the Basel World exhibition the company introduced the model called Roller Guardian Time Punk White. The watch crown is at "8". The model is equipped with the automatic movement Calvet/o1 with the 44-hour power reserve. The strap is made from calf leather with the massive titanium fastener.
In 2011 at the exhibition Geneva Time Exhibition Ladoire also presented its watches.