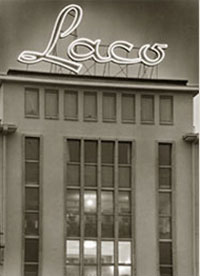 The company LACO was founded by Frieda Lacher and Ludwig Hummel in Pforzheim, Germany. Their watch business was growing with breakneck speeds, and like many 20s' watchmakers, they emphasized to produce watches solely with Swiss movements which were provided in the country either finished or in parts to assemble at the factory. For some time, the founders were going in different ways: Frieda started making parts for wristwatches – balance wheels and pinions, and Hummel continued to run the company and the watchmaking fabric.
But after some time, Frieda's company part resumed working under the name and the leadership of her son Erich Lacher. In 1936, Erich came into possession of the family business, and, despite of the company's integrity constantly changing, the logotype LACO was still on watches. World War II, in its turn, brought a lot of problems in the co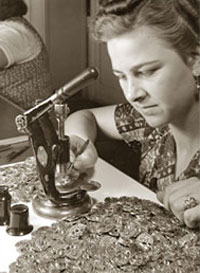 mpany's development. The Allies' attack on Pforzheim ruined almost 80% of the town and its fabrics. But in spite of everything, during 1936 – 1945s, the company took the leading position and respectable reputation of a producer of watches of the best ones having ever been produced in Germany or exported from there.
Perhaps, the most famous historical moment of using these watches was carrying ones (the model Beobachter Uhr) by pilots of the German Luftwaffe. Perhaps, by that reason, LACO watches are now collected much due to their history and timed accuracy peculiar to the Germans and the military men, which perfectly has been kept for a long time.
After the end of World War II, the company continued to create watch models of the highest accuracy that firmly took their special place at collectors' market. LACO underwent quiet a few changes in its structure, came to the world market and won a firm position in the field of producers of the first class watches.
To celebrate the 75th anniversary of LACO, the company launched the collection which had the style of old models made decades ago.
Nowadays, a one third of the company's production is watches of the same style of the 30-40s' old models. LACO masters offer a wide range of models created with stress on the old re-editions, especially the model Beobachter Uhre.
Beobachter Uhre is the original experimental model, in which style the company continues to offer high-quality watches. Every LACO's model has its own special history of creation, because the company's approach to watchmaking has still left unchangeable – love for watches in general and love for a part in particular.
LACO – original and true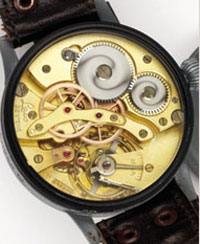 LACO pilot watch is the model being made by the company over 70 years. According to the designers-creators, the main goal, during creation of this line, was an accordance of the model with 40s' ones as much as possible. These wristwatches are outstanding because the designers, as they say, worried about details very carefully. If you are looking for original and true ideas realized in a watch movement so LACO watches are specially for you. Depending on taste and personal favours, you can choose between Baumuster À model and Baumuster B model. An original decoration with rivets of straps gives these watches unusual strictness and originality.
LACO Navy watches is the line of watches kept in specific "navy" design with big marking on a dial, due to which you can easily read time in many different situations. A dial of colour is like delicate white milk matching brown colour of a strap. This model looks well with both jeans and business style as LACO can be called the eternal classic.
LACO Squad watch is wristwatches being ready for working! The company's designers and personnel call them "command watches", because they have become a permanent accessory of people of commando units during their service. LACO Squad watch has sane workmanship and fine style as its distinguishing features. The model can be used during diving up to 20 metres deep.
Over 80 years, LACO has been making watches in Germany, the very heart of the watch industry, to enjoy peculiar strict style and movement accuracy. It does not matter in which situation you are, LACO wristwatches will never let you down.