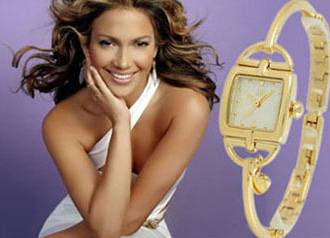 Jennifer Lopez is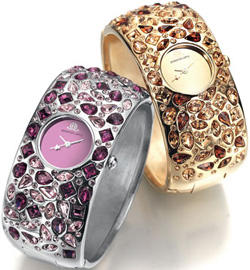 one of the most talented and outstanding representatives of the modern show business. She is rightly considered to be the most stylish Hollywood celebrity. Her own line of fashion clothes and accessories named JLO by Jennifer Lopez is created according to her inimitable style.
In 2001 Jennifer founded the Sweetface Fashion Company to share her unique feeling of style and fashion vision with women. In the same year the first collection of clothes named JLO by Jennifer Lopez was launched, and then some line of accessories. In 2004 the company signed the licensing agreement with the E. GIuck company to make a line of wristwatches. Under the JLO brand functional accessories, intended for young, energetic and stylish women, are being launched.
JLO timepieces have already become an integral part of young women following the latest fashion trends. For several years the company has developed its own style which can be characterized such words as lightness, romance and refinement. Perfect design of watches attracts glance with clear lines. This brand's model lines do not include chronographs with massive cases and hardened straps. JLO watches have small elegant cases perfectly matching thin bracelets or exquisite straps. To decorate models Swarovski crystals are used what gives every watch inimitable refinement. Great attention is paid to bracelets and straps. This may be chains bracelets consisting of different sized-shaped links adorned with pendants and decorative elements in a form of hearts, berries, keys and so on. The brand's production includes the following collections: Super Star, Stones, Oval, Spiral, Chain and Love Story. Every watch line is created on certain purpose and oriented to concrete people. Love Story consists of elegant watches with heart-shaped cases. Super Star is watches with bracelets decorated with small stars, ideally suiting young ladies of fashion. The Oval watch line will be to women's taste who prefer elegant accessories. JLO watches are equipped with high-quality quartz movements Miyota and Ronda.
JLO products feature a small heart: a tip of a second hand, a crown or a case itself.
JLO watches are of fashion class. This trend in the watch industry appeared about 20 years ago. Thanks to bold and vivid design and considered pricing policy, JLO watches have set respectable position in the modern watch industry.