The history of Holdermann & Sohn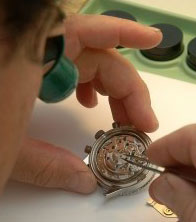 watch company began in 1546. The first watchmaker of this company was Joseph Golderman. He had his own workshop in the town of Tubingen. Joseph Holdermann is the creator of 10 towers in this city.
Holdermann & Sohn company produces multifunctional and reliable wrist watches, the quality of which is guaranteed by the centuries-old tradition of German watchmaking. Apart from the wrist watches, the company also manufactures pocket watches and wall clocks, presented in an ancient style.
Holdermann & Sohn ˝ompany combines the ancient traditions and innovations, as a result the company's philosophy is a perfect example of Haute Horlogerie. Holdermann & Sohn products can compete with any Swiss watch.
The watch design is distinguished by the laconic elegance of the vintage models. The most watches are equipped with Swiss ETA movements. The cases are made of stainless steel. The water resistant of some models is up to 10 ATM.