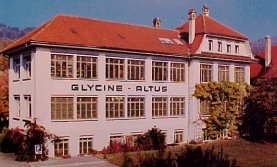 Glycine watch company was founded in 1914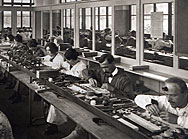 in Bene. Glycine company's founder is Eugene Meylan, a wonderful artist who has created an extremely accurate movement for ladies watches, offering a stunning women's watch market in gold and adorned with diamonds.
In 1931, Eugene Meylan invented the automatic winding movement. Watches Glycine Eugene Meylan SA with the exact movement are very rarely found at auctions and collectors are a source of pride. In 1934 the company produced watches that meet all quality requirements of the Official Swiss precision checks. During the Second World War, many watch factories were forced to cease to exist. But in spite of all, the company has managed to survive Glycine. Moreover, it has become one of the participants of the Basel exhibition - an annual event, which is a significant event in the watchmaking world and that the company did not miss one.
Glycine is primarily a sports watch with a big case, in which three independent movement. The firm has dedicated many years of Glycine art of watchmaking. In 1948 it introduced self-winding watch and has become one of the first brands of automatic watches. After all, these watches are created by designers and craftsmen without the use of mass production technologies.
The company surprised everyone when they released a line of watches "Airman 2000". They became known, thanks to clearly label the dial to be satisfied and the ability to simultaneously show time in three time zones.
Opening this collection differ from each other with their styles: with individual numbers, two-tone dial to display the day and night, and the hour hand, which is only once per 24 hours is around the dial.
The new model is distinguished by its 17 Airman size, it was 46 millimeters in diameter. In addition, the watch is set automatic Valgranges A07-171 with three-hour zones. A «Airman 7" is exclusive watch with three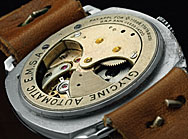 independent movements in a single package and Automatic, which shows the time simultaneously in four different time zones on three dials. The hands are driven by automatic movement ETA 2893-2. The dials on the marks, "8:00" and "10 hours" indicate hours and minutes in two time zones. These cells operate on a small automatic ETA 2671-2 movements.
Other watches Glycine, for example «Incursore» and «KMU 48", are known for use in historic military operations. «Incursore» was named in honor of the department of Italian frogmen of the Armed Forces, who performed extremely dangerous assignments and were glorified in the Second World War. A «KMU 48" - a shorthand term "Naval Watch", and 48 - is the diameter of the case. The dial of the watch is made so that military divers can easily distinguish between all of the labels, even in poor visibility conditions.
Glycine Watches have always been known with big case and multiple dials.
Owner of watch company Glycine - an outstanding personality, which has a delicate taste and ability to evaluate the combination of bright modernity and the old Swiss tradition.