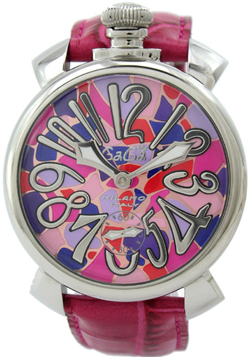 Based on the long tradition of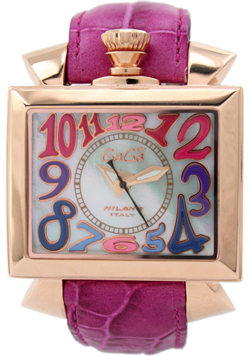 watchmaking and using the latest design solutions, GaGa released a collection of chronographs in which the most daring and bold experiments with color and fabrication technologies have led to some of the most unusual watches in the luxury market and elegance that capture the imagination of the brightest colors and provocative mix of materials from which they are made. GaGa - the word that was born and became popular in Italy in the 50s. It refers to a man in love with fashion and fashion accessories, or simply put - "mod", "Bimbo," which perfectly fits to the chronographs issued by watch house GaGa Milano, innovative thinking and talent connected the classic watchmaking with the latest technology. The mechanical watch in the case of 48 and a diameter of 15 mm thick, with a crown in the form of the bulb, as if taken from the old watch, with lugs for attaching a belt of a unique, bold design and a variety of colors - this innovative product, which the company offers a sophisticated GaGa and experienced the buyer. Plus watch construction in a highly accurate stroke, invented, designed, assembled and finished with a specially engraved for watches GaGa. Covering a full range of design three-handed chronographs, the company produced both GaGa and carefree, happy hours and hours in the sports-style, traditional watches, chronographs and the application of space technology. Total watch home GaGa Watches presents six collections: watches in stainless steel in the case, covered with gold, PVD-coated materials, watches with jewelry and, finally, the rare combination for watches of our time - precious stones and ultramodern carbon fiber.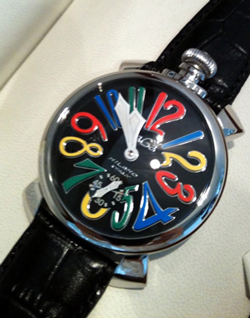 Each collection is a
set of design versions of the dial, hour markers in different colors and a strap of high-quality leather alligator appropriate tone. Customers attention is also invited to a special limited edition - with bright yellow or orange numerals on the dial of black carbon fiber. For sophisticated and extravagant fashionistas who prefer bold colors and unusual combinations, adorned with rubies jewelry presented version of the chronograph with carbon fiber welt on the case. All versions of Italian watches have a technical flair - two-way second hand, rotating on a circular scale. Given this diversity and variety, rather affordable prices, there is no doubt that any woman can find suitable to your wardrobe and style wristwatch version GaGa.