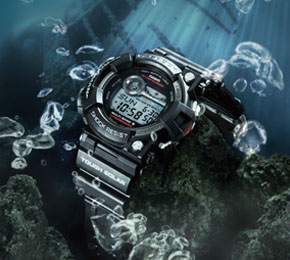 "Through fire, water and copper pipes."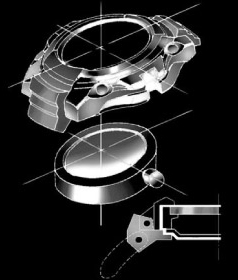 In 1983, the famous watch brand CASIO released to watch market new and perfect timepieces under the brand G-SHOCK, which are protected from any attacks. These watches are completely broke the stereotypes - it is a fragile mechanism, which must be handled with extreme care. The company has developed a proposed CASIO triple protection cases, unit and other parts of the mechanism: this new radical design will not break even in the case of severe shock and vibration. Watches G-SHOCK soon won great popularity due to its practicality and the unique design combined with functionality, which was the main driver of sales growth in 1990th years. Soon the main functions of G-SHOCK have been added new: sensors powered by solar energy, radio reception, as well as the materials themselves have been improved. Thanks to the relentless introduction of new technologies and changes in the general idea of the watch, G-SHOCK has become a leading brand of watches CASIO.
Watches G-SHOCK appeared due to the idea "to create a watch that will never break." The company conducted tests CASIO based on the concept of "three tens": 10-year battery life, water resistant is up to 10 bar and the resistance to fall even with a 10 meter distance. At the time, this idea went beyond common sense. But watch G-SHOCK changed the perception of ordinary watches. The company spent two years to create these watches and produced over two hundred experienced watches samples for testing. Finally, in 1983, thanks to the tireless work and passion of watch masters, they made the first model of a watch G-SHOCK.
Technology:
The watches presents with a concave design that protects against external influences, "the heart of watches" is module. Urethane bezel, completely covering all time part, to prevent damage to windows and buttons from the blows. Quartz oscillator, which is located in the module watch, fully protected by a cushioning material. Bullet Proof Technology G-SHOCK has every model, which provides the highest strength of all major components of the watch. The convex shape of the bezel is designed to prevent damage to windows and buttons from shock if dropped from any angle and in contact with any surface. The metal bracelet is made of parts, and extremely resistant to scratches. In the fall of the bracelet links are bent at an angle of 150 degrees, which protects the watch from hit in the fall. Also watches are available with a plastic watch strap and a different color variations.
Perfect technical characteristics of G-SHOCK watch demonstrates model GLS-5500P-7ER. EL backlight (with avtopodsvetkoy), which illuminates the whole dial.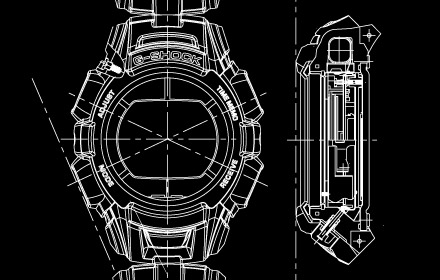 Maximum Shockproof.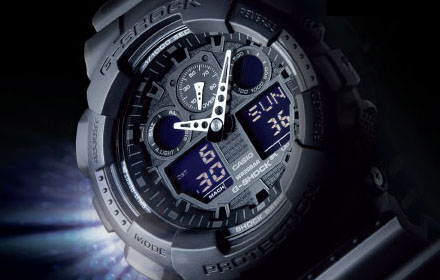 Performance even at a temperature of -20 ° C. LED (flashing) that flashes when an alarm signal, alarm, or expiration of an hour. World time in 24 zones, 2 functions of stopping time (1 / 100 seconds - 1,000 hours). Timer is up to 24 hours to the minute accuracy and autorepeat. 5 multi-signals: a clock equipped with a certain type of signal (5 types of signal) for each specified by the event. Watches have 4 types of signals: 1. Daily alarm, triggered at the same time every day. 2. Signal date, reminding you of birthdays. 3. Monthly - a signal on a given day each month. 4. Daily signal a particular month. Battery type of watches is CR2025, ensures uninterrupted operation for about 3 years. Different length of the month is automatically adjusted. Crystal - mineral, case and strap are plastic. Water-resistant of the watches is up to 20bar.
Wristwatch G-SHOCK will become a reliable companion fans of extreme sports and outdoor activities. G-SHOCK is a real revolution in perception of usual watches. With this watch on your wrist you can easily overcome the "fire, water and copper pipes."