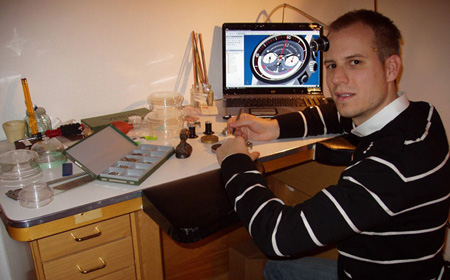 Swiss watchmaker Frédéric Jouvenot was born at the end of summer 1977. He belongs to a group of people who want to produce high-quality watches. Frederick's mentor was his grandfather who taught him music, wine making and mechanics. He is inspired by natural curiosity about the subjects of past and present. The source of his inspiration are the architecture, contemporary design and watch heritage of past centuries. The talented watchmaker likes to create watches in ancient style, giving them a modern charm. All this helps him to embody the most imaginative ideas.
For several years Frederick Jouvenot worked for famous and prestigious brands, with infinite attention to detail and perfection of watches.
The first watch made by Frederick - Chronographe Evolution 1, was presented in the exhibition SIHH. It became a sensation and was issued in an amount of 88 pieces. This classic chronograph features an automatic winding movement with 50 hour power reserve. Watch case (44mm) is made of 18-karat rose gold and decorated with black gold. These watches are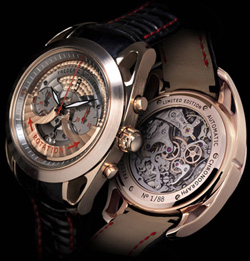 waterproof to a depth of 50 meters and are equipped with an aperture on the dial, protected with sapphire crystal, through which you can observe the work of the movement.
Swiss company GoldVish, producing phones at Baselworld 2009, presented a model which is equipped with a watch brand Frederic Jouvenot. These watches are mechanical chronograph and located at the bottom of the phone keypad. Through the sapphire walls on both sides of the case, we can observe the work of moving parts. Movement of watches is decorated carefully, and a unique manufacturing process is patented by Frederick Jouvenot .
Frederick Jouvenot was awarded at Superwatch Award 2011. He got the award for his watches called Helios, which embodys the avant-garde design and technology. These watches are named after the Greek god Helios. They show the alternation of day and night, and the movement of the sun. At noon, all the rays are rotated and become golden. Then they gradually turn black in a clockwise direction. From midnight to noon, the process is reversed - black hands gradually become golden. In the center of the dial is solntseobraznogo minute indication. Retail price of this watch approximately U.S. $ 55,000.
All watches of the brand Frederic Jouvenot have high quality and unique design that makes them exclusive. Owners of these watches will be allocated among its environment to its good taste.