Swiss watch company Frederic Jouvenot was founded by a talented watchmaker Frederic Jouvenot that before it for years had been working in many famous watch companies. The models of Frederic Jouvenot always characterize with unique design and features.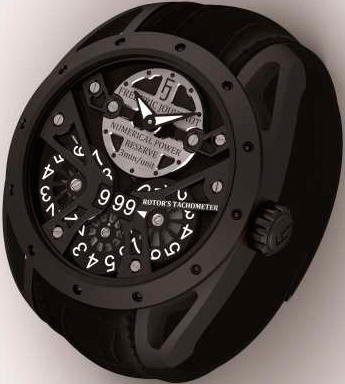 Tour de Force watch
Today the brand Frederic Jouvenot announces the release of its novelty - the Tour de Force watch, which include not only the power reserve indicator, but are counting the number of rotations of the rotor. To follow for changes the number of rotations made possible by three discs at the bottom of the dial. When the number of rotations reaches up to 999, the power reserve closes to its maximum.
An automatic movement with 50-hour power reserve equips the novelty Tour de Force. If the watch does not get the energy, power reserve is exhausted, and with the appearance of 000, it is zero.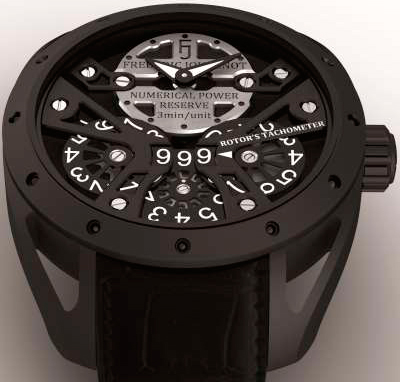 Tour de Force watch
The unique novelty is presented in a 44 mm titanium case with black DLC coating. To buy the Tour de Force watch is possible on an alligator strap or a bracelet.
Official website of Frédéric Jouvenot watches.
Written by Angel
18.10.2012