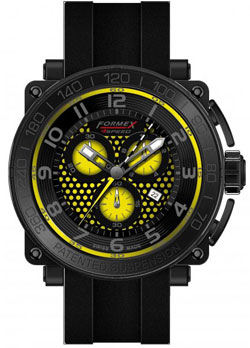 Swiss company Formex is one of the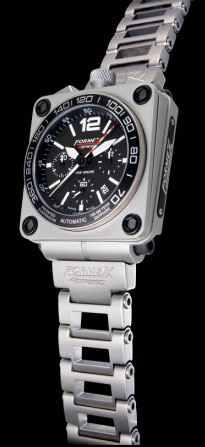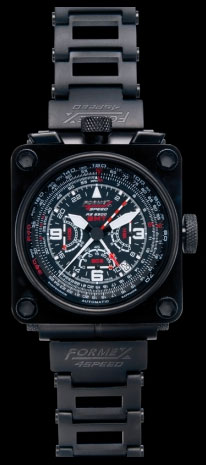 youngest watch brands immediately won love and recognition with help of creative approach and excellent quality of producing production. This watch brand was registered in 2000 by swiss watchmaker Hans Peter Gredel. The manufacture was settled down in the town of Nidau-Bill. The main uniqueness of Formex watches was extraordinary design in aggregate with the highest quality and efficient materials. The idea of watch brand was found on three elements: Land, Water, Air. At the beginning Formex produced the watches called Land, which were intended for auto racing on the land. A little after the company presented the line called Air. There came wrist multifunctional chronographs, which let to calculate the time during flying on planes. And the last line of watches Formex was called Water. They were intended for fans of watersports, yachtsman and divers. The watches which came in main lines of producing, have high standard of water resistance and produce from very solid materials. All production of Formex brand come with changeable straps and bracelets, set of tools for changing strap. Moreover, watches are supplied with high qualified Swiss movements ETA. They are very reliable and accurate. Formex suggests wide range of different watch collections, which differ in style and functions. Collection A780 produced as few models of men's watches for racers with automatic or quartz movements. They produce from steel and steel with PVD cover and equipped with caoutchouc or black leather straps with steel clasp. Chronographs from AS6500 and AS6525 series are equipped with reliable automatic movements. They produce in the form of square cases with steel bracelets. Among these watches one can see different models: AS6525 GMT "The World Wall", AS6525 "The Street" with dual time function. The line AS1500 presents as high-precision wrist chronographs, such as AS1500 Chrono Quartz, AS1500 Chrono Automatic è AS1500 Chrono Automatic Limited Edition. Collection line has watches with leather, satin or caoutchouc straps, and also with round cases. Ladies series of watches TS715 Ladys is decorated with white brilliants.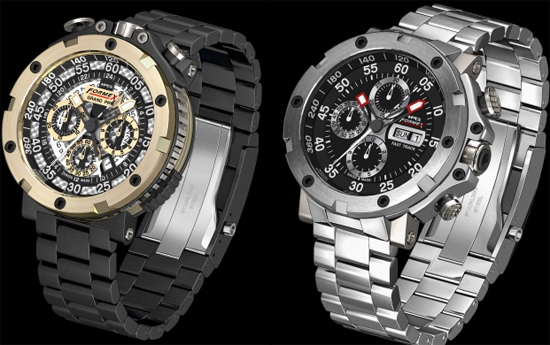 There are also TS715 Unisex series. Except these collections there are high-precision wristwatches such as TS375 Chrono Automatic, TS725 Quartz, TS720 Chrono Quartz and TS725 Chrono Quartz with colorful design, TS5750 GMT and TS5750 Limited Edition with square cases and with many counters and TS 375 Limited Edition with colored straps. Series of DS2000, GT325 and CS 2025 Cigarette presents dynamic wristwatches, which perfectly suit for people who prefer active style of life and sportsmen. All watches of Formex company are produced from durable, reliable materials and have sapphire crystals, which are resistant to scratches and other damages. The main proud of Formex watch house are exclusive limited collections Fast Track 900 and Grand Prix 997. The first collection from series presents high-precision wrist chronograph, which was produced in honor of Formula 1. They let to turn the case on 90 degrees and maximum fast to carry out measurements. The second line is high-precision, multifunctional chronographs with date indicator, several counters and days of week. All chronographs of Formex have certificate of quality and are notable with its durability and reliability.