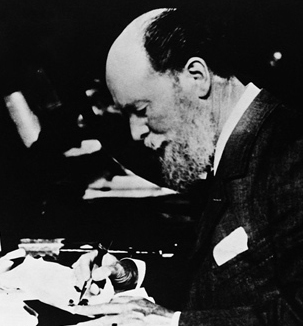 Carl Faberge is a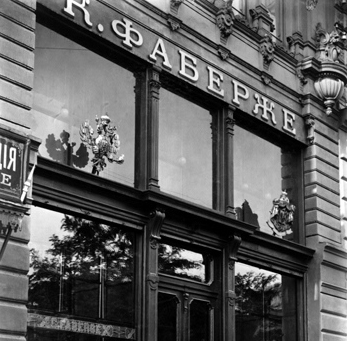 well-known jeweler, artist-designer, who was born in Saint-Petersburg in 1846. Before Carl was born his father Gustav Faberge opened jewelery company in Saint-Petersburg. In future Carl turned the company into the most big manufacture in Russian Empire, and in 1885 Faberge became a supplier of Empire yard. But in 1918 after October revolution, Carl moved abroad, in Lausanne (Switzerland). And as it was life-saving, and keeping art heritage, it was hard to think. He took part of jewelery, forms and sketches, another part was destroyed by Bolsheviks.
In the middle of 20-s in Paris, sons of Carl founded company Faberge & Co. They restored or copying of things. Though company did not have success. Brothers understood that they wouldn't manage to get previous fame of Faberge. Forty years has passed to find masters who could continue business of famous jeweler. Soon the successor was chosen, it was German jewelery company Victor Mayer. Renaissance of Faberge began at the end of 20-s century. Business of Carl continued Victor Mayer masters. In 1990 in Munich was the first presentation of collection Faberge which included jeweleries and decorative products.
Faberge company made unique products. The most popular works are wristwatches which differ with size and materials.
The main collection of wristwatches for men was named in honor of younger brother of Carl Faberge – Agathon. Watches in this collection are in round cases, and dial is enameled and guilloched. Model from collection Agathon M1107 resembles watch-skeleton, so you can see the work of movement. Mechanical plate is guilloched by hands, dial with hour and minute hands are covered with silver in blue color, and second small dial for second hand is enameled with gold. This collection includes women's model Agathon Medium Lady M1015-101-BL – watches are in cold blue tone.
Then they produced models Agathon Chronograph M1115 men's wristwatches and Agathon Medium Lady M1021 women's watches with small second hand. Watches attract attention with its colors. Dials of these models are guilloched and covered with enamel. Men's model as well as women's model of watches Agathon Medium Lady M1021 are fixed in case from red gold. Watches have automatic movement.
Watches Faberge are luxury, originality and, of course, high quality.