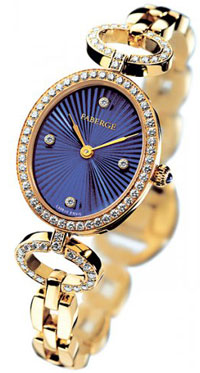 The main collection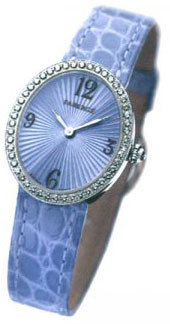 of wristwatches Faberge was named in honor of younger brother of Carl Faberge – Agathon. Chronographs in round cases. Despite they are not in diamonds, but we could call it masterpieces. For example, the simplest model – Agathon M 1105. Blue dial is made in shown through enamel technique on guilloched gold. This technique was the base for all works of Carl Faberge. Dough-shaped the enamel inflicts on plate from gold 750 by hands and goes to special oven. As a result of firing (with temperature of 800 degrees by Celsius) enamel covering started to find qualities of glass. To have transparent lay of needed thickness, action repeats from five to ten times, then enamel polish. Adding pigments, they can give it any color. Watchmakers of Faberge company has almost one hundred and fifty thousand shades. Polished colored enamels, don't equal to precious stones with its transparency and shining and value on the same range.
Women's line of watches Faberge is a decoration which are worthy royal persons. Collection was named Anastasia in honor of one of daughters of Russian Emperor, Anastasia.
Model Anastasia M 1004 perfectly combines 18-carat yellow gold with guilloche enamel opal of dial, which is framed with diamonds. Oval case, oval bracelet's chain, oval clasp and round cabochon on the crown resembles the form of eastern egg. Watches Anastasia M 1001 with diamonds just on bezel and with strap instead of gold bracelet cost almost two times cheaper, then previous model.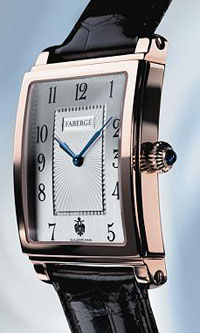 Another men's collection – Carree.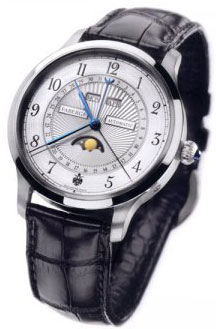 These watches are in art deco style. Rectangular case case of chronographs a little bit curved to comfortably lay on the wrist. Model Carree M 1112 is equipped movement on the base of caliber Frederic Piguet 810 with hand winding. Case is made from rose gold, and guilloche dial from silver 925. Paintings on the dial are made with the help of guilloched machines with hand control. Automatic and software control provide accuracy of lines, but hand work costs much higher and make watches unique. Guilloched enamel is one hundred guarantee from fakes.
First watch from collection costs expensive and differs with some details. For women's chronographs is a diamond on the clasp, for watch from men's collection Agathon is engraved by hand rotor of winding form of double eagle. There are also exclusive models, such as Agathon M 1111. Its rotor, case and dial are made from platinum – expensive and hard metal, instead of gold, what makes higher the cost of engraving. Movement based on caliber Frederic Piguet 6753 has unusual calendar device. The mark of month and day of week appear in commensurate windows, and on date shows hand in the center with crescent at the end. Moon phases are the best decoration of these watches. Agathon M 1111 is produced in limited series of 50 pieces.