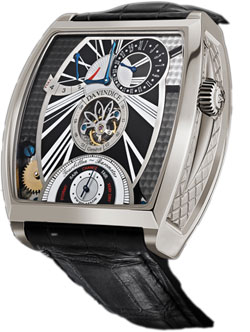 Da Vindice is a young Swiss company, that has produced just one watch line. It's notable, that new watches, produced by Da Vindice company, are highly competitive with old and famous brands' products.
Da Vindice presents the exclusive "Tourbillon-Barometre" watch, that has a rare aneroid barometer watch function.
There's a full barometric scale at the "6" position. The watch has a hand date indicator, a power reserve indicator and a minutes indicator at the "12" position. There's the company's logo in the middle of the dial.
The 54 by 59,5-mm and 22,5-mm high case is made of 18-carat rose or white gold and decorated with diamonds. The case is supplied with an automatic blocking button, connected with the crown and designed for pressure resetting. The dial is covered with a sapphire crystal, tha watch is water resistant up to 30 metres. The watch's weight is 360 grams.
The movement is skeletonized, it's equipped with an automatic rewind function, tha power reserve is 42 hours.
The strap is made of crocodile leather, the buckle with the Da Vindice logo is made of white or rose gold.
Da Vindice company has presented its watches in the "Grand Complication" category at Geneva Time Exhibition in 2011.