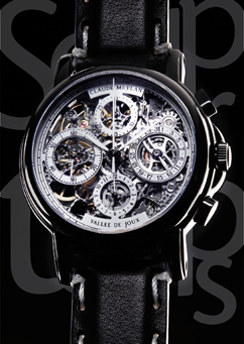 The company Claude Meylan is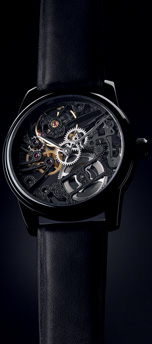 famous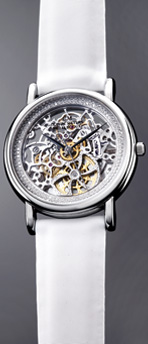 for its luxury models with a perfect design. This Swiss company was based in the Valle de Joux, which is home of such legendary watch companies like Audemars Piguet, Blancpain and Breguet. The history of founders' family of the company Claude Meylan begins from half of the eighteenth century. A large number of skilled watchmakers were proudly wearing the name Meylan. The company is considered a pioneer in the watch industry. Relying on the unshakable foundations and traditions, watchmakers pass their craft from generation to generation, from father to son.
The first master of watch making is likely to Samuel-Olivier Meylan, who in 1740 went to the city Rolle to study the art of watch making. His inexhaustible patience, diligence hard work and love to perfect gave its result: he was the creator of watch masterpieces. In 1748 he returned to the Valle de Joux and opened his own workshop. Besides the production of watches, Samuel-Olivier Meylan created a pocket watch with a musical mechanism, installed on the drive box. The brand began to manufacture expensive and elitist watches with complicated mechanisms, and the name Meylan associated with luxury and perfection. Another brilliant heir of watch home Meylan - Philip Samuel Meylan is the creator of unique watches, equipped with a transparent cover which is decorated with engraving of flowers. He also originated the idea of creating ultra - flat for that time inverted mechanism called Bagnolet, which means "look at watch". It is also equipped with a musical mechanism and setting the indicator of tunes, can get certain pieces of music.
Over the years, the company began to produce wrist watches with sophisticated movement and modernized design. Illustrative example is a new model La Repetition of the brand. The model line is released in limited quantity and is provided with repeater, counting down the five-minute and hourly intervals. The watch is based on the automatic mechanism ETA. In the case creation is used pink gold. The thickness of case is 42 mm; it is equipped with sapphire crystal. Water resistance is to 30 meters. Strap is made of crocodile skin. Model La Grande Classique is created on the basis of the oldest caliber 1970, generally performed manually. The case of this original, expensive chronograph is decorated with engraving "Claude Meylan, Vallee de Joux". Chronograph is equipped with indicators of time and phases of the moon. The case is equipped with a sapphire crystal, and engraved with individual number on the inside. The dial is made in pearl color with gold inlays. The strap is made of crocodile skin.
Luxurious and innovative design, advanced movement and precious metals, used in the assembly of watches Claude Meylan, further confirmed the leading position of the company in the watch industry. Buy watches Claude Meylan one can in shops, selling jewelry or order them through a dealer network provided on the official website of the company.