| | |
| --- | --- |
| BaselWorld 2012: Claude Meylan presents Répétition 5 | |
The company Claude Meylan has presented at the international exhibition BaselWorld 2012 another novelty - a watch Répétition 5 (Ref: 8731). Characteristic of the watch design became the skeletonized mechanism that allows its owner to admire the work of all the mechanism rollers and wheels, which roundness emphasizes the circular shape of the case and the Arab hour indexes.
The Répétition 5 watch is an organic combination of Time and Music, which is heard from the depths of the mechanism with a frequency of five minutes (of course at the request of its owner).
The basis of the watch is an automatic mechanism ETA 2892 DD 89, a fully skeletonized and performed with hand engraving. Functions: indexing of hours, minutes, seconds, and "gong", the caller in an interval of five minutes. The watch case in diameter of 42 mm is made of stainless steel or 18 carat gold at choice. The dial is protected by a sapphire crystal. The watch water resistant is up to 290 meters.
The dial is gray, hour indexes – Arab numerals, the hands - in the style of Breguet. The strap watch is made of genuine alligator leather in black or brown with stainless steel or gold (18 carat) buckle.

Official site of Claude Meylan watches.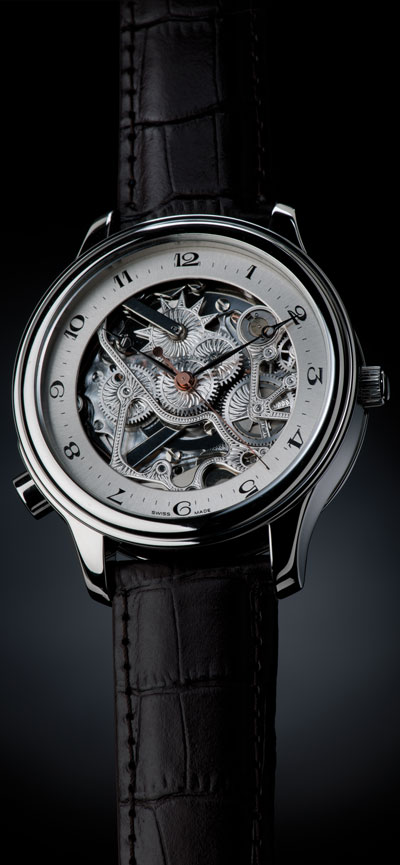 20.03.2012
virgie
Helpful ideas . I was fascinated by the analysis . Does someone know where my assistant might get ahold of a blank Landlord Application to Rent document to use ?
Afton
Greetings Virgie, my partner came accross a blank Landlord Application to Rent example at this site http://pdf.ac/4AL7Kc
News of Montre24.com: exclusive video of the company Claude Meylan at GTE 2012
Informational watch portal Montre24.com provides a unique opportunity to all fans of watch making, which closely follow the latest developments in the watch industry, make acquaintance with classic models of the watch company Claude Meylan, which the company proudly presented at the annual exhibition GTE 2012.
29.02.12 Comments(0)

Claude Meylan represents a new Répétition 5 Watch
Known for its luxury models, the Swiss company Claude Meylan has announced the release of new watch model Répétition 5, the world premiere of which will be held in March at the international exhibition BaselWorld 2012.
23.02.12 Comments(0)



The company Claude Meylan is famous for its luxury models with a perfect design. This Swiss company was based in the Valle de Joux, which is home of such legendary watch companies like Audemars Piguet, Blancpain and Breguet. The history of founders' family of the company Claude Meylan begins from half of the eighteenth century. A large number of skilled watchmakers were proudly wearing the name Meylan. The company is conside...
Detailed information Claude Meylan