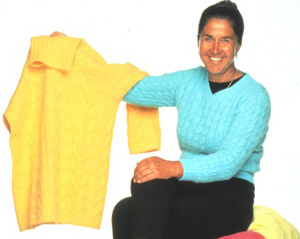 The Italian Benetton brand was established in the 60s of the last century. Its history started with a bright yellow sweater that was knitted by Giuliana Benetton to her brother Luciano. To understand how the yellow sweater helped the family to become the third by income in Italy, it should be stopped at Benetton's history in detail.
During postwar years there were no bright and stylish clothes at the market, and Luciano's yellow sweater was always noticed. Constant questions from friends, neignbours and other people put young Benetton onto an idea to open a shop which fashionable sweaters of different colours for young people would be sold in. The family business, founded by Giuliana and Luciano Benetton, grew very fast. In 1962 their clothes were sold in Rome and a necessity to make an own company appeared, because a large volume of production allowed to come to the international market. Officially the company was registered in 1965, then the brand's logo in a form of a green wool clew was created. The company's head was Luciano, his sister was the chief designer of the Benetton Group and in charge of production. Later Guilberto and Carlo joined the family business. They were responsible for placement and management of personnel, and the company's finances.
After the brand's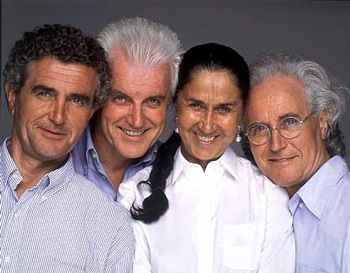 creation, the Benetton family made retail chain of youth and children's wear: My market, Merceria, Tomato and 0-12 (for children of this age group). In 1985 all these sales outlets were united under the Benetton signboard. Having fortified all positions at the Italian market, Luciano began promoting the company's production in other European countries. The company went into the European market according to the franchise in order to avoid finance losses. All shops, opened under the Benetton brand, was designed in one of five styles of the company. In the beginning of the 70s more than 1000 shops were opened in different countries. In ten years the company set to the advertising campaign and invited the famous photographer Oliviero Toscani to collaborate. He created the new image of Benetton. This active advertising campaign was directed to unite all nationalities and to create the "international" fashion. Just then the company's slogan appeared - "United Colors of Benetton". The 90s were not very successful for the company, because many competitors brought their production in Asia's countries where one could save money on manpower. But despite the fact, the Benetton family left the production in Italy. Luciano "entrusted" robots to make clothes. Nowadays Benetton clothes, having great competitive advantage – the label "made in Italy", are being created in Italy at the automated factory.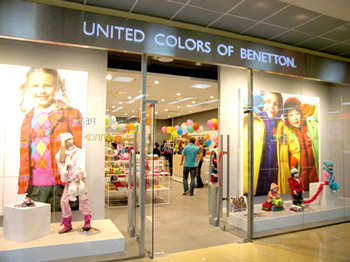 Today the company, besides fashionable youth clothes, also launches jewellery, sports equipment and, of course, wristwatches. Benetton creates its functional accessories according to the conception – style is made by colour.
A wide range of watches is presented in the following collections: B-Time, Bakelite, Beaty, Double, Fancy Cubes, Logo, Military, Next, Orange, Piano, Racer, Radio Digit, Rectangular Vertical, Round Band,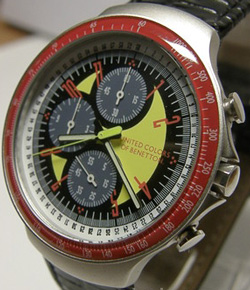 Soft Digit, Square Belt, Square Black, Square Slim, Steel, Street Fluo, TV Screen, Twin, United and Wish.
Benetton watches are bright and rich colours creating mood and being in combination with extraordinary shapes. Model lines include both classical watches with accurate lines and laconic performance, and sports watches with design of a race car. Every Benetton watch has something unique and a general idea of vivid originality.
The distinctive feature is a changeable strap. Thanks to the system of quick strap replacement, a Benetton watch perfectly suits all occasions. Some straps are marked with the company's slogan - United Colors of Benneton.
Mainly, cases are made of plastic, stainless steel and brass, glass – mineral, straps – genuine leather, bracelets – metal. Benetton watches are a reasonable compromise between quality and price.
The Benetton company now has more than 8 thousands of shops all over the world, 5 thousands of which are located in countries of Europe, Africa and Asia.