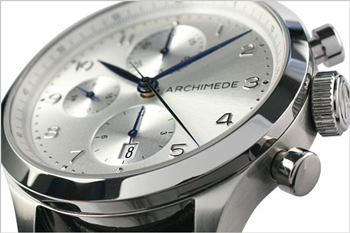 The basis of watchmaking in a German town of Pforzheim was laid in November 1767 by The Great Duke Karl Friedrich fon Baden. Watchmaking and jewelery started their incubation with the building of a plant in an edifice, occupied by a child orphanage more than 240 years ago. The child orphanage edifice was chosen not as a mere chance: The Great Duke dreamed of teaching children a helpful occupation, providing the orphanage an ability of financial independence. At the beginning of the XX century Pforzheim became an important German watchmaking and jewelery center.
In 1924 Karl Ickler laid the foundation of a family business. Before that, he had been heading production departments of different foreign companies and soon, having accumulated sufficient knowledge and experience, he decided to start up his own watch production. But during the war his manufacture was destroyed and it was re-established by his sons only in 1947. Nowadays the company is governed by the 3rd generation heir, Thomas Ickler.
With the advent of the new millennium the works on the new Archimede brand, owned by Ickler company, elaboration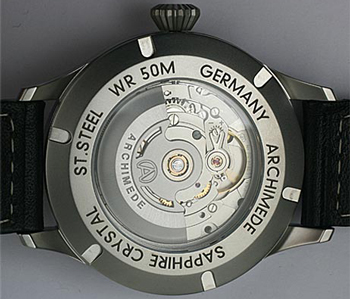 and designing started. In 2003 the first Archimede wrist watch models, whigh gained great popularity at once, were introduced to the watch market.
Among the introduced models was the SportPlus wrist watch model. This not just a regular timepiece machine, it can also measure your pulse rate in 20 seconds. The 42-mm high standard polished stainless steel case is equipped with the automatic ETA 2824 caliber movement. The dial and the case back are covered with sapphire crystals. The dial is executed in black and beige colors and the leather strap – in black and brown. The model's water resistance is 50 metres. You'll have to pay $395 in order to buy this model.
Archimede watch company has also presented the new Archimede Pilot FliegerKrone watch model, one of it's famous Pilot collection pieces. The model's 39-mm case is made of polished steel. The black dial is covered with a sapphire crystal. This wrist watch is equipped with the Swiss automatic ETA 2824 caliber movement. The strap, executed in black and brown colors, is made of leather.
Nowadays Archimede brand's wrist watch models with their great technical specifications and the outstanding price and quality ratio have won great popularity in the watch market. The high quality cases of different models, the different versions of the dials with automatic or chronographic Archimede brand's original watches' movements gained their admirers all over the world.