| | |
| --- | --- |
| A New Deck Watch R by Archimede | |
An efficiency, energy and enterprise of such personality as Thomas Ickler deserve an admiration and deep respect. The businessman and independent watchmaker, Thomas Ickler is the founder of company Ickler, which manufactures the watch cases for many watch brands, and the two watch brands Limes Watches and Archimede. Both brands specialize in the producing of high quality watches that are based on the Swiss mechanisms. The world fame of watch brand Archimede was due to pilot's line Pilot Automatik.
In September 2011 Archimede brand presented a new version of the wrist watch model Deck Watch R. The new "deck watch" with its appearance is reminiscent of the model previously used by the officers of merchant ships and navy.
The model case in diameter 42 mm is made of stainless steel with the polished surface. On the crown it is engraved the company logo in the form of letters "A". The matte black dial is decorated with silver Roman numerals and modified by the function of indexing hours, minutes and seconds. The central hands are made of white or black blued steel. At the bottom of the dial there is an indicator of the small second hand.
The case back is protected by the mineral glass, and the dial is equipped with the double-sided anti-reflective coating sapphire crystal. The model is designed by Swiss ETA Unitas caliber 6498 with manual winding on the 17 jewels, carrying the frequency of 18,000 vph. The power reserve of the mechanism is 46 hours.
The watch is available on a black and brown leather strap with white stitching and a buckle made of stainless steel. The watch price is $ 720.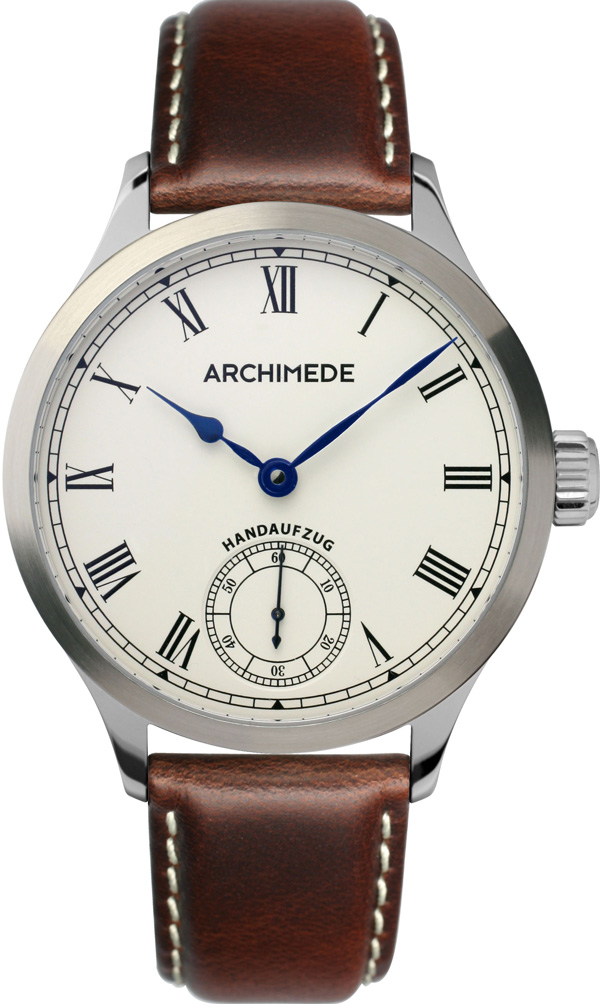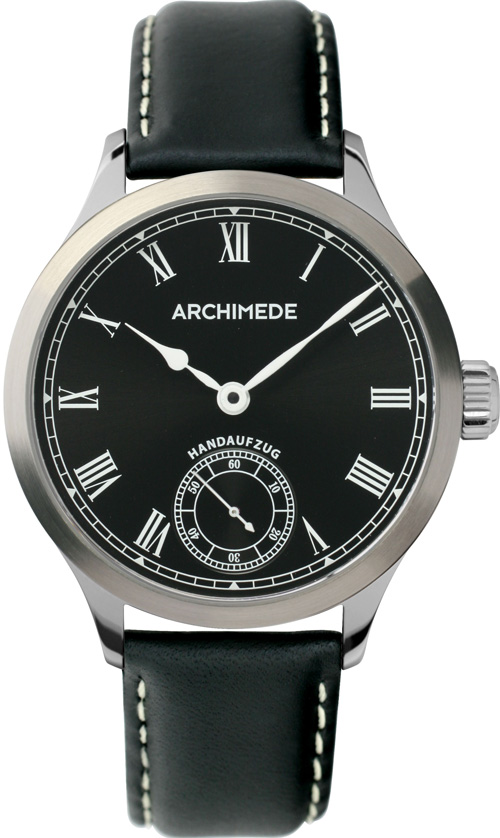 27.09.2011
Archimede Presents SportTaucher K Timepiece
German watch company Archimede has introduced a new model of diving watch SportTaucher K, which is perfect for diving because of its waterproof of 300 meters.
30.01.14 Comments(0)

Pilot 42 Beobachtung by Archimede
The design of the new model 42 Pilot Beobachtung by the German watch company Archimede inspired of the pilot`s watches of the Second World War.
22.10.13 Comments(0)

Outdour Automatic Luminous Dial Timepiece by Archimede
The watch brand Archimede has released a novelty Outdour Automatic Luminous Dial. The watchcase with a 39 mm diameter and 11.2 mm thickness is made of stainless steel. Water- resistant - 200 meters.
25.09.13 Comments(0)

Archimede Presents Pilot 42 Red, White and Blue Watch
The watch brand Archimede presents a new watch Pilot 42, made in the classic pilot's style. The novelty is released in several versions: brushed stainless steel, stainless steel with black PVD-coated with dials in red, white and blue.
15.07.13 Comments(0)

Pilot 42 Bronze by Archimede
German watch brand Archimede presents its new Pilot 42 Bronze watch, done in the classic style of the pilot's.
23.02.13 Comments(0)

Archimede Presents Pilot 42 Red Watch
German watch brand Archimede announces the release of a new Pilot 42 Red, the design of which is made in the pilot's style. The exception is the bright red color of the dial.
03.12.12 Comments(0)

New Pilot OR2 LE Watch by Archimede
German watchmaker Archimede, founded back in 1767 in Pforzheim (Germany), presents a new limited edition model Pilot OR2.
30.08.12 Comments(0)

New Klassik 39 Watch by Archimede: German Restraint and Self-assurance
The new model Klassik 39, presented by the German watch company Archimede, is a new version of the eponymous line of watches. From the name of the model it becomes clear that the diameter of the case is only 39 mm, which in the previous model was equal to 42 mm.
03.05.12 Comments(0)

Archimede presents Pilot 39H
German independent watch company Archimede has introduced a new version of the watches Pilot 39H. After the achievement of watches Pilot H with 42-millimeter case and at the demand of many customers the company has decided to issue a new model with a reduced case diameter up to 39 mm.
07.12.11 Comments(0)



The basis of watchmaking in a German town of Pforzheim was laid in November 1767 by The Great Duke Karl Friedrich fon Baden. Watchmaking and jewelery started their incubation with the building of a plant in an edifice, occupied by a child orphanage more than 240 years ago. The child orphanage edifice was chosen not as a mere chance: The Great Duke dreamed of teaching children a helpful occupation, providing the orphanage an ability of financial independence. At the beginning of the XX century Pforzheim became an important German watchmaking and jewelery center. In 1924 Karl Ickler laid the foundation of a family business. Before that, he had been heading production departments of different foreign companies and soon, having accumulated sufficient knowledge and experience, he decided to start up ...
Detailed information Archimede