Mobile Watches
Today, hardly anyone was surprised with the mobile watch with high-tech "stuffing." However, before becoming the coolest gadgets, these watches have undergone a number of changes. Some worthy representatives - "progenitors" of the present mobile devices - can beat a younger generation of watches "cyborgs". Few people, for example, remember a unique piece of the spy watch Kilfitt UKA 659, invented in the 1960s by a famous optician Heinz Kilfittom Munich laboratory. Translated from the German, UKA means «Uhr KAmera» - «watch camera", in our opinion. In this digital age, when nothing new, it would seem, on the horizon there are enough interesting "little things." And in spite of this masterpiece Heinz Kilfitta which celebrates its fiftieth anniversary, is not the last place in the so-called top gadgets. What's special in watch of a German optics? Not only the time meters occur admiration (although they, too, are worthy of respect, it is enough to look at them), but a miniature camera built into it movement. Pictures can be saved to a special 8-frame film, and the size of the side of the frame is only 5.6 mm.
In today's photo stores such piece cannot be found. Fixed focal length of the lens is 10.5 mm, which creates the image of the "fish-eye" (now considered fashionable effect to a photo editor programs - clicked "ok" and ready, but before that it was a "handmade." Expression "eye-diamond "was not an empty phrase.). For any fan of espionage, for all those who love "saga" of the James Bond, it would be irreplaceable gift. But such a watch-camera is only in one piece. You can, of course, buy such a miracle on eBay, it will cost 60,000 USD. But you will become the guardian of history! Great honor, agree!
| | |
| --- | --- |
| "Watch-camera" Kilfitt UKA 659 | |
And what is now? "What is coming age for us?" Twenty-first century, spoiled, cynical, and yet still hoping for something ... In our chaotic time clock watch are already not accessory essentials, as it were, for example, ten years ago. Time can now be enjoyed on the phone ... or, on the contrary – watches have become phones ... Japanese concern Casio Computer Co. released a fashionable wrist watch Casio G-Shock GB6900AA. It has one feature – it can interact with the iPhone 4S / 5 via Bluetooth 4.0. What is the uniqueness of this watch? The fact is that if the owner wants to move away from the iPhone more than 10 meters, the gauges of time begin to "worry", and loud. In addition, the screen displays a notification of incoming calls, messages, data of appointments and alarm. In addition, the watch is automatically adjusted to any time zone by synchronizing with your smartphone. However, all of the above functions to work, you must install the application G-Shock +. The case of novelty is made of steel. Water resistance is 200 meters. In addition to these bonuses the model has a timer, backlight, stopwatch, mute function and alarm. The watch is assembled on the basis of quartz movement. Autonomy of the batteries will last for two years, if you use bluetooth-connection for 12 hours daily. Such heaped model is already available in the States. Management of the company is going to introduce new features and expand old ones in the above-mentioned time meter G-Shock, for example, compatibility of watch with other devices - exercise equipment and home video game consoles. "Layout" of the invention, manufacturers will demonstrate the international Consumer Electronics Show, which takes place once a year, in January, in Las Vegas.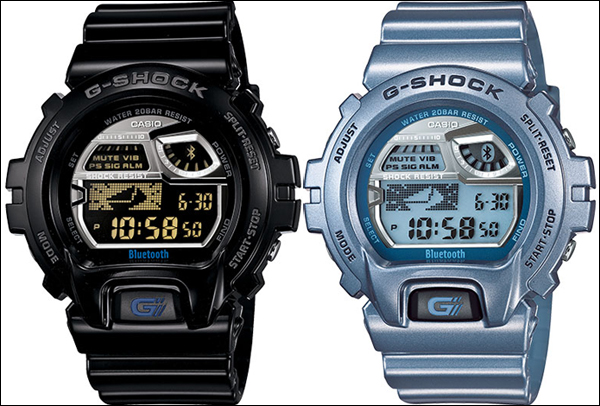 Casio G-Shock GB6900AA watches
Casio Pro Trek PRG-550B-5 watch is a novelty from the collection Pro Trek. The model accommodates a variety of functions. This device is ideal for those who like outdoor activities. Pro Trek PRG-550B-5 watch with a round case is fitted with a bezel, which shows the Arabic numerals. Water-resistance of the mechanism is 100 meters. The case is resistant to low temperatures (up to -10°C/14°F). This watch combines the various functions - the barometer / altimeter, digital compass, thermometer. The data from all these chips are displayed on a special monitor. Due to the pointed tip of the seconds hand it serves as a compass pointer. The model combines the display in digital and analog format. Also, the novelty has a function of world time display - 29 cities and Universal Time, plus 5 daily alarms, countdown timer and 1/100 stopwatch. The watch has a function Tough Solar. Its essence lies in the fact that without the influence of fluorescent light or sunlight battery will last 6 months. Can you imagine what would happen if such watch is somewhere in the south. But residents of the Far North can only envy ... The watch Casio Pro Trek PRG-550B-5 is equipped with a strap made of synthetic leather and camouflage fabric. In November 2012, the model has become available.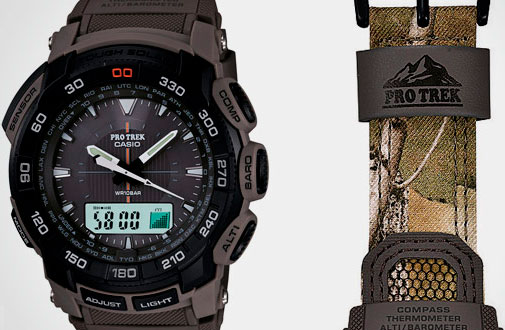 Casio Pro Trek PRG-550B-5 watch
Another masterpiece – is a multimedia mobile watch-phone for athletes «Cheetah» with function of Bluetooth. This is one of the easiest and yet durable watch-phone that designers have created especially for people with active lifestyles. With mobile watch «Cheetah» you can do anything you want - in sports: running, playing football or tennis, do household chores, and it will not interfere with you! And this all is possible because this gadget is attached to the wrist. In addition, it is an indispensable thing for those who do not like to carry a mobile phone, but because of the circumstances should do it. This watch-phone is equipped with a rubber strap. Sporty watch «Cheetah» has a touch screen, which is easy to use for sending text messages. Just imagine, you can make calls on the go! We will now discuss the functions of watch-phone. First, we hasten to please music lovers and connoisseurs of high-quality video: in watch-phone is built MP3/MP4 - player that can easily play your favorite music, movies and photos. And it all happens in a split second on the screen. To download the multimedia files on the micro SD card (which, as a pleasant surprise comes completely free of charge and weighs 2 GB), you need only connect watch-phone to USB-port of your computer. Sound is played through the speaker, Bluetooth, or via wired headphones. Secondly, the watch is equipped with a very good camera with a discrete lens. Additional features include voice recorder, alarm clock, memo, chat, voice mail, support MMS-messages, calendar, reading text documents and WAP internet. With four bands GSM this mobile watch can be used anywhere in the world. In addition to the specifications of the gadget include call forwarding, call barring, its automatic redial and key lock and number, the presence of FM-radio. Device supports the following languages - Russian, German, French, Portuguese, Dutch, English, Spanish, Italian, Chinese, Indonesian and Arabic.
The next issue of our programs is a Japanese watch that determines the level of alcohol in the blood. Yes, there is such a watch – storm for "citizens of alcoholics, bullies, parasites." The studio Tokyoflash Design Studio presented to the public a new concept of watch. After you drink, you need to click on the watch, which runs the so-called test for alcohol. You only need to "breathe into a tube." After that, the data is read, and in front of your eyes appear the results of how much you have sinned - your level of sobriety or lack thereof. The idea is a very interesting and urgent. Yet on the Internet is going on a voting - to be or not to be the model on sale. If enough people like such a watch, the "Customs will give well "for their production. In the meantime, have to wait ... I should add that these time gauges time and level of alcohol would cost to provide our employees of police. You look, and the roads will be "smoother" and less drunken fools on them...


Watch concept by Tokyoflash Design Studio
Personal trainer in the sporty watch Forerunner 405. What is this? It is in all respects a perfect device, without which the owner cannot get a lot of useful information about his or her sports achievements and share them with friends. In a clever device successfully coexist functions of a personal trainer and sports watches. "Aggregate" is quite stylish and very easy to use - it you can always carry with you. Thanks to the touch ring, built-in watch, flick of the wrist, you can select the desired mode device. If you want to use the watch to monitor the training process, you need only include the GPS-receiver. With this function, you can get the necessary information about each race: the speed on different stretches of the river, the passage of each lap, and total mileage distance. The gadget will alert you to the end of the training session or the next stage of overcoming the distance beeps. In memory of device Forerunner 405 will be stored all the information in the last 20 hours of training. You can easily make a comparison of these data, extracting information from the cache memory, and you can determine what level you have achieved over the entire period of exercises. If you are interested in progress for a longer time, use the wireless ANT + Sport and software Garmin Training Center - so the information on your computer will be cataloged, and you will receive a detailed schedule of your sporting achievements. In addition, you have the unique opportunity to develop yourself the most effective training program on the PC and even download it to the memory of your sporty watch. For lovers to communicate in social networks there are good news - the entire line Forerunner 405 is compatible with virtual community Garmin Connect. The website is designed specifically for like-minded people, for those who want to share their successes and sundry every day to spread their own circuit training, jogging trails, and of course, records, their small victories.
Furthermore, there are additional functions such as heart rate monitor, which is connected via a wireless system. You also can calculate how many calories you burn per workout. Another device - pedometer - can be attached to the laces of your running shoes. Plug in and forget about it - the signals will be delivered to you via satellite even when the receiver GPS is turned off. The same is not only suitable for hiking, but also for cycling. So, wherever we went, and none have gone - Big Brother is watching us ... Here's to you and the end of the world...

And now the novelty by Chinese automaker BYD, which introduced the wrist watch (never guess ...) with built-in key from the car and not just the key, but the electronic key transponder, through which you can start the engine and open the car door. In order to identify the machine by the owner is used not less clever system – an artful RFID technology, Radio Frequency Identification on the infidel. If translated into human language, this would mean that the information is used to read the radio frequency of electromagnetic radiation with a small chip, which the Chinese have built into the watch. Designers continue to work on the appearance of the gadget, and scientists scratching their heads, what kind of functions to equip this watch. Hard at work!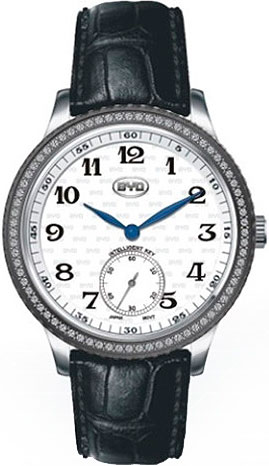 BYD watch
In 2008, the wrist time meters with the keyless entry was offered by a firm Aston Martin together with the Swiss manufacturer Jaeger LeCoultre. The price of such watch was almost 37,000 dollars. Take it, do not want!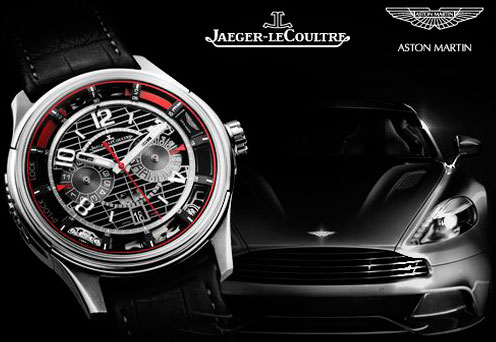 AMVOX7 Chronograph watch by Aston Martin with Jaeger LeCoultre
In the end we would like to reiterate that the main function of watch is to show time, and not a movie. And yet, if you really want to pamper yourself with unusual gadgets so without mobile watches is impossible. On the other hand, in our turbulent century is very convenient to have on hand time meters and car key, and that this "key" would measure your pulse and blood pressure even when you rush home to watch your favorite movie on TV, forgetting now it can be done with a tricked device, which once looked like a watch...
Written by Lumiere